10 screen protectors that are a perfect fit for your Sony Xperia Z3 Compact
4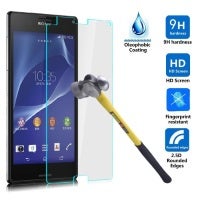 The Sony Xperia Z3 Compact is cute, little, and dangerous! It's one of the rare few sub 5-inch Android smartphones outfitted with full-blown flagship internals. While the 4.6-inch screen's resolution stays a passable 720p, the Snapdragon 801 SoC, 2GB RAM, and 2600mAh battery make this thing fly a long distance!
If you are a happy owner of one, one important accessory to treat it with that you might have not considered yet is a
screen protector
. Your tiny beast won't be up to much good if its display was smudgy, cracked, and downright ugly to look at after withstanding daily abuse, drops, bumps, oil buildup, and other evil forces of nature. Screen protectors come cheap but do great good to it.