Oppo Find X5 Pro review: merry MariSilicon X
4
We may earn a commission if you make a purchase from the links on this page.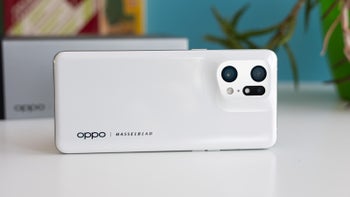 Intro
The phone-making subsidiary of BBK Holding that gave us dynamic refresh rate displays with wide color gamut coverage and ultrafast charging before it was cool is out with its next,
Oppo Find X5 Pro
flagship to take over from last year's
Find X3 Pro
and its
unique Microlens camera
.
For the Find X5 Pro, Oppo bet on improving the phone's camera and design sophistication by equipping it with a unique MariSilicon X imaging processor and a tough ceramic body, as well as upping the ante in fast wired or wireless charging yet again. Jump to:
Oppo Find X5 Pro display quality and design
A top three mobile display on a premium ceramic body
The Find X5 Pro can be bought in Ceramic White and Glaze Black colors, tipping the premium material used for the phone's IP68-rated body. The ceramic back is two times stronger than regular phone glass panel, and two times better in heat conduction, keeping the Find X5 Pro effectively cooler under gaming pressure.
The camera island is also with a very distinctive asymmetric design with no sharp edges that raises gradually from the rear and blends more seamlessly with the back than the usual rectangular or square islands. Just like with the latter OnePlus phones, the Hasselblad camera partnership is displayed prominently across the back, too, as is the tip that the X5 Pro has the in-house MariSilicon X imaging neural processor unit inside.
The phone is slightly heavier than the Find X3 Pro because of the ceramic back but feels solid in the hand with well-distributed weight ratio. The tall and narrow design with curved display sides makes for an ergonomic grip in terms of one-handed usage and back swipe gesture.
Overall, the Find X5 Pro leaves a lasting design impressions, especially when the Ceramic White version is paired with the semi-transparent silicone case in the box that leaves some of the phone's design visible to the world behind the lens.
Last year, the 6.7" 1440p panel of the Find X3 Pro had the widest refresh rate range of any phone, going down to 5Hz when showing static images, only to rev up to 120Hz during 120fps gaming sessions. Oppo's sister company OnePlus and, now, Samsung with the Galaxy S22 Ultra, announced phones with 1Hz-120Hz displays afterwards and, sure enough, the 6.7" WQHD+ curved OLED display of the Find X5 Pro now does the same 1Hz-120Hz song and dance.
There are is not even an option to choose fixed 120Hz refresh now, as Oppo has made its dynamic refresh system kick in automatically depending on what type of content the phone displays, and the only other option you can choose is keeping the screen 60Hz if you absolutely need to save on battery.
As usual with Oppo, since its partnership with
Pixelworks
, there is a per-unit factory Delta E calibration, color-blindness presets, and camera-to-display wide color management system. The LTPO panel is factory-calibrated and delivers one of the best color credibility Delta measurements we've ever taken, with only Google's Pixels being better here.
Moreover, the Find X5 Pro has the best white balance score, nearest to the 6500K reference point that means the screens colors are spot on in terms of warmth, neither too yellowish, nor cold and blueish. Adding the high typical or peak brightness levels, the company has managed to beat its own
best phone displays
record.
Display measurements and quality
To take full advantage of its excellent display panel's abilities, the Find X5 Pro employs a "multi-brightness color calibration," meaning that the screen is as color-credible in all lighting conditions, be it on the beach or in the dark.
Oppo Find X5 Pro performance and software
Snapdragon 8 Gen 1 and the X60 5G modem deliver
The Find X5 Pro is powered by the newest Qualcomm Snapdragon 8 Gen 1 processor coupled with the 10 Gigabit X60 5G modem, 12 GB RAM, and 256GB of internal storage. We clocked 700+ Mbps 5G download speeds, but of course, these are entirely dependent on what your 5G carrier network of choice can muster at the location and at the moment.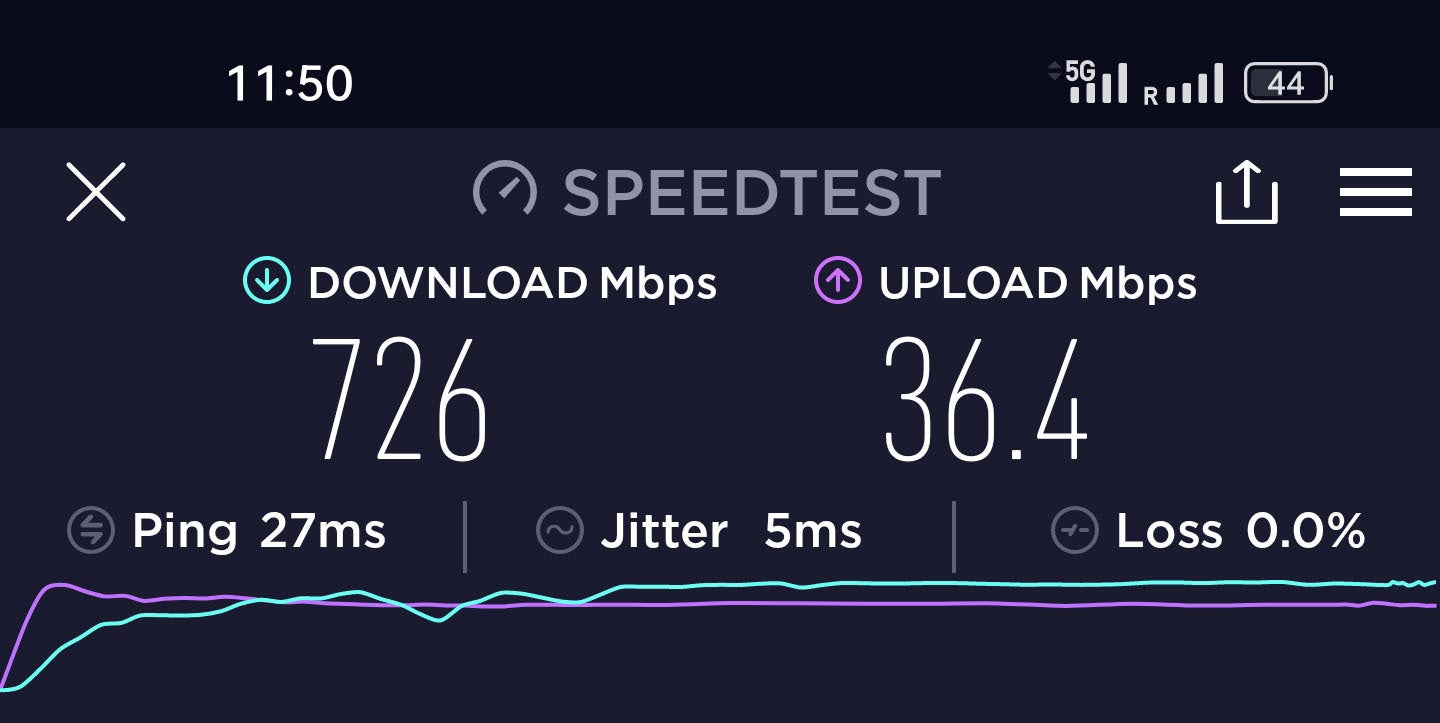 5G speed test
The processor's speed and the overall performance are on par with what one would expect from the flagship chipset.
In our everyday interaction with the Find X5 Pro over the weekend everything moved smooth and uninterrupted and we didn't notice any stuttering or loading issues. This might also be due to the excellent ColorOS 12.1 overlay that Oppo uses over the Android 12 version on the Find X5 Pro.
We won't comment on the interface specifics as Oppo has a few more updates to send to bring it up to retail level, but based on our experience with the Find X3 Pro, ColorOS 12.1 is perhaps the best balance of features, visuals, and performance as far as Android interfaces are concerned, Oppo has really gone a long way here in the span of just a year or two.
Camera quality and samples
Nighttime and ultrawide prowess, zoom range sameness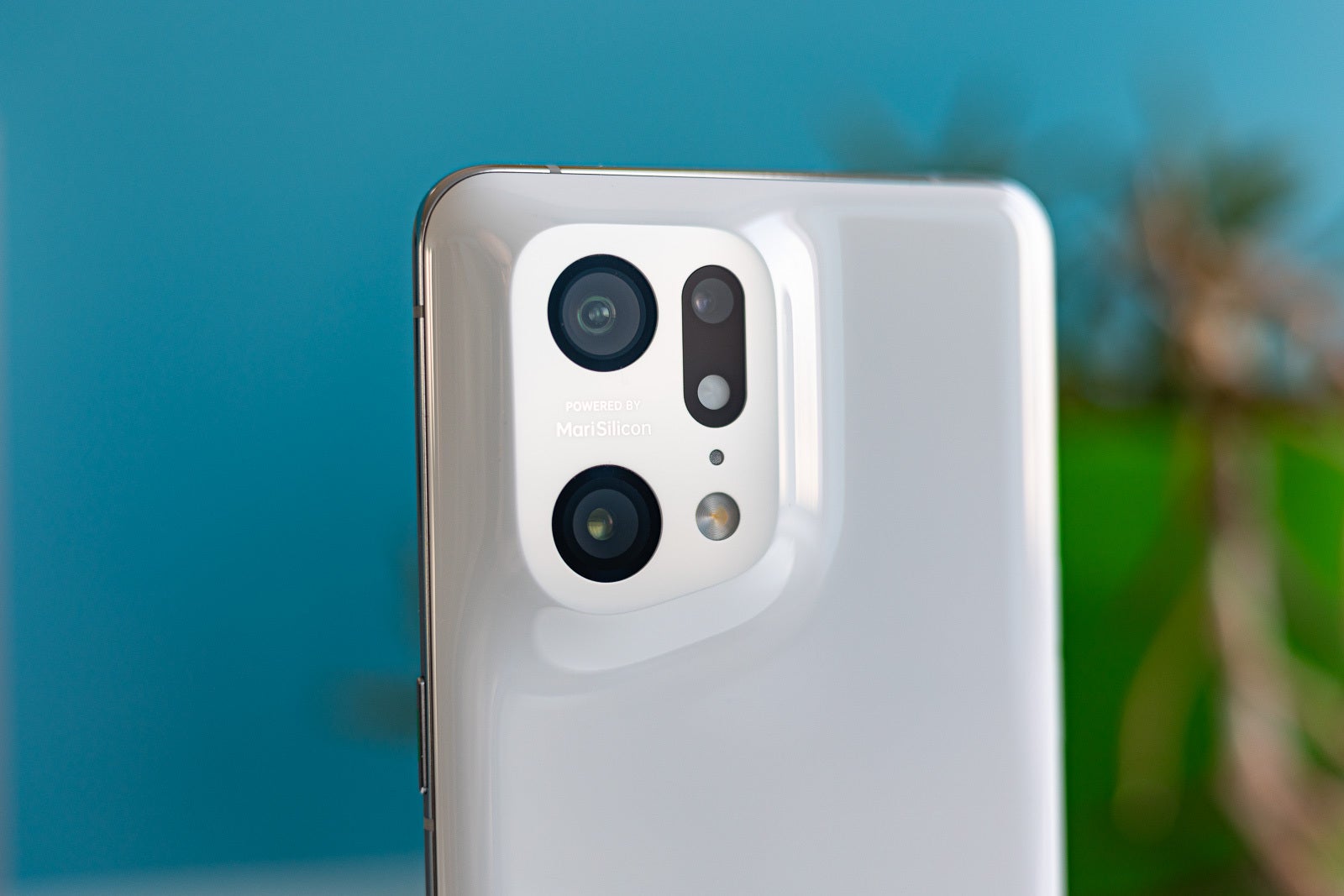 The distinctive X5 Pro camera island design
The other big change in the Find X5 Pro comes in the form of image processing. While the handset is powered by the flagship 2022 Android processor - Qualcomm's Snapdragon 8 Gen 1 - Oppo developed its own imaging NPU, called MariSilicon X, to boost the low-light imaging prowess of the X5 Pro's camera kit.
MariSilicon X is done on a modern 6nm chip manufacturing process and is capable of the record for a mobile NPU 18 trillion operations per second (TOPS) while at the same time consuming the least amount of power to deliver those. Its powerful noise-reduction algorithms "detect and reduce noise in each frame, pixel by pixel, while preserving finer detail, skin tone, color accuracy." As a result, we get a 4x increase in perceived night video resolution, extremely fast to take night shots, and enhanced color reproduction without all of this image processing taking a toll on battery life.
As you can see, it delivers way better dynamic range and more pleasing night-like photo than what the Find X5 Pro's predecessor mustered with the same camera kit, not to mention that the challenging low-light-with-highlights snap we took with the X5 Pro below was near instantaneous compared to the Find X3 Pro's night shot of the same scene, whose HDR algorithms took two or three seconds to produce the outcome.
< Find X5 Pro
Find X3 Pro >
We have the same wide and ultra-wide angle camera sensors - Sony's flagship 50MP IMX766 with a sensor size of 1/1.56" and 2um pixel size after binning - to ensure color and white balance consistency between shots with the two cameras. There is also a 3x telephoto zoom camera, but gone is the Microlens camera of the X3 Pro that churned out microscopic closeups.
Oppo also probed Sony to customize the selfie camera's IMX709 sensor at the front of the Find X5 Pro and integrate it with the MariSilicon X image processing system for "
more texture and more accurate color reproduction
" in low-light scenarios. The selfie snapper also automatically widens the view from an 80 to a 90 degree angle when more people jump in to the frame in order to capture them all.
Just like with on the phones of its sister company OnePlus, the Oppo Find X5 Pro sports Hasselblad camera branding hinting at the presence of its Natural Colour Calibration tech in Pro Mode as well as a set of "
creative Master filters, bringing iconic natural colour, professional colour profile and style to mobile photography
."
How did the MariSilicon X fare in reality? Very well indeed, with extremely fast focusing times, excellent dynamic range, nice portrait subject separation, and credible color representation. We especially appreciate that the colors and white balance coming from both the main and ultrawide cameras are consistent with one another, with perhaps the only Find X5 Pro camera weak point being the so-so 3x telephoto zoom range delivered by a run-of-the-mill 13MP sensor.
Oppo Find X5 Pro battery life and charging speeds
Excellent all around
The 5000mAh unit of the Find X5 Pro is separated in two units in order to charge faster, and it delivered very good battery life results in our benchmark tests. It even managed to beat Apple's iPhone 13 Pro Max in the YouTube streaming test which is a pretty respectable result given the marriage of in-house hardware and software that Apple is able to pull off.
In our daily interaction with the phone we noticed that it drains very steadily with average mixed usage despite that we tested with both SIM card slots active and 5G on at all times. After charging it to 100%, we checked the battery log on the next day and we had 45% left after 23 hours with a bit over three hours of screen-on time. Extrapolating from this, the phone could very well last you a weekend away from the charger with about six hours of screen-on time in total, a very good result for a powerful flagship with 120Hz 1440p display.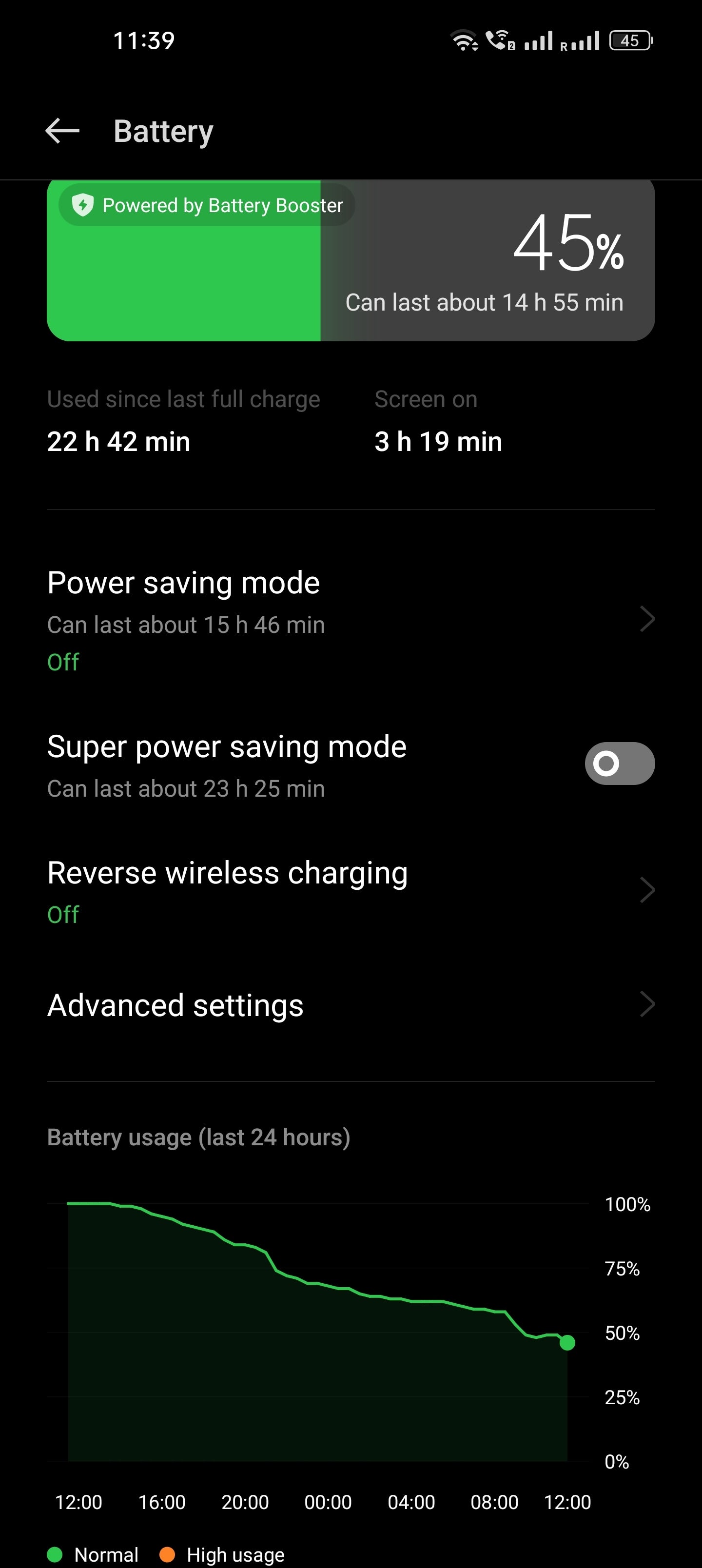 Very stable battery discharge with mixed usage
Charging
Moreover, the Oppo Find X5 Pro features one of the fastest flash charging technologies on a flagship phone - the 80W SUPERVOOC - bringing it from a nearly empty 5000mAh battery to 50% charge in only 12 minutes, according to Oppo. That's exactly what we measured, too, and managed to fill the 5000mAh battery from empty for just half an hour, a pretty amazing feat for a flagship phone you can go and buy right now.
The 50W AIRVOOC wireless charging system is no slouch, either, as it charges the battery fully in just 47 minutes. For reference, the wireless charging on the Find X5 Pro alone is faster than the speed that Samsung charges the same capacity battery on the Galaxy S22 Ultra with the 45W wired charger that on top of that you have to buy separately.
Summary
The Find X5 Pro has one of the top three displays we've ever seen in a phone, and can go toe to tow or even surpass such flagships like the
S22 Ultra
or iPhone 13 Pro Max in most other areas such as camera performance, battery life, 5G connectivity, or charging speeds.
We'd have to particularly emphasize the ultrawide camera quality that matches that of the main sensor, as well as the fast nighttime shots processed by the in-house MariSilicon X NPU with only the telephoto camera's zoom range being on the midrange side.
Despite its numerous virtues, at 1299 EUR the premium ceramic Oppo Find X5 Pro will be priced on par with Samsung or Apple's finest, as usual, which would be a tough hill to climb at launch. If you mange to source it from Asia where it'd be much cheaper, then the Oppo Find X5 Pro is definitely a go, not to mention you can get an exclusive blue leather version there, too.