Oppo Find X3 Pro review, the warning shot
3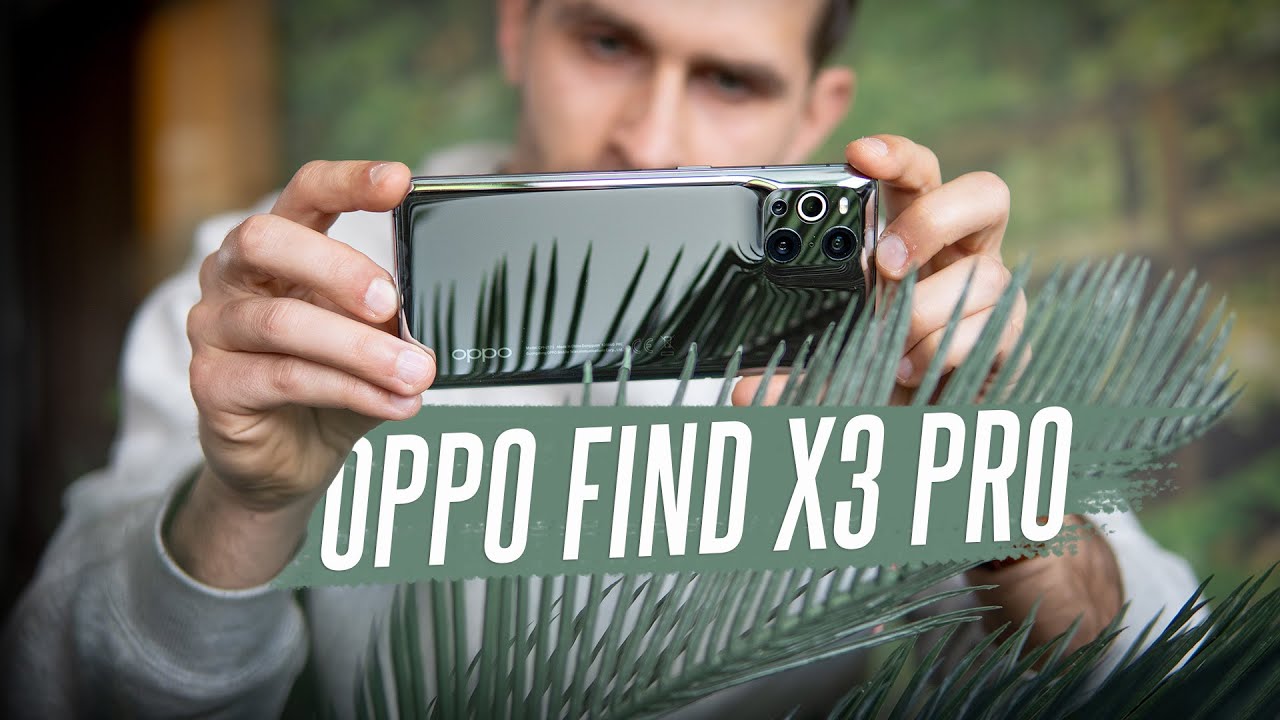 Brace yourselves, Samsung and Apple, the long-awaited
Find X3
, an heir to the excellent
Oppo Find X2 Pro
, proved one of the most well-rounded handsets money can buy at the moment in our review, and still managed to stay unique among flagship handsets. Its predecessor was the first to ship with factory-calibrated, 120Hz@1440p dynamic refresh rate display – something that Samsung achieved much later with the
Galaxy S21 Ultra
, for instance.

The Find X3 Pro, however, has managed to improve on even that achievement by introducing the world's first end-to-end 10-bit color system, on top of everything else that the X2 Pro's display already does. That's not all, though, as it's equipped with the best ultrawide and macro cameras on a phone, able to magnify down to your phone display's subpixels, or shoot every facet in a fly's eye for the dormant Sir David Attenborough in you. Party tricks? Sure, but they also surely beat the near-useless depth or macro shooters on other phones that are just there for the count.
Add ultrafast wired and wireless charging, a huge battery, as well as color-coordinated main and ultrawide camera sensors – something that only Apple's iPhones pay attention to, much to our chagrin – and you'd understand why we are so excited about our Find X3 Pro review here, despite the 1099 British pounds price that puts it right up there wit the best. Well, that, and the fact that some of its components will make their way into the
OnePlus 9 series
, too, as these things go.
Oppo Find X3 Pro design and display
Elegant billion color baby
The Find X3 Pro lies very well in the hand, as it's relatively narrow and all about curves. From the tapered display, to the sloping, elegant camera island on the back, Oppo tips that it has used 2000 contour control points, 5x the standard mould number and 100 processes taking 40 hours to arrive at the single uniform piece of glass that is the Find X3 Pro body. The end result is a phone that is thinner, lighter, and more compact than, say, the S21 Ultra, despite having almost the same screen size.
The handset feels very premium and well-balanced indeed, but we especially liked the special matte frost finish of our blue model here that is one of the very few out there to say no to fingerprints. For the lovers of shiny new objects, Oppo has the glossy black version of the Find X3 Pro that is equally striking in terms of two-tone design aesthetics.
Oppo's unique 6.7" phone display of 2020, developed in conjunction with our imaging guru friends from
Pixelworks
has become the unique phone display of 2021 on the Find X3 Pro. A 120Hz refresh rate at the full QHD+ resolution? Check. Frugal LTPO panel? Check. High peak brightness and wide 10-bit color gamut coverage? Yep.
Dynamic 5Hz-120Hz refresh rate range, factory Delta E calibration, color-blindness presets, and camera-to-display wide color management system? Well, here the Oppo Find X3 Pro diverges from the Galaxy S21 Ultra's screen specs to take the title of the best phone display out there from its predecessor.

The 6.7" 1440p panel of the Find X3 Pro has the widest refresh rate range of any phone, and can go down to 5Hz when showing static images, only to rev up to 120Hz during 120fps gaming sessions. All of this is done automatically, and the refresh rate management is baked on a hardware level, making the X3 Pro unique among modern phones. In our interview with Oppo's display chief, he mentioned that internal measurements showed the Find X3 Pro display to consume up to 46% less energy compared to a static refresh solution.

Besides the unique hardware-level variable refresh rate, we found the factory-calibrated Oppo display to deliver near-perfect color credibility, high peak brightness, and excellent white balance, too. All in all, with the Find X3 Pro, the company has managed to produce as perfect a phone display as can possibly exist at the moment.
The Find X3 Pro's unique full-path Color Management System

That clear window to the phone's soul, however, the excellent Find X3 Pro display, doesn't just exist in a vacuum, sitting pretty at the front. It is actually part of an end-to-end HDR color system that starts with the camera capture, and ends with the display content, but also covers every step in-between for a change. We are talking capture, encode, store, decode and display more than a billion colors in a consistent and seamless manner that only this Oppo phone can pull off at the moment.
The system's ability to show color is so detailed and contrast/brightness management so granular, that Oppo incorporated a color-blindness scale in the X3 Pro's display settings to adjust the color representation to each individual's eyes via the industry-standard Munsell 100 Hue Test. Can't see red? The Find X3 Pro will find out, and serve you one of its 765 possible screen calibrations, in this case a reddish hue that you can actually acknowledge, talk about attention to details.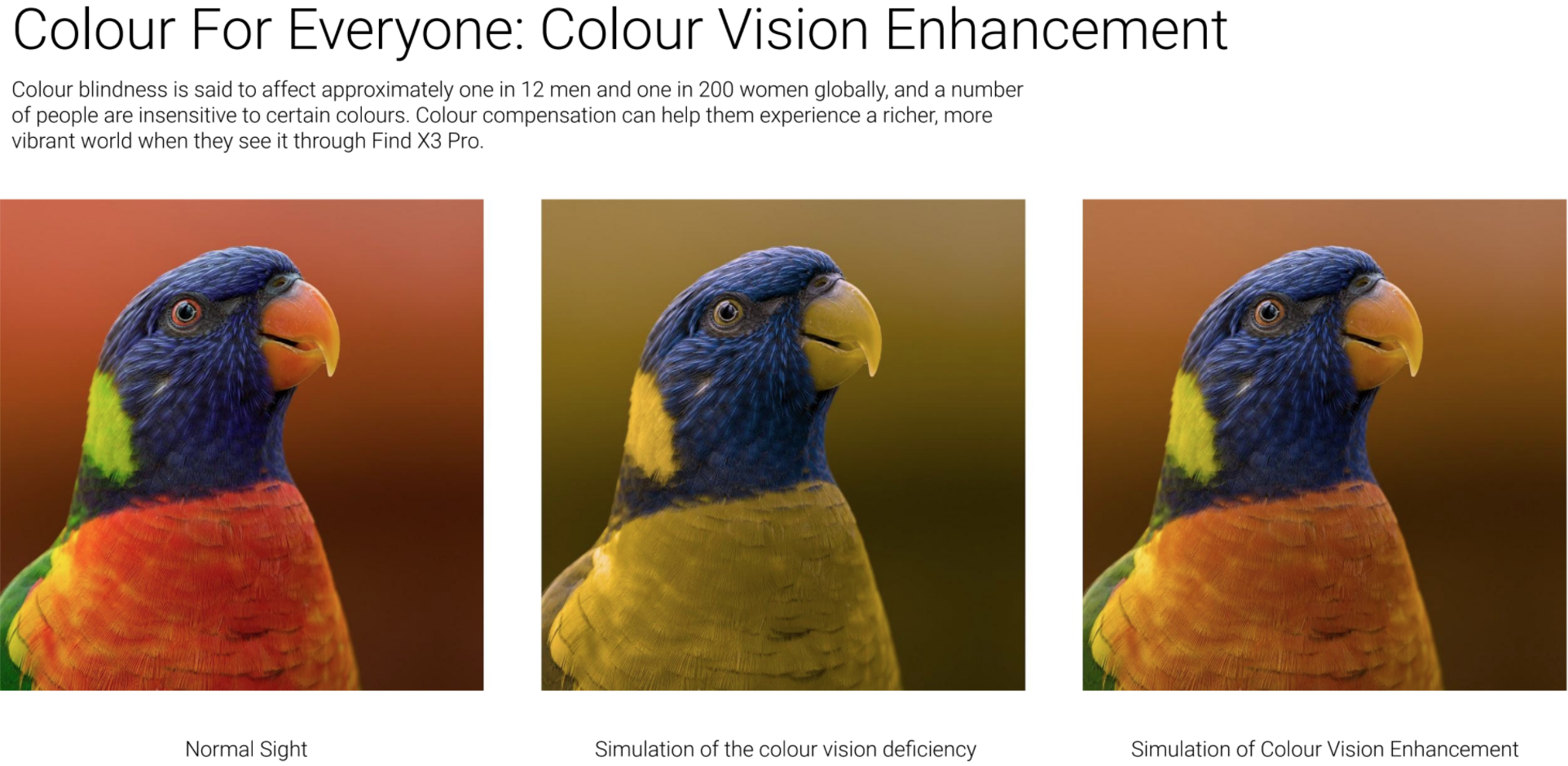 The Find X3 Pro can tailor its display to your color blindness level
Display measurements and quality
As you can see from our display benchmark tests above (sRGB standard gamut for now, Oppo's wide-color profiles will be rolling out later this month, and we'll update), the phone maker wasn't kidding about the factory calibration. the perfect Delta E and Gamma values beat phones like the S21 Ultra or iPhone 12 Pro Max, and those are the ones to beat at the moment. The display settings offer several panel modes to choose from, and Oppo has even listed the color gamut percentages they show:
Vivid mode: 97% NTSC/100% DCI-P3
Gentle mode: 71% NTSC/100% sRGB
Cinematic mode: 97% NTSC/100% DCI-P3
Brilliant mode: 104% NTSC/100% DCI-P3
If you are wondering why our tests measure lower peak brightness than the advertised by Samsung or Apple high numbers for their flagship phone displays, Oppo is also the first phone manufacturer to honestly list the scenarios where the maximum display brightness applies, instead of simply stating "record 1500 nits" brightness like, say, Samsung does with the S21 Ultra. First, that is for HDR content or at very high ambient light settings like direct sunlight, and, second, it's only achievable at specific average picture level scenarios. Oppo, on the other hand, correctly lists all the scenarios where the Find X3 Pro would shine bright like a diamond, and take your battery life with it:
Brightness: 500 nits (typical); with a maximum of 800 nits in sunlight (typical), and a local peak brightness of 1300 nits

Long story short, Oppo managed to create the best phone display in a while, and tie its brilliance up with all the other components that the Dolby Vision, HDR10+ and other rich color standards era has brought to our grateful human eyes.
Oppo Find X3 Pro vs Galaxy S21 Ultra vs iPhone 12 Pro Max camera and video sample test
Unleash your inner Attenborough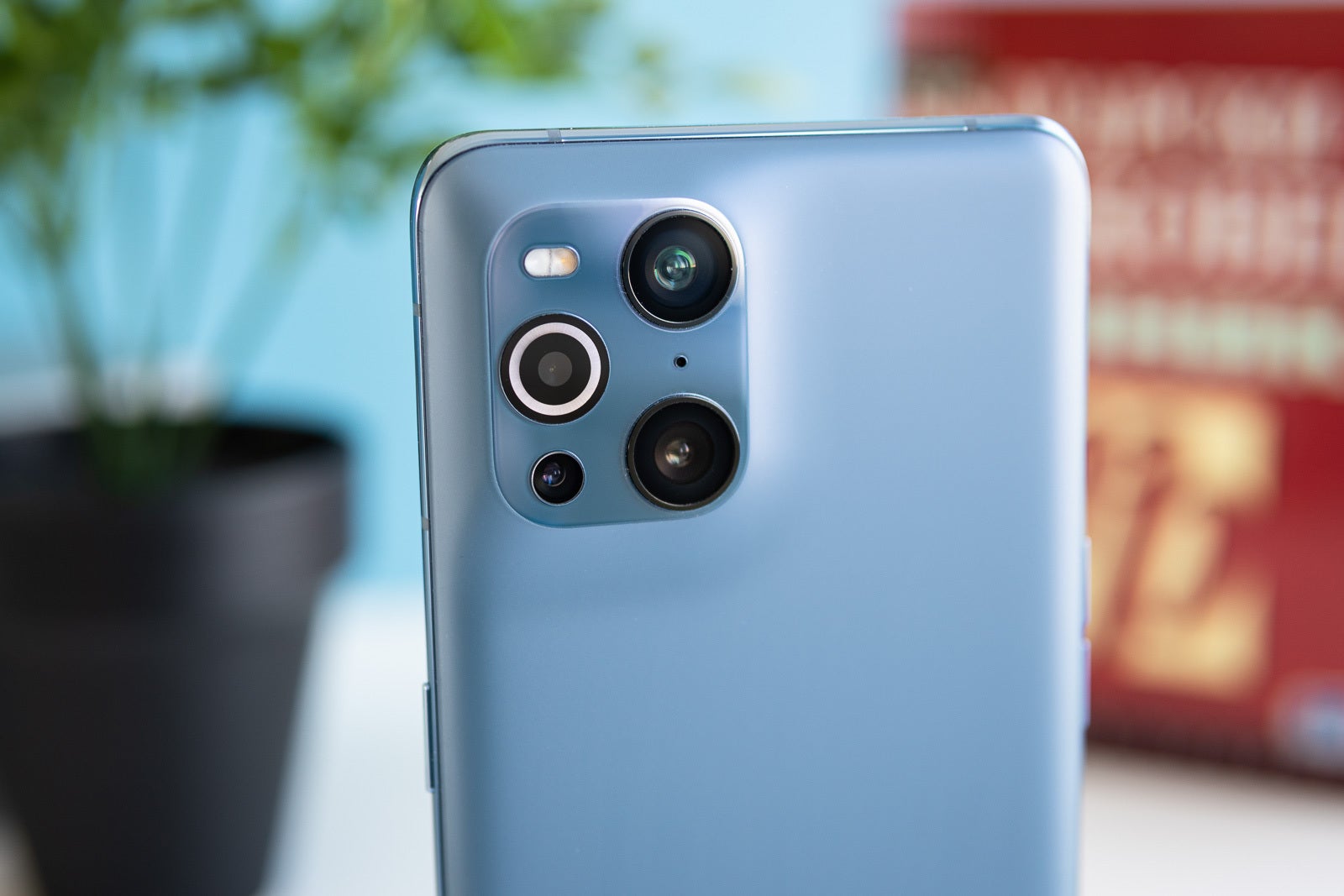 50MP wide-angle camera, Sony IMX 766 sensor, 1/1.56" size, f/1.8 aperture, OIS, all pixel omni-directional PDAF
50MP ultra wide-angle camera, Sony IMX 766 sensor, 1/1.56" size, f/2.2 aperture
13MP telephoto camera, f/2.4 aperture, 5x hybrid zoom, 20x digital zoom
3MP Microlens camera, f/3.0 aperture, fixed focus
32MP selfie camera, f/2.4 aperture

The Find X3 Pro's gorgeous sloping camera design elevates the best of what Apple offers on its iPhone camera – two identical sensors doing the main and ultrawide camera work – for a consistent color temperature and resolution no matter which camera you are shooting with at the moment. Could this be the best ultrawide phone camera as Oppo claims? You'll see in a bit.

Oppo also ran the numbers and the focus groups, and determined that most phone users advantage the quality of the ultrawide camera (you know, group people shots or landscapes and all that), rather than the ability to shoot for the moon with 5x-10x periscope zoom. Thus, it used the newest 50MP Sony IMX766 omnidirectional autofocus sensors for both the main and the ultrawide cameras, while ditching the 5x periscope zoom cam of its predecessor for a "regular" 13MP telephoto camera with 5x lossless hybrid zoom.
As you can see from the samples below, it's all for the better, as the Find X3 Pro holds its own very well against the most formidable current competitors as far as mobile photography goes – the Samsung Galaxy S21 Ultra, and the Apple iPhone 12 Pro Max.
Out of the box, the Find X3 Pro is tuned as an eye-pleaser, rather than a faithful scene messenger. The main camera (and, in Oppo's case, the ultrawide camera as well) photos exhibit pleasant to watch warmer tones, higher contrast and added color saturation - all things that people prefer in their photos more than realism - than, say, the Galaxy S21 Ultra. It's almost taking a page from the iPhone's book with its warm and jolly colors, but to a somewhat lesser extent than the yellow cast of the iPhone snaps.
Needless to say, the S21 Ultra beats it in zoom reach and quality, while the iPhone separates the object from the background better in portraits but the Find X3 Pro beats them both in ultrawide camera quality and overall stands its photography chops ground well.
The result? Photos that are very attractive to look at, with sharp focus, plenty of detail, good dynamic range, and just a tad lower exposure that keeps the shadows darker for the sake of well-exposed highlights like the sky or street lamps. Ditto for the video recording specificities of the Find X3 Pro, although it did introduce some crackling and aberrant noise in the audio capture accompanying it.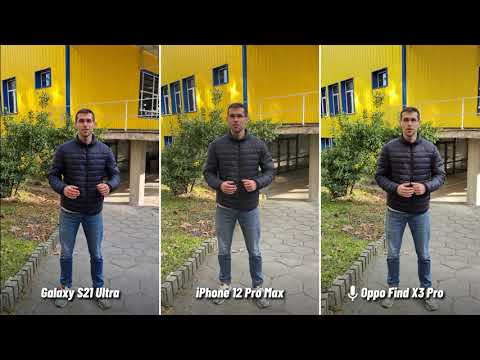 Speaking of audio, the strong and clean stereo speakers manage to derive the best of the Dolby Atmos faux surround sound certification, producing one of the loudest and cleanest audio we've heard from a phone, a pleasure when listening to music videos on YouTube, or streaming Netflix on the HDR10+ display. Call quality was also very clean and loud in the earpiece and via the noise-cancelling mics set. Oppo has been making high-end hi-fi equipment before it dabbled into phones, and we are glad that this expertise has trickled down to the Find X3 Pro as well.
Macrolens photography
Instead of shooting for the skies, the Oppo Find X3 Pro was kitted with a unique macrophotography lens that can magnify 30x-60x times the object, allowing us to take pictures of a housemoth's eye, or every intricacy of our sourdough breakfast bread. It's a fun and original addition, and, as we mentioned, a boon for the aspiring "little world" nature photographer in you.
The 3MP Microlens has a f/3.0 aperture and fixed focus, so it is a challenge to hold it steady to get clear pictures but the smart addition of a light ring around the lens makes taking microscopic level closeups a relatively easy endeavor. We could clearly see the "diamond" subpixel structure of the Galaxy S21 Ultra's display, compared to the regular matrix with full number of subpixels on our 4K laptop display, how about that?
< S21 Ultra 'diamond' pixel matrix
Regular 4K LCD laptop display matrix >
Find X3 Pro performance, battery life, and charging speeds
Wild West of charging speeds

Equipped with the latest and greatest Snapdragon 888 hardware and 12GB RAM, the Find X3 Pro chews through all tasks with ease. Oppo's Color OS 11.2 software, on the other hand, has managed to mature in such a way that the underlying stock Android 11 version looks pasty and frail in comparison with the features and options that Color OS offers.
We especially appreciated the new Fingerprint Quick Launch feature, as it gives you the fastest access to your most used apps from a locked screen. Another great addition is the brilliant one-handed mode access where you simply slide on the left or right side of the screen, depending on which hand do you hold the phone with, and all the icons shrink and group around your thumb's reach, instead of having to stretch all the way out, great idea!

All that fast and frugal hardware mated to the most granular and power-sipping refresh rate display also means that the battery life from the 4500mAh pack should be equally impressive, right?
Well, somewhat, as we clocked 9 hours and change on our browsing and scrolling battery test with the 120Hz adaptive refresh on, and a bit over 11 hours in 60Hz mode. Not bad, yet less than, say, the Galaxy S21 Ultra, even though the battery is only 10% smaller.
While the Find X3 Pro can't be called a "two-day" phone in terms of battery life, it has one of the fastest charging systems on a phone out there, with a 65W wired charger that fills up the battery in under 30 minutes (you read that right), and 30W wireless charging abilities that take just 80 minutes to do the same. Compare that with the two hours it takes Apple to charge the smaller 12 Pro Max battery with a cable, and you'll immediately appreciate Oppo's efforts to shake up the industry with the Find X3 Pro in more ways than one.

Recommended Stories