Samsung Galaxy S22 vs Galaxy S21
5
We may earn a commission if you make a purchase from the links on this page.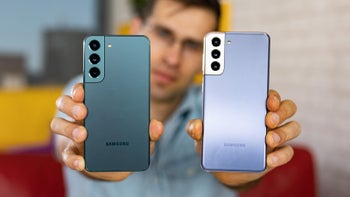 Samsung had a powerful flagship lineup last year, but it wants to go a step further in 2022.
And to make that leap, it has remade its most compact flagship phone: the Galaxy S22 gets a faster chip, an improved camera system and it gets away with the cheap plastic material from the Galaxy S21. But at the same time, it goes a bit smaller to please compact phone lovers and in that process loses a bit of its battery size, a controversial move for sure.
And all of that comes at the same starting price as the S21. So... should you upgrade? We dive in detail exploring all the differences between the Galaxy S22 and S21, and whether they are really worth it. In the end, you are the one who needs to make this choice, but we want to make it as easy as we can for you.
But first, these are the...
Galaxy S22 vs S21 differences in a nutshell:
Galaxy S22 is more compact
S22 has a brighter display
Faster chips in the S22, same 8GB RAM on both
Similar triple camera system with upgraded sensors on S22
Better night video, portrait mode photos on S22
128GB base storage on both, no microSD card support
New color options on S22: black, white, green and pink gold
Galaxy S22 pros and cons
Galaxy S21 pros and cons

Design and display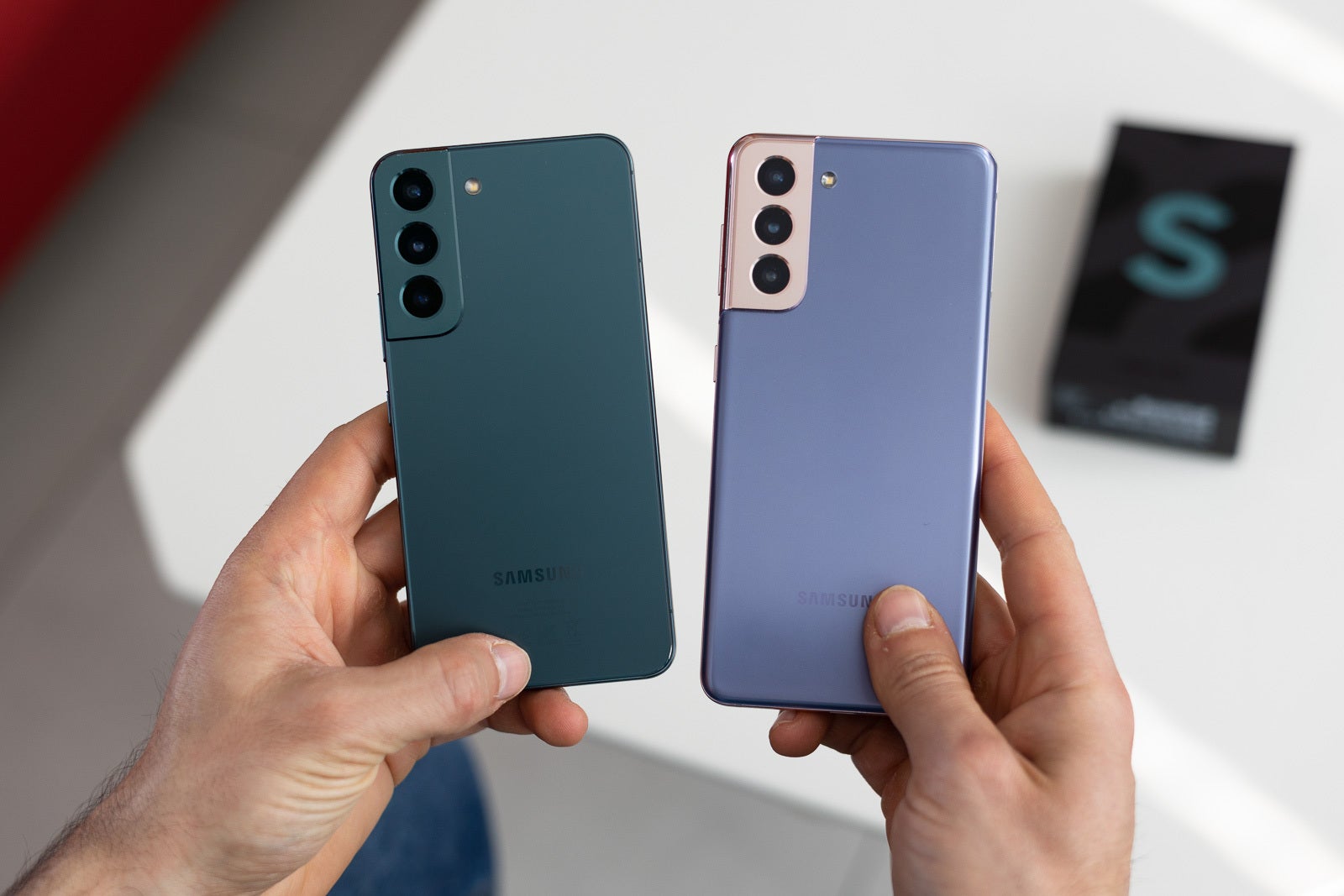 The Galaxy S22 takes the idea of a compact phone and truly lives up to it. While the Galaxy S21 featured a 6.2-inch display and did not quite feel like a true "mini" phone, the newer Galaxy S22 embraces the compact idea with a 6.1" screen that is considerably less tall.
That's notable because for years, Samsung has been making increasingly larger phones, and this is the company's first time reversing course towards a more pocketable and compact handset. In fact, historically speaking, the S22 is only slightly taller than the tiny
Galaxy S10e
that launched way back in 2019!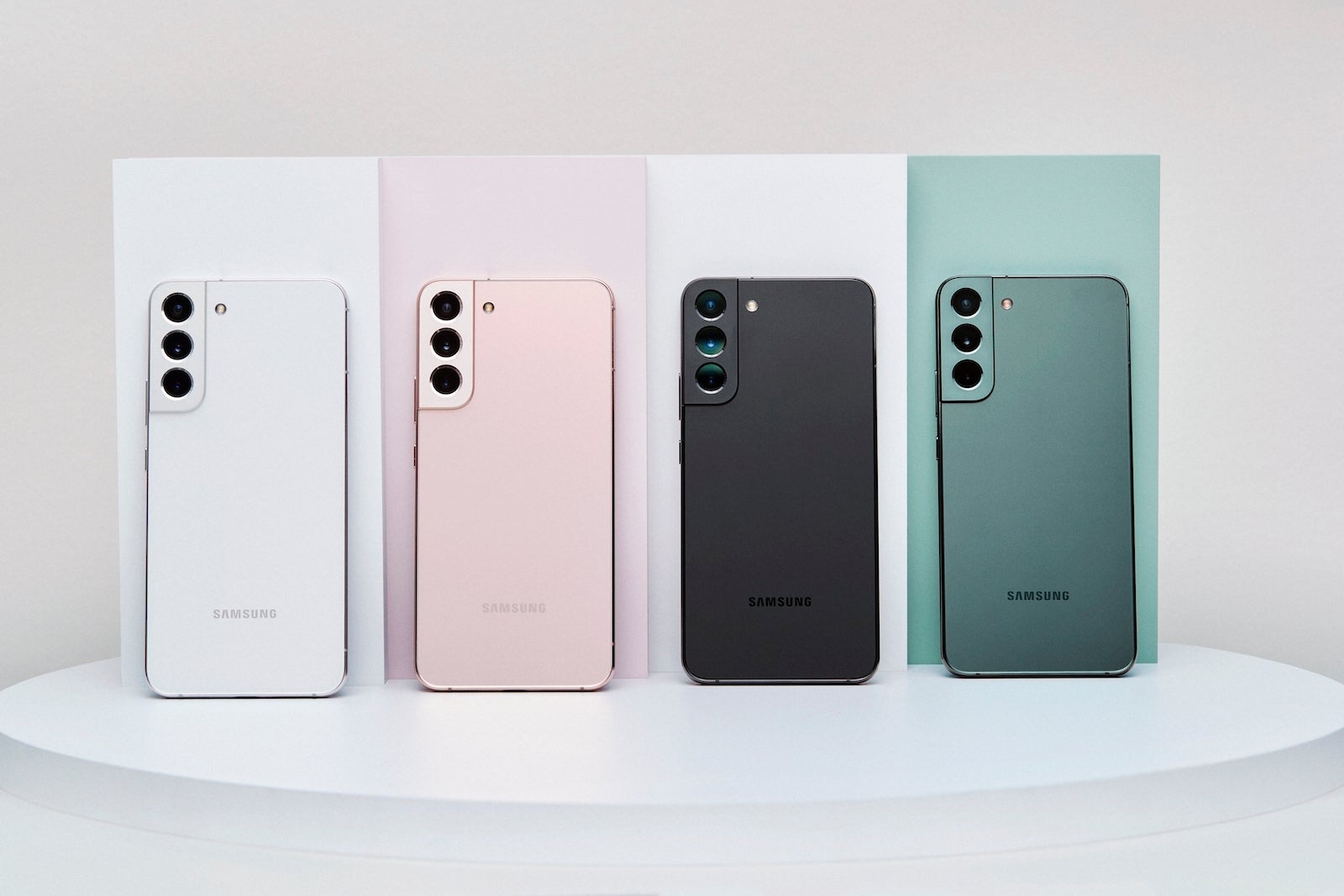 S22 comes in four colors
Here's how the Galaxy S22 dimensions compare to recent Samsung flagships:
Galaxy S22 — 146 x 70.5 x 7.6mm

Galaxy S21 — 151.7 x 71.2 x 7.9mm
Galaxy S20 — 151.7 x 69.1 x 7.9mm
Galaxy S10 — 149.9 x 70.4 x 7.8mm
Galaxy S10e — 142.2 x 69.9 x 7.9mm
And the new Galaxy S22 also weighs a tiny bit less than the S21 (167g versus 171g).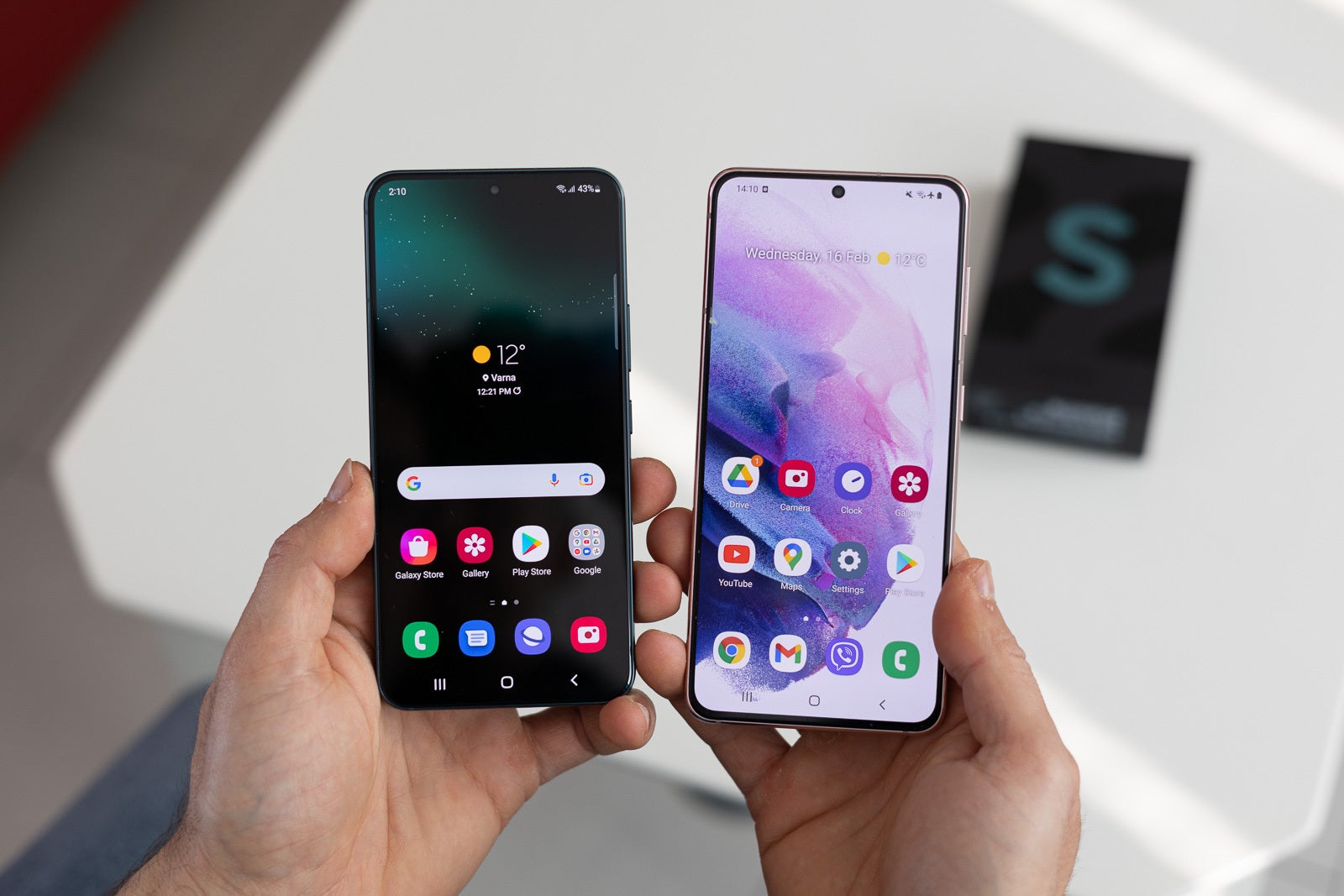 The rest of the S22 looks quite familiar: you get a flat screen and a punch hole design on the front. A nice little touch is that you get same-sized bezels around the screen for the first time ever on a Samsung phone. Nice! Previous Galaxy phones used to have a bit of a "chin", or a wider bottom border, but no more. That might seem like a small thing, but it is something only Apple and Google have actually made, and it just looks cool.
Display measurements and quality
We also have the latest Dynamic AMOLED screen tech with more vibrant colors and higher peak brightness of 1,500 nits compared to the 1,300 nits maximum on the S21 (keep in mind that these numbers are measured at a mostly dark screen, while our measurements above differ because we use 100% white content when we measure max brightness). Of course both phones support a 10-120Hz adaptive refresh rate for buttery smooth scrolling in apps.
Security on both phones is handled via an in-screen fingerprint scanner of the ultrasonic type. We did not notice any difference in performance, both are quite accurate and fast enough. Both phones also support 2D image-based face recognition via the front camera.
Performance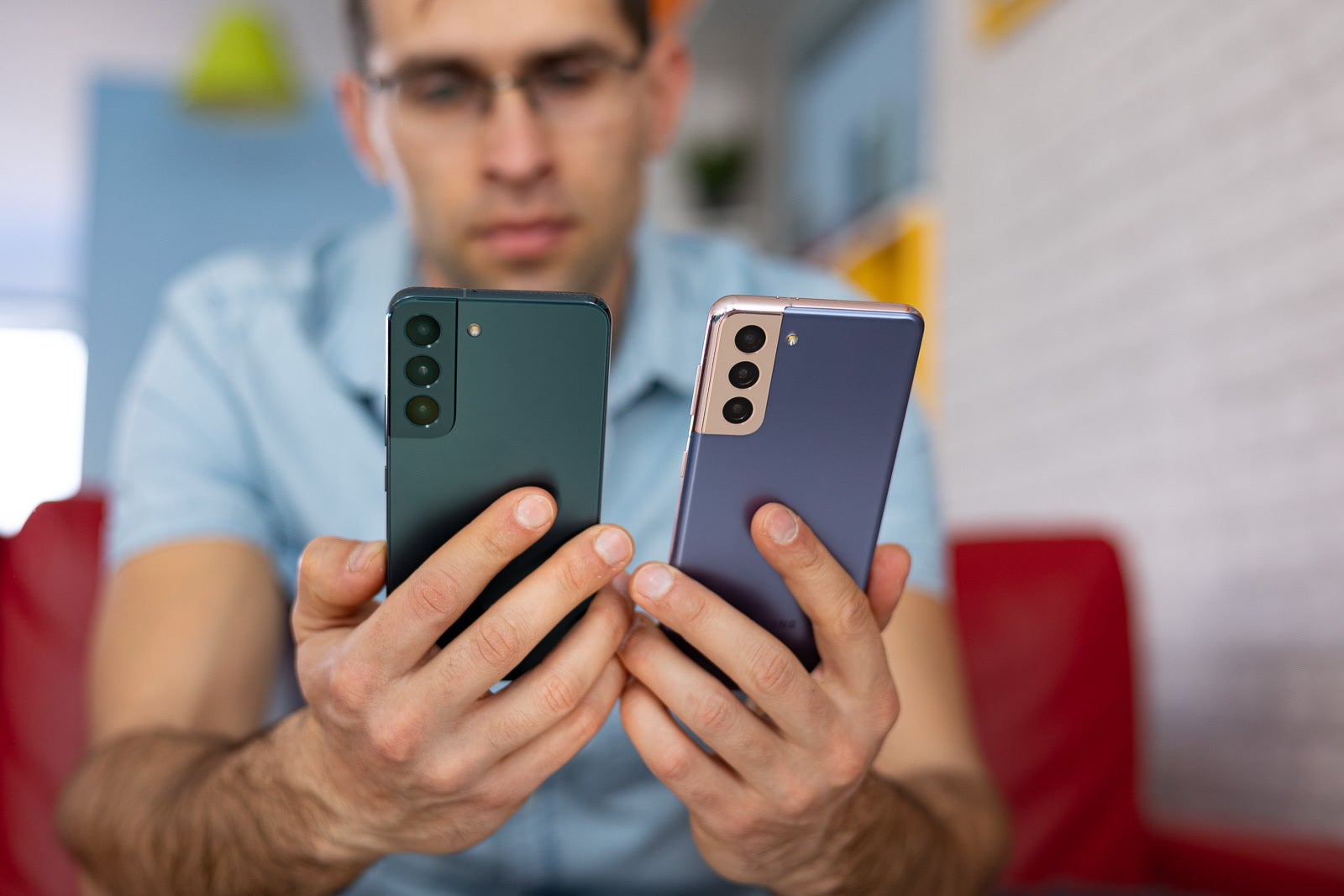 The Galaxy S22 comes with all new processors powering the show, and just like in previous years, the US model is equipped with Qualcomm's
Snapdragon 8 Gen 1
chip, while international models gets the Samsung-made Exynos 2200 processor.
The Galaxy S21, on its part, has the Snapdragon 888 in the US, while international models feature the Exynos 2100 chip. We have the Exynos model of both phones for this comparison.
Below, you can find benchmarks of the new Snapdragon 8 Gen 1 and how its performance compares to the previous, Snapdragon 888:
Processor
GeekBench 5
Single-core
GeekBench 5
Multi-core
Snapdragon 8 Gen1
(Qualcomm Reference device)
1,235
3,837
Exynos 2200
(Galaxy S22 Plus)
1,156
3,292
Snapdragon 888
(Galaxy S21 Ultra, OnePlus 9 Pro, others)
1,100
3,500
While CPU performance testing does not seem to show a gigantic improvement in performance, the GPU does, and that means that gamers will be in for a treat.

In the GFXBench 5 Aztec Ruins offscreen test, the Snapdragon 8 Gen 1 scored 45 frames per second. Other phones were far behind, and for example, the Galaxy S21 Ultra only showed up with 19fps on the same test, which means the Snapdragon 8 Gen 1 deliver more than twice as much.
There is not much of a change in RAM or storage. The S22 comes with 8GB of RAM and 128GB of storage in the base model for $800, and just $50 on top buys you an 8GB/256GB model, which seems like a no-brainer upgrade.
We should also mention here that Samsung no longer supports microSD cards on either phone.
Cameras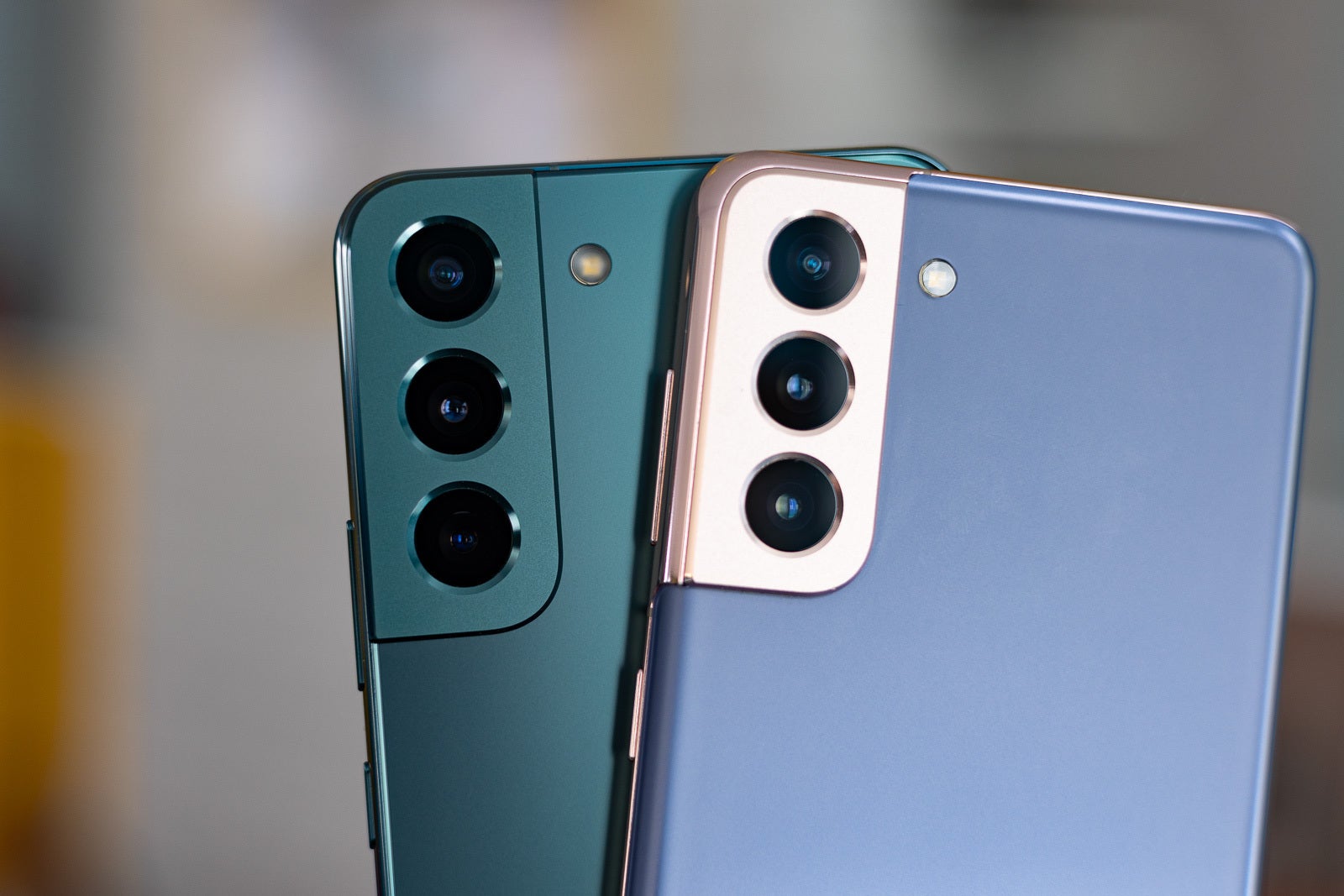 Just looking at the camera setup on the back, it's hard to tell the S22 apart from the S21, as both have similar-looking triple camera systems. But it's what inside those cameras that undergoes some changes.
So, we have triple cameras on both: wide, ultra-wide, and telephoto zoom cameras. Check out the table below with the detailed camera specifications:
Camera Specs
Galaxy S22
Galaxy S21
Main (wide) camera
50MP, f/1.8 aperture, 1/1.57" sensor size (1um)
12MP, f/1.8 aperture, 1/1.76" sensor size (1.8um)
Ultra-wide
12MP, f/2.2 aperture, 1/2.55" sensor size (1.4um)
12MP, f/2.2 aperture, 1/2.55" sensor size (1.4um)
Telephoto
10MP, 3X native zoom
f/2.4 aperture, 1/3.94" sensor size (1um)
64MP, 1.1X zoom (3X hybrid)
f/2.0 aperture, 1/1.7" sensor size (0.8um)
Front Camera
10MP, f/2.2 aperture, 1/3.24" sensor size (1.22um)
10MP, f/2.2 aperture (1.22um)
The biggest change is the new 50MP main sensor on the S22, bigger than the previous model.
The telephoto camera which used to be a 64MP sensor that cropped in to zoom on the S21 is replaced with a native 3X zoom lens which promises cleaner zoomed in shots. There seem to be no changes in the hardware for the ultra-wide and the front cameras.
Take a look at some camera samples we shot on both phones:
During the day, the difference is subtle and both phones do a solid job with beautiful colors and plenty of dynamic range. The S22 tends to have slightly warmer colors, and the detail in the 3X zoom shots is definitely cleaner on the S22.
On the video front, Samsung is still one of few companies to support 8K video, and of course, you can record at lower resolutions like 4K60, 4K30, and 1080p on both phones as well.
Samsung also promises improved night time video recording and enhanced video stabilization that will work even at night.
Battery life and Charging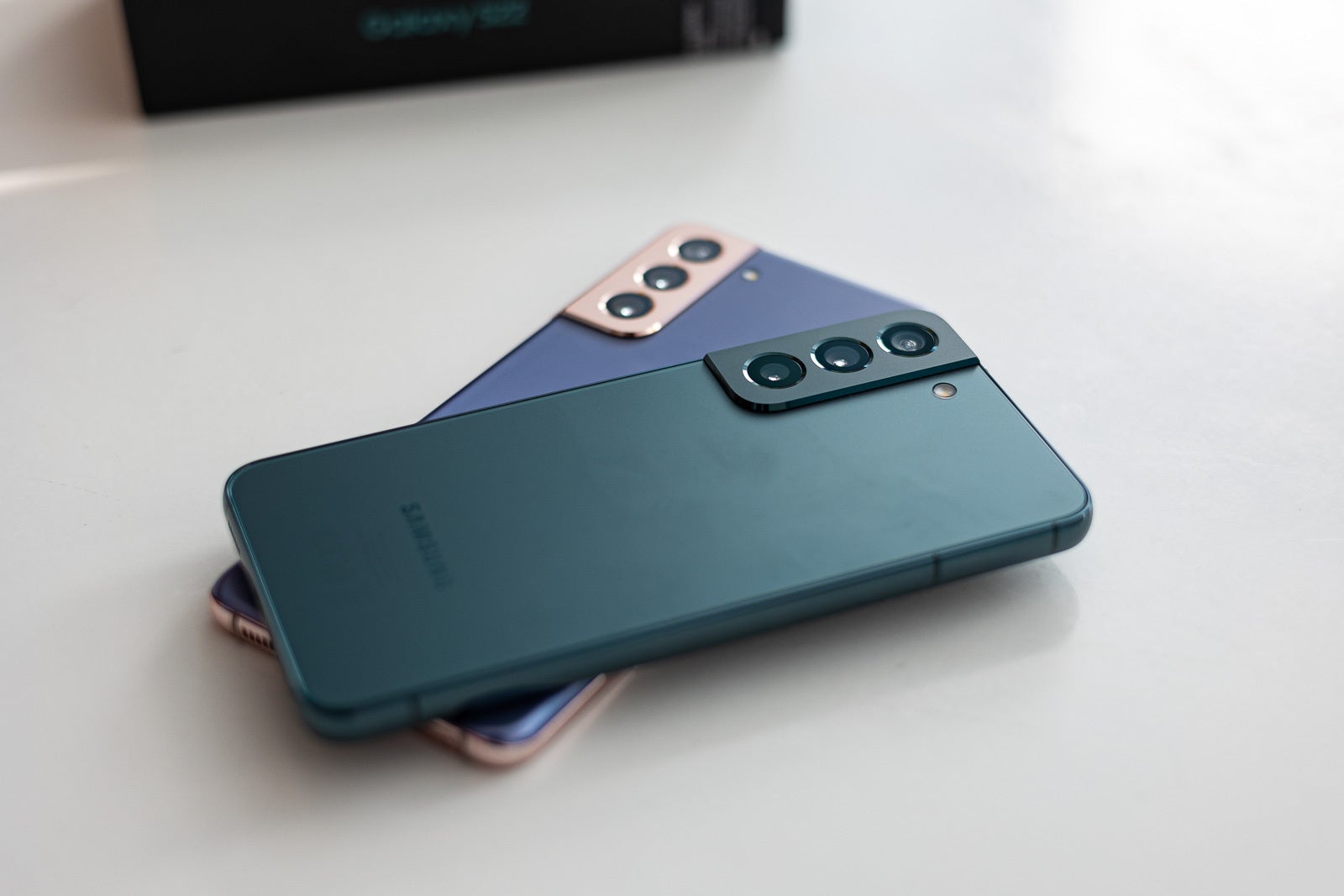 The biggest compromise Samsung had to make with this compact S22 is the smaller battery: you have a
3,700mAh
battery vs 4,000mAh on the S21, which is a nearly 8% reduction in size. Not a small change for a phone that did not have a great battery life to begin with.
So can Samsung offset this smaller battery size with more power efficient chips and display technology?
We turn to our independent battery test to find out:
Galaxy S22 vs S21 PhoneArena Battery Test Results
As you can see above, there is a slight drop in battery life, but the keyword here being slight as you get just 10 minutes more on our YouTube video streaming test with the S21. These two are quite similar in that regard.
On the charging front, both phones charge at up to 25W speeds, and don't forget that you
don't
get a charging brick in the box with either one.
Both also support wireless charging with max speeds of up to 15W, as well as reverse wireless charging where your phone is able to act as a wireless power bank.
Specs Comparison


Galaxy S22
Galaxy S21
Size and Weight
146 x 70.6 x 7.6mm
167g
151.7 x 71.2 x 7.9mm
171g
Display
6.1" Dynamic AMOLED 2X, 1080p, 10-120Hz
6.2" Dynamic AMOLED, 1080p, 48-120Hz
Processor
Snapdragon 8 Gen 1 in the US
Exynos 2200 internationally
Snapdragon 888 in the US
Exynos 2100 internationally
RAM
8GB RAM
8GB RAM
Storage
128GB / 256GB
128GB
Cameras
50MP main, f/1.8 aperture, 1/1.56" sensor size (1um)
12MP ultra-wide, f/2.2 aperture, 1/2.55" sensor size (1.4um)
10MP, 3X native zoom, f/2.4 aperture, 1/3.94" sensor size (1um)

10MP front, f/2.2 aperture, 1/3.24" sensor size (1.22um)

12MP main, f/1.8 aperture, 1/1.76" sensor size (1.8um)
12MP ultra-wide, f/2.2 aperture, 1/2.55" sensor size (1.4um)
64MP, 1.1X zoom (3X hybrid), f/2.0 aperture, 1/1.7" sensor size (0.8um)

10MP front, f/2.2 aperture (1.22um)
Battery size
3,700 mAh
4,000 mAh
Charging speeds
25W wired, 15W wireless
25W wired, 15W wireless
Prices
$800 for 128GB, $850 for 256GB

$800 price, but after S22 launch, discounts are available
Good news is that Samsung has not changed prices and the Galaxy S22 still starts at $800 for the base model, while only $50 more buys you a 256GB storage model, which sounds like a no-brainer upgrade for heavier users.
Despite the smaller battery, we think that the more compact size and the improved cameras and faster performance make for an exciting S22 launch.
Should you upgrade if you already own the Galaxy S21? You don't need to as the differences are not that huge, but for those rocking older phones, the S22 shapes up as a great option.