Samsung Galaxy S21 FE Review: In the Shadow of Giants
10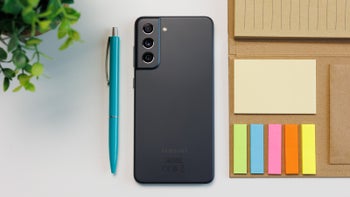 Galaxy S21 FE Intro
The Samsung Galaxy S21 FE, the new
"Fan Edition"
phone, kicks off 2022 for Samsung and it has big shoes to fill. The previous S20 FE model was a runaway hit: it undercut flagships with its alluring $700 price, while at the same time offering the same high-end processor and mostly the same cameras as premium phones. But it also launched in different times when flagship models used to cost $1,000 dollars or more.
Fast forward to the Galaxy S21 FE, available in stores in January 2022 and... we have a totally different landscape!
The S21 FE keeps the $700 price of its predecessor, but the flagship models it competes with are no longer that expensive and even Samsung's own upcoming Galaxy S22 premium model is expected to only cost $800, a much smaller price gap. Also, the new S21 FE arrives with last year's Snapdragon 888 compared to a newer and more powerful Snapdragon 8 Gen 1 expected on the S22 and other premium phones in 2022.
That is why some people are saying that the Samsung Galaxy S21 FE no longer makes much sense, but is that really so? And how good of a phone it really is? The Galaxy S21 FE still keeps a few surprising advantages and combined with Samsung's typically aggressive discount policy, it might be a sleeper hit. But let's dive deeper.
Galaxy S21 FE Unboxing
The more expensive a phone gets these days, the less there is in the box that comes with it. That is exactly the situation we find ourselves in with the Galaxy S21 FE which is missing a charger in the box, much like the flagship Galaxy S21 series, and... that's not something to be proud of. There are also no headphones included either, at least in most markets (some countries like France have mandated a law requiring phone makers to include headphones in the box).
You do get a USB-C to USB-C cable, a user manual, and a SIM tool. It's a pretty slim box as we said.
What you might want to get with the phone is a case and/or a screen protector. Some phone makers like say OnePlus often include these in the box, but not Samsung and not on the S21 FE.
Galaxy S21 FE Full Specs
These are the most important specs for the S21 FE and how they compare against the previous generation model:
Galaxy S21 FE
Galaxy S20 FE
Size and Weight
155.7 x 74.5 x 7.9 mm, 170g (6.0oz)
159.8 x 74.5 x 8.4 mm, 190g
Colors & Materials
Olive, Black, White, Purple
Plastic back, Aluminum frame
Various colors
Plastic back, Aluminum frame
Display
6.4" OLED, 1080p, 120Hz Adaptive
6.5" OLED, 1080p, 120Hz Non-Adaptive
Processor
Snapdragon 888 in the US
Exynos 2100 ROW
Snapdragon 865
RAM
6GB
6GB
Storage
128G, non expandable
128GB, microSD support
Cameras
12MP wide camera, f/1.8
12MP ultra-wide camera, f/2.2
12MP 3X zoom camera
12MP wide camera, f/1.8
12MP ultra-wide camera, f/2.2
12MP 3X zoom camera
Battery size
4,500mAh
4,500mAh
Charging speeds
25W wired, 15W wireless
25W wired, 15W wireless
Prices
starting from $700


starting from $700
*but commonly discounted to $500-$600
Galaxy S21 FE Models
The S21 FE is one of very few phones sold in the United States that have a dual SIM capability. Keep in mind, though, that you have to look for a specific version to get the Dual SIM functionality: carrier models SM-G990U do NOT have dual SIM, while factory unlocked models
SM-G990U1/DS
do support that feature. Keep in mind, though, that the feature might be disabled in firmware, so it's best you check whether the dual SIM functionality is enabled with Samsung first.
Having dual SIM cards means you can use two cellular plans from different carriers at the same time. This means people can reach you at two different numbers, or you can switch to your second SIM card in places where the first carrier does not have proper coverage.
On the 5G connectivity side, you have all the bands you need. In the United States, the S21 FE comes with mmWave support (that's something that Verizon users care about mostly, as AT&T and T-Mobile use very little mmWave). Good news is that the Qualcomm X60 modem inside also supports the new C-band frequencies that are launching across the US in early 2022 on AT&T and Verizon.
What's new about the Galaxy S21 FE?
If we had to summarize, all the new features in a nutshell, that's what you get:
6.4" size, plastic construction
120Hz Adaptive refresh rate
Snapdragon 888 chip
In-screen optical fingerprint reader
4,500mAh battery
25W max charging speeds, supports wireless charging
Micro SD card gone, no 3.5mm headphone jack
Starting price is $700
The new features revolve around a more refined design, which we find to be a big step up from the S20 FE, and also a new processor, more refined software, as well as camera improvements. The S21 FE has also lost a few signature Samsung features like a micro SD card slot, and the price hasn't changed as this phone starts at $700.
Galaxy S21 FE Design
It's made of plastic, but we don't mind

The Galaxy S21 FE has evolved from the previous model with thinner borders around the screen, more curves and overall way more polished look. It also comes in quite the variety of colors, with the olive green version being the one that stands out, but we have the graphite (black) one that also looks stylish, and then you have a light violet (lavender), white, and navy options available.




Still, it's a plastic phone, which doesn't quite have the premium feel of flagships, but plastic has two important benefits: it doesn't break like glass and it is much lighter, in fact this is one of the lightest phones in this 6.4-inch form factor.




IP68 water and dust protection is also present, which gives you a peace of mind. The phone will survive a drop in water or a bit of use in the rain without any issues.

What it lacks are a few of the staples of Samsung marketing from just a couple of years ago: there is no 3.5mm headphone jack, and there is also no microSD card support.



Galaxy S21 FE Display
Gorgeous AMOLED colors and 120Hz adaptive refresh rate
You get a 6.4" flat screen on the S21 FE that uses an improved Super AMOLED version, with higher brightness for comfortable outdoor use and beautiful colors, just as you'd expect out of a Samsung phone.
*Update:
We have previously said the S21 FE uses LTPO technology and a variable refresh rate. That does not seem to be the case, as the feature remains reserved for more premium Galaxy models.
The S21 FE also features 120Hz refresh rate for buttery smooth scrolling.
Below, are the results of our display tests where you can see that the S21 FE scored excellent in terms of peak brightness, for example.
Display measurements and quality
Inside the screen, you have a fingerprint scanner but it's not an ultrasonic one like what you have on the S21 series, but instead uses optical technology. We did get a few missed attempts and it wasn't quite the very fastest fingerprint reader we have used, but not the slowest either and mostly did the job fine.
The phone also has image-based face recognition for those who prefer that, and it was snappy and easy to use.
Galaxy S21 FE Performance and Software
2021's Snapdragon 888 in a 2022 phone
Sporting the Snapdragon 888 chip, the S21 FE is a flagship thing, but let's not forget that it is not quite as fast as the
2022
Android flagship crop, which uses the newer
Snapdragon 8 Gen 1 processor
. Also, the S21 FE comes with 6GB of RAM, while more premium Galaxies usually have 8GB or even 12GB RAM on board.
Running benchmarks for CPU and GPU performance, we get the following results:
Which are... well, just okay. The S21 FE scored slightly higher than its predecessor in single-core performance, but actually fell behind it in the multi-core and Jetstream tests.
Of course, keep in mind that those results measure intense use, while in regular daily use, the S21 FE feels perfectly adequate and zippy, and in fact be it for the newer software or some other optimizations, but it does feel more refined and less jerky than the S20 FE.
But what about gaming and graphics performance? Here is where things get interesting: the initial burst of performance with the Snapdragon 888 chip show between 10% and 20% improvement compared to the predecessor, but there is a catch and a pretty important one: the S21 FE throttles quickly and very aggressively. Put simply, after not more than 5 minutes, we witnessed its performance drop significantly.
Using the very same test, the older S20 FE model was actually
less hot and performed better.
This is quite the disappointment and for gamers especially this phone at the current state appears to be... less powerful than last year's S20 FE!
In terms of software, the S21 FE launches with Android 12, the newest version of Google's platform on board, and that's some good news! Coupled with Samsung's promise for 3 years of Android software updates, this means the S21 FE will get Android 15 at some point in the future.
Of course, keep in mind that this is no Pixel and won't receive those updates the moment they are released. Samsung usually takes an additional 3-4 months to roll out updates after Google releases them.
Galaxy S21 FE Camera
A triple camera with a rare zoom lens for this price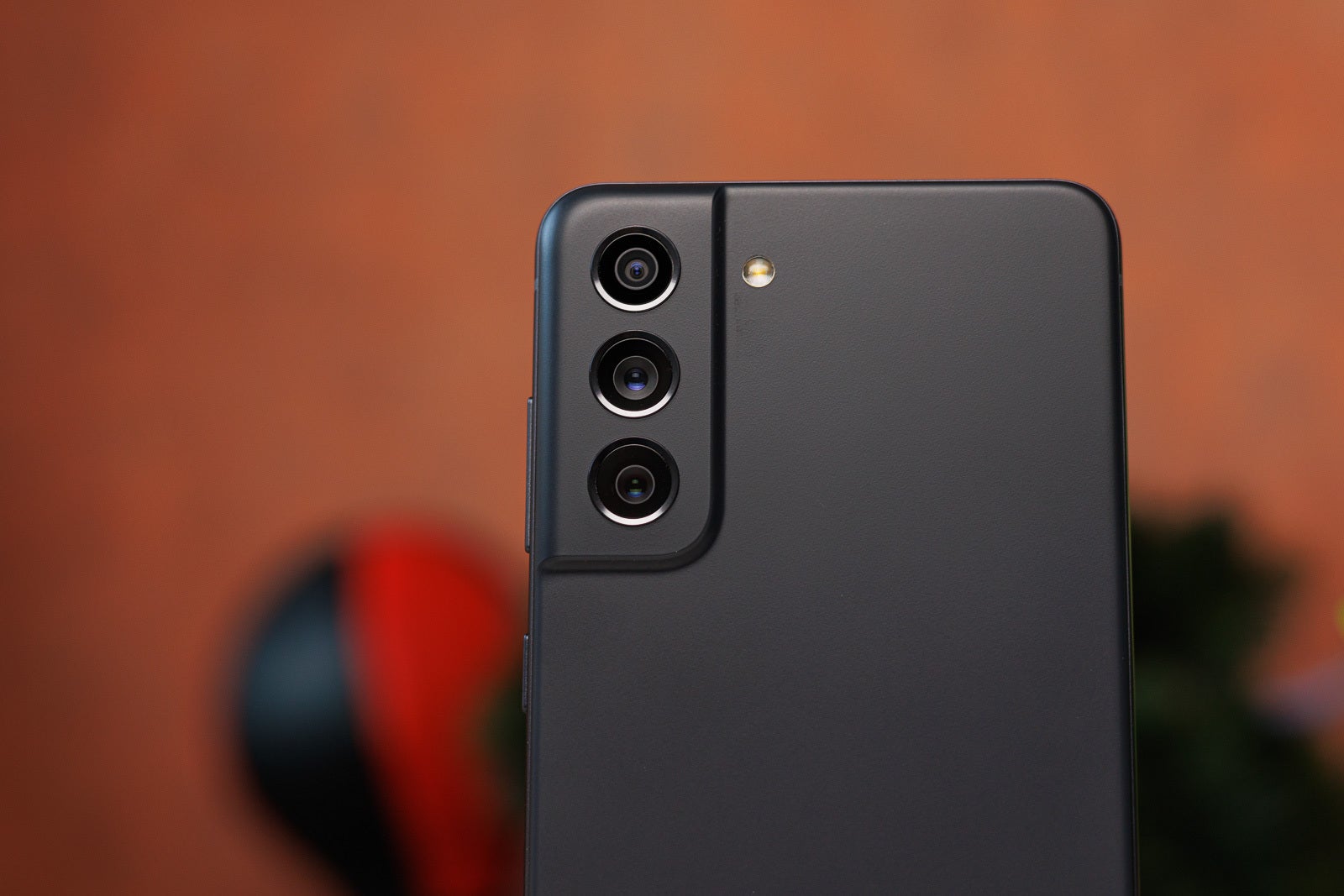 On paper, the camera system on the new S21 FE has not changed from its predecessor: you still get triple rear cameras with a main, ultra-wide and 3X zoom telephoto lens. In reality, changes have been made, starting with the fact that is just physically looks a lot better as the cameras blend with the frame of the phone beautifully, following the design of the S21 series.
Here is a quick breakdown of the camera specs in case you are interested:
| Camera Specs | Resolution | Sensor Size | Pixel Size | Lens |
| --- | --- | --- | --- | --- |
| Main | 12MP | 1/1.76" | 1.8µm | 26mm, f/1.8 |
| Ultra | 12MP | 1/3" | 1.12µm | 13mm, f/2.2 |
| Tele | 8MP | 1/4.4" | 1µm | 76mm (3X), f/2.4 |
| Front | 32MP | - | - | - |
One thing you don't get here are the bigger sensors that flagship phones these days have, but that seems to be the only compromise made. We also appreciate having a real 3X telephoto zoom lens. Many phones in this price range like the iPhone 12 and even the costlier iPhone 13 don't offer a zoom camera, only using digital zoom instead, so Samsung is definitely a step ahead here.
Below are some photos we captured with the S21 FE:
The camera app opens up quickly and we had no issues while taking pictures. One thing we noticed far less of is Samsung's "Scene Optimizer", which either works now behind the scenes or just fires up less often here.
Whatever the case, in good lighting photos came out with those typical Samsung colors: vibrant and lively, and we love most of the pics with this look. Yes, colors are "better than reality", definitely with boosted saturation, but it's a nice look. The 3X zoom camera provides a solid amount of detail, check out the second shot in the gallery above with the seagulls, it's something that you just cannot get on a phone without a tele lens.
Shooting with the S21 FE, one big improvement is also with white balance in certain conditions. The previous S20 FE would capture orange-looking photos and videos indoors with incandescent lights, while the Galaxy S21 FE correctly recognizes the situation and produces natural looking tonalities in those situations. Finally, the front camera is also a big improvement from the predecessor with more pleasing colors and more plentiful detail.
Video quality is mostly solid with 4K recording being the maximum resolution. One small compromise on the S21 FE comes in 4K60 video recording where you cannot use the ultra-wide camera. No such issues with 4K30 video where all three cameras are enabled.
Recording videos during the day, we got good results with solid video stabilization and having an ultra-wide and particularly a zoom lens make this a very versatile shooter. We did notice a few subtle changes in color with a more contrasty and saturated look, plus a fair bit of sharpening. The more noticeable changes are in low light, where the S21 FE captures a lot more light than its predecessor, fixes white balance issues and has cleaner detail.
Still, this is not quite a flagship video recording device: compared to even a Pixel 6 or iPhone 13, it loses out in terms of dynamic range and detail as it would burn out the highlights in more contrasty video situations, and color science is also better on say an iPhone.
Galaxy S21 FE Audio Quality
The S21 FE does not have a 3.5mm headphone jack, so you would either need a pair of USB-C headphones or a USB-C to 3.5mm adapter if you want to use older wired headphones. Of course, you can also use
wireless headphones
.
The phone comes with a dual speaker setup like most phones these days: you have one bottom firing speaker and then a helper speaker embedded in the earpiece.
Loudspeaker quality is good, but not quite on par with the very
best phones
around. We compared the speakers on the S21 FE to the Pixel 6, and the Galaxy definitely won that battle with boomier sound. Compared to the flagship S21, the difference was very subtle in favor of the S21, but the emphasis really is on subtle. Then, compared to the iPhone 13, the S21 FE speakers just lack bass and depth, and the iPhone remains one of the most impressive phones in that regard.
Galaxy S21 FE Battery Life
Average sized battery
The Galaxy S21 FE comes equipped with a 4,500mAh battery, which is about average for its size and form factor.
Usually, you can get a good full day out of such a battery size, and this shapes up to be the case on the Galaxy S21 FE. In my usage, I would start the day at around 8:30am and have around 30% on the battery meter at about 7pm, and that is with slightly heavier use. This is decent performance that did not make me feel pressed to look for a charger mid-day, but also this is by no means a 2-day phone, and you'd still have to top it up every night.
We have also run our independent battery tests, which allow you to directly compare the S21 FE battery life to other phones:


On our YouTube video streaming test, the S21 FE scored just a bit lower than the Galaxy S21, which is definitely less than we expected for what is a much bigger phone with a bigger battery pack.

Galaxy S21 FE Charging time

The Galaxy S21 FE supports maximum charging speeds of up to 25W, but you would need to buy such a fast charger separately. At those maximum speeds, the S21 FE battery would top up fully in about 1 hour and 10 minutes.




Just like its predecessor, the S21 FE will also support wireless charging and reverse wireless charging. Maximum wireless charging speeds go up to 15W, and the reverse charging speeds are much slower.



Galaxy S21 FE Competitors

The S21 FE price is set at $700 in the United States (£700 in the UK and 750 euro in Europe), which is just a bit less than what a flagship costs and competition in this price range has only intensified recently.




The biggest competitor and your number one alternative here is, interestingly, the upcoming

Galaxy S22

. Expected at a price of $800, merely $100 more, the flagship S22 is coming with a next level Snapdragon 8 Gen 1 processor, as well as an improved camera system, but it is a more compact phone and has a way smaller battery.

The new kid on the block, the

Pixel 6

, actually undercuts the S21 FE with a $600 price and has only a few downsides like the lack of a dedicated zoom lens. It covers all the other bases: great and similarly large screen, impressive image quality, fast performance and also it gets Android updates much faster than Galaxy phones.




At about the same $700 price, you have the

iPhone 12

and if you spend a bit more, you have the

iPhone 13

at about $800. These two iPhones lack a zoom lens and a fast refresh rate, plus they come with smaller, 6.1" screens, but in exchange you get an entry to the iOS ecosystem with all the AirPods and Apple Watches. The iPhones have faster processors, will both receive around 5 years of software updates compared to just 3 years for the Galaxy, and also arguably beat it when it comes to main camera quality and especially for video recording.



Galaxy S21 FE Summary and Final Verdict

At the end of the day, the Samsung Galaxy S21 FE is a phone caught up in the whirlwinds of transformation happening in the smartphone industry. Samsung has allegedly had this phone on the backburner for months, wondering whether it should release it or not, and when it finally has released it, it looks like just another phone carefully designed to fit a very particular price niche.




Problem is flagship phones have now dropped to the $800 level, close enough to prefer for most people willing to buy a $700 phone such as this one. At the same time, the S21 FE is not expected to offer anything particularly brand new. Not only that, Google has undercut it with the Pixel 6 that only costs $600 for a similar feature set.




Yes, the S21 FE is certainly not the best deal around, at least at launch. This might change if Samsung runs some great deals, as Samsung often does. What we loved about the S21 FE is the overall refinement: the S20 FE was a good value but it was not a pretty phone like this one. The new FE is also surprisingly feather weight and feels effortless to carry in a pocket. Samsung got the design right.




Unfortunately, there is nothing else particularly exciting and with the large shadow of the Galaxy S22 looming on the horizon, our advice is to wait up. That next phone might just be the one to get.