Plantronics Voyager PRO+ Review
2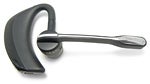 Introduction and Design:
In a direct follow up to its
Voyager PRO
model from last year, Plantronics is at it again with its similar looking Voyager PRO+ Bluetooth headset. Although we didn't particularly find its predecessor to be enticing to warrant a worthy recommendation, hopefully this year's model makes some improvements to deem it a worthy successor. Aside from seeing the same set of features reappearing once again, this time around, the
Plantronics Voyager PRO+
includes A2DP technology, on-screen battery meter with the iPhone, WindSmart technology for wind protection, voice alerts, and Multipoint technology – all for $99.99. But will it actually make a difference when it comes down to being a usable hands-free solution?
Targeting the business minded user of course, the Plantronics Voyager PRO+ doesn't deviate one bit from the design of its predecessor. You'd think that they'd at least minimize its overall size, but we're presented with an exact facsimile – from materials to design, it's absolutely an identical replica. As for comfort, it surprisingly doesn't feel heavy at all despite its larger size – thanks to the majority of its weight being supported by the back of the ear.
Luckily, the
microphone
swivels and rotates to accommodate being worn on either ear, but since the earpiece itself is stationary, it's slightly brushed up against the side of our ear. And even though the headset is packaged along with three different sized ear gels, we still don't find any of them to snuggly fit our ear. Despite its gummy like feel, it becomes rather irritating after prolonged usage – much like anything after 3 hours.
Boasting the same four buttons as its predecessor, they're all placed at their usual locations.
Towards the back
portion of the headset, we find the dedicated power perched directly below the LED indication – however, we find it extremely difficult to feel with the headset on.
On the top
most edge, we've got the volume rocker, while the Call Control Button is found sitting atop the earpiece. And finally, the microUSB port is located on the bottom side of the headset.
Recommended Stories