LG Pop GD510 Preview
1

This is a global GSM phone. It can be used with AT&T and T-Mobile USA.

Introduction and design: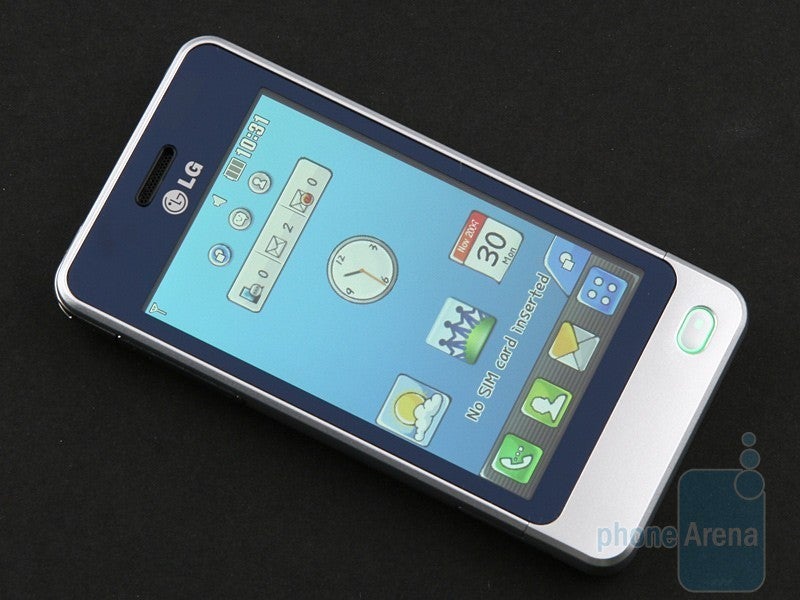 One of the saddest things that have happened this year is the untimely death of the King of pop, Michael Jackson. The queen Madonna, however, seems better than ever and goes on with that she does best, bringing joy to her fans around the world. Well, the
LG Pop GD510
is anything to do with them, really, aside from its name that reminds us of the pop culture and its focus of mass entertainment. Yes, this is a feature phone aimed at the mainstream market, equipped with 3-inch touch sensitive screen and WQVGA native resolution, utilizing resistive technology. The handset doesn't come with any awe-inspiring features, but we need to point out that the prototype did manage to impress us with something…
We are talking about looks here. The LG is advertising the Pop GD510 as
the smallest device to come with 3-inch display
ever and this is not empty talk indeed. Its compact size allows it to fit into anyone´s pocket and its attractive look and body made from lapped, shiny aluminium will certainly appeal to quite a few people.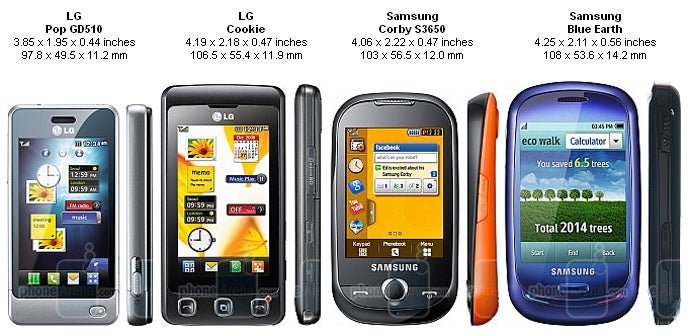 You can compare the LG Pop GD510 with many other phones using our
Size Visualization Tool.
The button
on the front side changes its color depending on what you do – it is red when it serves to close a menu or green – to open the call register. The LG Pop GD510 is equipped with microUSB port to charge and connect it to a computer.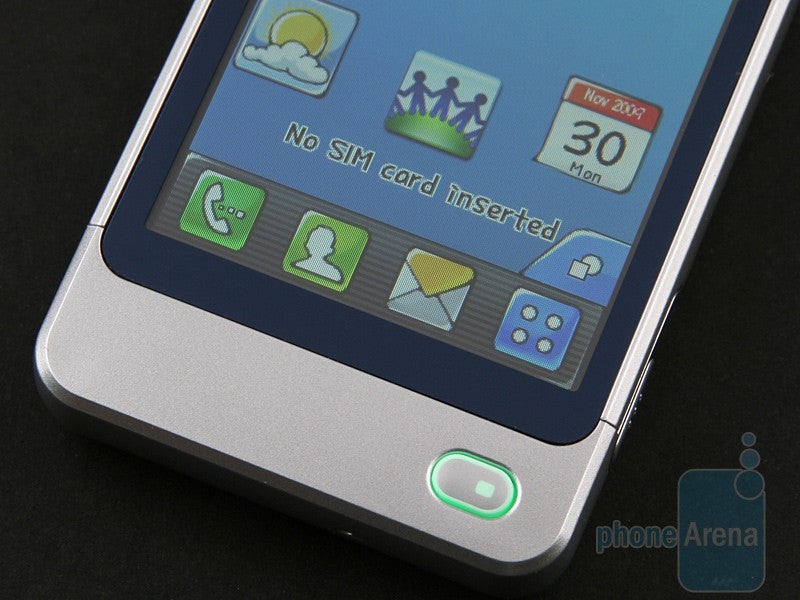 The button on the front
One of the coolest extra features of the handset is that
you can actually mount a solar panel
on it. Unlike the
Samsung Blue Earth
, the panels are sold separately as additional accessory that anyone concerned about nature can easily buy it. The manufacturer also promises a box made from recycled materials and highly energy efficient charger. Removing the back panel reveals the connectors located next to the microSD slot, designed for the solar panel.
As a whole, the outer appearance of the LG Pop GD510 did manage to steal our hearts. Congratulations to the manufacturer for its success in integrating a 3-inch screen into a body with such a remarkably compact size.
LG Pop GD510 360 Degrees View: