Emporio Armani Smartwatch 3 Review
We may earn a commission if you make a purchase from the links on this page.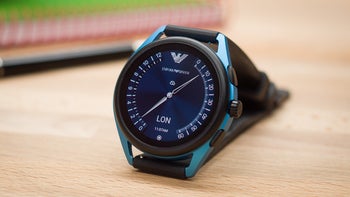 Summary
The Emporio Armani Smartwatch 3 is among the most expensive WearOS watches you can get, priced at $375. At its core, it's a Fossil Gen 5 in an Armani shell and a bunch of custom Armani watchfaces.
So, in terms of hardware and performance, it doesn't offer more than the $295 Carlyle HR. What sets it apart is the build and style — the colorful aluminum chassis, the light weight that comes with it, the flaghsy watchfaces that make sure that the Emporio Armani is clearly visible.
If that's your thing — sure, get the watch. If you are feeling a bit iffy about it, maybe save $80 and get the Carlyle instead.
Design and Display
The EA Smartwatch 3 doesn't look like an appealing timepiece to the uninitiated. In fact, at first glance, it looks like a plastic toy. The fact that it's equipped with a display might even give it a bit of a geeky vibe, which we imagine is the opposite of what an Emporio Armani customer would want.
On closer inspection, however, the body reveals itself to be aluminum. It is super light to wield, which makes it a perfect choice for the treadmill, too. We have the blue variant, but you can get the Smartwatch 3 in black, green, yellow, or orange.
Alternatively, if you want a more serious look, it is now available in black stainless steel with an actual metal bracelet, too.
The front has a 1.28-inch display with a pixel density of 326. It's crisp, it's vibrant, and it can get bright enough for most scenarios.
In terms of size, its 44.5 mm body looks just right on a medium-sized wrist. Its overall shape and accents also give the impression that the watch is much slimmer than it actually is, for a more subdued look overall.
There's a pretty hefty selection of watchfaces to pick from, and these will cover a lot of different tastes. Some are bold and obnoxious with their Emporio Armani branding, others are more stealthy and minimalistic. Some are sporty, others aim for style or elegance. Most of them will give you ample control over colors and arrow styles for that extra bit of customization.
It's worth noting that the Emporio Armani comes with a pretty cool box to store the watch and the charging cable when you need to.
Software and performance
The Gen 5 watches are powered by Qualcomm's Snapdragon Wear 3100 chip and have 1 GB of RAM plus 8 GB of storage. The EA Smartwatch 3 runs just fine, with a steady performance overall.
As usual, the WearOS on board is as vanilla as can be. The only custom thing you will find is an Armani app, which is simply a gallery for your saved custom watchfaces.
As usual, we got a ton of workout trackers to pick from, even down to the very specific "backcountry skiing", "cross skating", "fencing", and "skateboarding".
The watch has a GPS of its own, which gave us mixed results just like with the Fossil Carlyle HR. It just seems to take a while to get a signal — we spent an entire 10-minute test walk with the watch not acquiring a GPS location at all.
Battery life
Just as the vanilla Fossil Gen 5, the battery on the Emporio Armani Smartwatch 3 can last you for a day, not much more. There are a couple of power saving options to play around with, but overally don't expect them to make a ton of difference (unless you go into super-power saving, which turns the smartwatch into a... watch).
Recommended Stories