Samsung's Galaxy S23+ bids for a spot in the limelight with its own 'official' leaked renders
3
We may earn a commission if you make a purchase from the links on this page.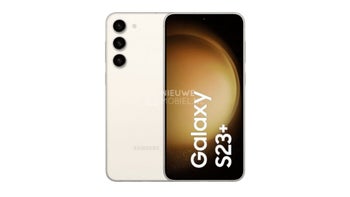 Whether or not it will end up being
the last of its kind
, Samsung's Galaxy S23+ is most definitely coming alongside a "regular-sized" S23 and a state-of-the-art S23 Ultra model on
February 1
. If you don't believe us, we
finally
have the official press renders (
leaked by a decidedly "unofficial" source
) to prove it.
Do you like what you see?
Before you even think it, no, this is not
100 percent
identical to last year's
Galaxy S22 Plus
. The most obvious difference is by far the rear-facing camera arrangement, which appears to be gaining in subtlety and losing in... consistency, just like on the "vanilla" S23.
The three shooters on the back of the
Galaxy S23+
are way less prominent than the same imaging sensors on the S22+, which we're sure some of you will be quick to praise as a positive change while others are likely to feel... differently.
That's why they say beauty is in the eye of the beholder, and the old saying definitely applies to the flat screen, razor-thin bezels, rounded corners, and very clean overall rear panel of the 6.6-inch or so
Galaxy S23+
as well.
Even the
four "main" colors
rendered above are a matter of personal taste, with the "Cotton Flower" and "Misty Lilac" hues, for instance, looking a little bland in the humble opinion of this writer, while the "Botanic Green" paint job seems far too gray-ish to turn a lot of heads.
Then there's "Phantom Black", which is just good old fashioned black with a cool name, making us hope the Galaxy S23 Plus will "borrow" at least some of the S23 Ultra's additional "limited" colorways. Now how cool would this thing look in an eye-catching red shade?
Does the Galaxy S23+ stand a chance?
Following in the footsteps of a good but not great phone that was overshadowed by its Ultra sibling right off the bat en route to
disappointing sales figures
, the S23 Plus seems... similarly underwhelming and unimpressive on paper, which means we really wouldn't be shocked if this thing's box-office performance brought about the cancellation of next year's
Galaxy S24+
.
But we're obviously getting a little ahead of ourselves there. After all, while
the rumors
are certainly not encouraging, Samsung could get the
Galaxy S23
series prices just right. Or at least "right" enough to keep the S23+ afloat.
Given the state of the
global smartphone market
as a whole and the poor aforementioned sales results of last year's S22 family, we can't help but hope
Samsung
will release the S23 Plus in early February at a lower rather than a higher price compared to the S22+. We know, we know, it's unlikely, but not impossible.
Just in case that doesn't end up happening, you might want to
reserve the S23+
(or the S23, or the S23 Ultra) and get a nice pre-order discount, as well as (hopefully) an
extra deal sweetener
in the form of a cool launch gift. Early reservations don't come with an obligation to actually order any of these devices when they're released, so you really have nothing to lose and (potentially) much to gain.