Samsung Galaxy S22 Plus review
37
We may earn a commission if you make a purchase from the links on this page.
Intro
While the Galaxy S22 Ultra model stole the thunder at the 2022 Samsung Unpacked event, it is the Galaxy S22 Plus that might actually be the more suitable big screen phone to buy for the average user.
The Galaxy S22 Plus is missing some features from the Ultra model, but that is exactly what makes it special: if you don't use an S Pen regularly, you probably won't want one in your phone, and not having that means you get a phone that is significantly lighter and not as gargantuan, so you can comfortably carry it in your pocket.
So yes, the Galaxy S22 Plus is that golden middle ground: not too small, and not too large, it has a premium glass back, dissipates heat better than compact models, and battery life is far superior to a mini phone. And compared to last year's S21 Plus model, the new Galaxy does all of that in a more compact form factor, too!
However, after a bit of testing, it turns out that the Galaxy S22 Plus is hardly bringing anything new to the table and is pretty much on par with last year's Galaxy S21 Plus. I'd even dare say it's worse in some key aspects, like sustained performance and image quality in certain scenes. Overall, the new middle child in the Galaxy flagship family is doing little to inspire confidence. Still, what's better about the S22 Plus than its predecessor?

And now that the
Galaxy S23 Plus
is just around the corner, should you still consider this here Galaxy S22 Plus?
Let's explore it in more detail below!
Galaxy S22 Plus pros and cons


Reservations for the Galaxy S23 are now open. Reserve and get a bonus here:
Design
The Gorilla Glass Victus and Armor Aluminum sandwich that is the Galaxy S22 Plus definitely evokes callbacks to the iPhone 12/13 design language with its flat front and backplates and nearly flat side frame. The Galaxy S22 Plus feels extremely sturdy and solid, but admittedly, it is nicer to look than to use.

Personally, I'm not a fan of such flat designs due to the physical ergonomics of it all: the rear edges of the frame simply cave into your palm and make for an uncomfortable usage experience. So, just like the iPhone 13, the Galaxy S22 Plus is a phone that's uncomfortable to use and feels larger than it actually is.

Still, credit where it's due: from a design perspective, the Galaxy S22 Plus is an impeccable phone made with premium materials that feels posh. Sadly, the ergonomics suffer a bit and are a far cry from the most pleasing Samsung phone to use - the sleek Galaxy S10 Plus.
Here is a comparison of the size and weight of the three Galaxy S22 series models, notice the reasonable balance that the S22 Plus strikes:
S22: 146,0 x 70,6 x 7,6 mm, 167g
S22 Plus: 157,4 x 75,8 x 7,6 mm, 195g
S22 Ultra: 163,3 x 77,9 x 8,9 mm, 227g
And if we talk
Galaxy colors
, you have four options to pick from: the traditional Phantom Black and Phantom White, and then a new Pink Gold, as well as a classy Green colorway. As for the rest of the design, the S22 Plus is quite similar to last year's S21 series, but that's a good thing: the camera that kind of blends with the frame is a unique touch that now other companies are copying.
Samsung has also worked on getting tiny details right, as the bezels around the screen are now perfectly uniform (previously, the bottom bezel was slightly thicker). And then practicality is still very much there with an IP68 water and dust protection, helping your Galaxy survive a bit of rain or an accidental drop in water.
Display Quality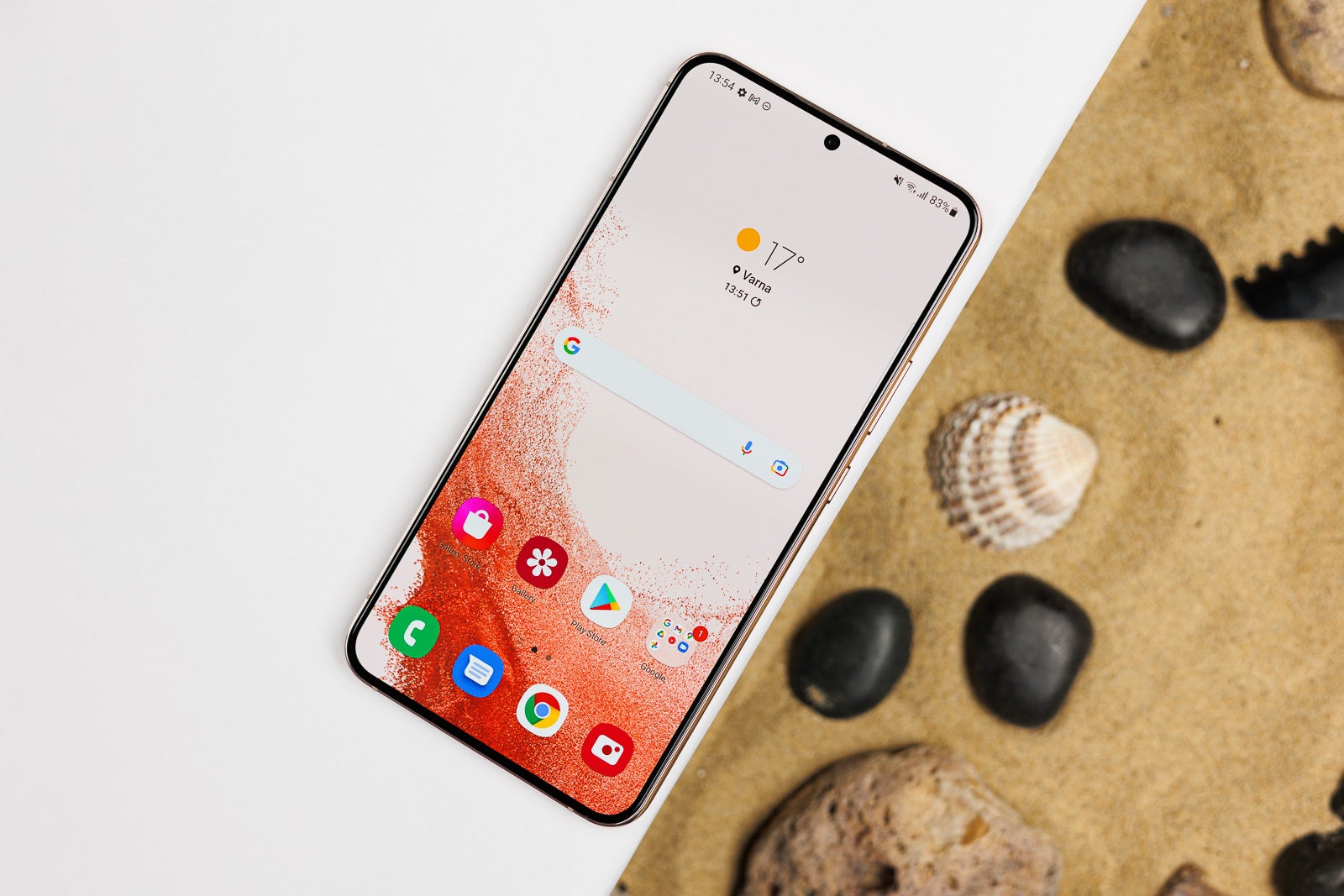 With the Plus, you get a large and flat 6.55-inch screen that uses the latest Dynamic AMOLED tech with 1080p resolution. Most users will find this screen top notch, but we ought to say that the Ultra model does offer a bit more in terms of screen quality for those who demand the very best. First, the 1080p resolution is one difference, as the Ultra has a higher 1440p resolution for just a bit extra sharpness. Secondly, while we were initially led to believe the S22 Plus has a 10-120Hz adaptive refresh rate, it was later revealed that the display actually refreshes at 48-120Hz (like on last year's Galaxy S21 Plus). Samsung clarified that the phone's GPU feeds it data at 10Hz so that it could achieve power savings when static content is displayed on the screen, but this doesn't actually mean the display refreshes at 10Hz.

While Samsung advertises a maximum brightness of 1,750 nits, it's virtually impossible to achieve such a brightness in everyday scenarios and even in our laboratory tests. In terms of color reproduction and viewing angles, the Galaxy S22 Plus is definitely a winner. The color temperature of the display is a bit on the warmer side, clocking in at slightly lower than the ideal 6500 Kelvin reading that is associated with pure white.
Display measurements and quality
We should also mention that all Galaxy models this year have a slightly different aspect ratio, and on the S22 and S22 Plus, you now get a 19.5:9 aspect ratio, while previous Galaxies had narrower screens with a 20:9 aspect ratio. Whether that's a good or a bad move on Samsung's part is debatable, as I personally prefer taller but narrower phones, but your mileage may certainly vary. A tidbit of curiosity: the latest iPhones have the exact same aspect ratio as well.

Finally, just as you'd expect on a flagship, you get full HDR video support, so you can enjoy a Netflix movie in all of its HDR glory.
For biometrics, Samsung sticks with the familiar ultrasonic in-screen fingerprint reader. It's just as quick as the most recent fingerprint scanners found on Samsung's flagships. It's not very fast, but it's not terribly slow either, so we have a nice middle ground between security and ease of use. Additionally, you have support for face recognition using the front camera. This is not as secure as Face ID, but you also don't have a notch and it still gets the job done, so we are glad to have this option on board.
Performance and Software
Despite all the hubbub in rumors, Samsung sticks with its old strategy of using different processors in the same Galaxy model sold in different markets. It's the old adage: all Galaxy S22 models in the US get the Qualcomm Snapdragon 8 Gen 1 chip, while the UK/Europe will have to make do with the Exynos 2200 chip.
Our benchmarks with the Galaxy S22 Ultra don't exactly inspire confidence. If anything, the new phone with the new chipset is seemingly performing just slightly better than the Exynos 2100-powered Galaxy S21 Plus, which isn't exactly great to see. Disregarding the synthetic benchmarks, the real-life performance of the Galaxy S22 Plus is great for the most part, yet a far-cry from the industry-leading Apple A15 Bionic chipset.

*We have the Exynos versions for both phones.
The phone does get hot during prolonged gaming, but I wouldn't say that it's uncomfortably hot. If anything, the thermal performance of the Galaxy S22 Ultra didn't really bother me during long Minecraft sessions, but your mileage may vary depending on your specific usage.

The S22 Plus has 8GB of RAM on board. If you look historically, you will notice how the S21 Plus also had 8GB of RAM, but the S20 Plus from 2020 came with 12GB of RAM, so the series has actually seen a downgrade here.
As for storage, you are getting a 128GB base model as well as a 256GB version for a slight premium, and we'd recommend those taking more videos definitely grab the 256G model. Remember that the S22 Plus does not have a microSD card slot, so you cannot expand the storage, what you get is what you end up with.
Finally, on the software side, the Galaxy S22 Plus comes with the current Android 12 version, but customized with
Samsung's One UI 4.1
on top. The One UI keeps the familiar Samsung look and does not have the fancy new Android visual elements that you get on a Pixel, but we like the familiarity of it.
The big news, however, is about software updates. With the Galaxy S22 series, Samsung promises 4 years of major software updates down the line, more than any other Android phone maker and more than the 3 years that Samsung pledged for earlier. This means that the Galaxy S22 Plus will get Android versions 13, 14, 15 and 16 some time in the future. Excellent news!
Camera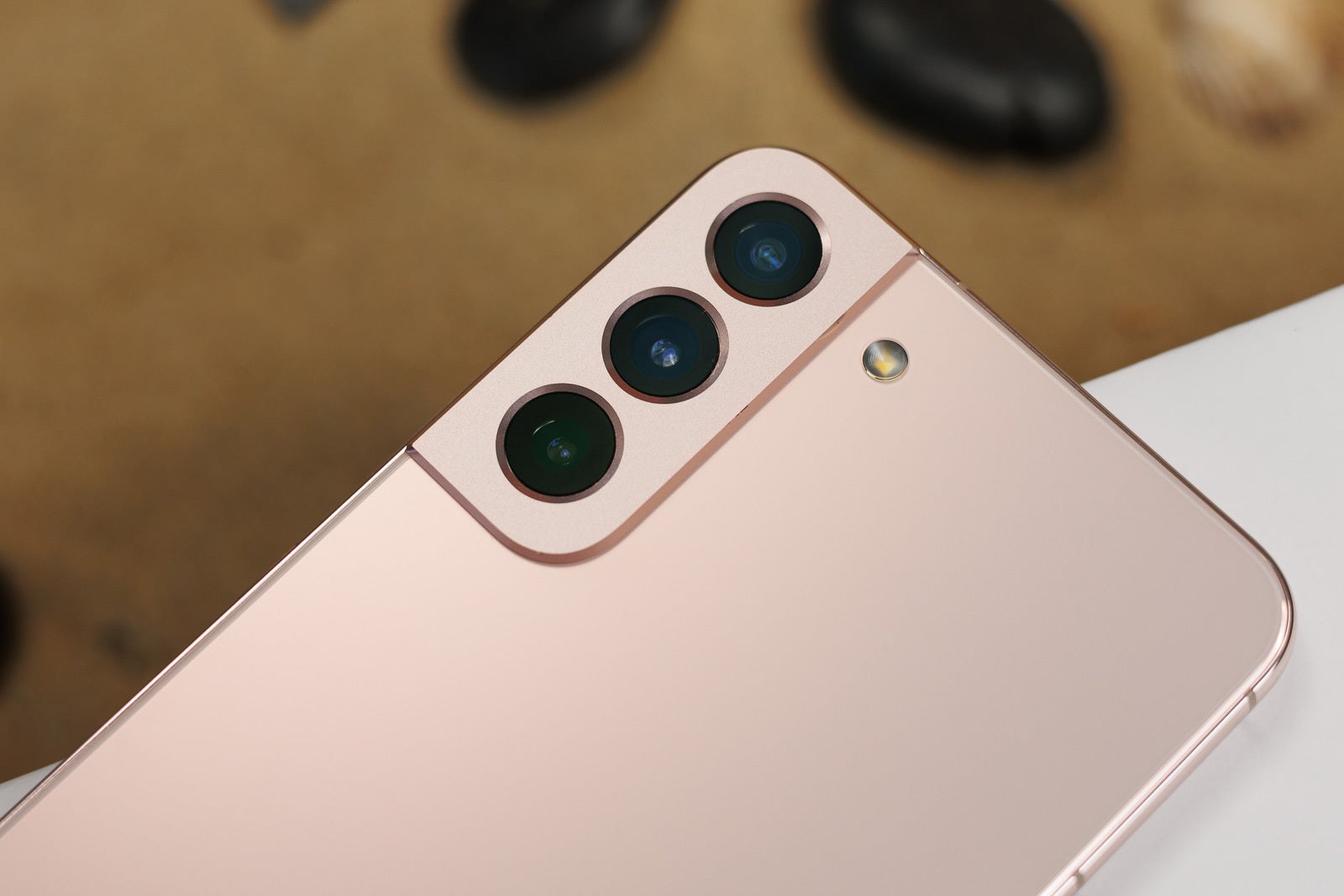 The Galaxy S22 Plus ships with three cameras on the back, a main, an ultra-wide, and a 3X zoom lens, exactly the same setup as on the smaller Galaxy S22.
What's missing, however, is a periscope zoom lens, and while we can forgive the compact S22 model for not including one, it seems like the now more expensive S22 Plus should get one. Still, that remains an exclusive feature for the S22 Ultra.
Below, you'd find the full camera specs, one more thing to notice there is that instead of a high-megapixel telephoto lens with digital crop, the S22 Plus has a native 3X zoom lens, which should result in better zoom shots.
Camera Specs
Galaxy S22 Plus
Galaxy S21 Plus
Main (wide) camera
50MP, 23mm, f/1.8 aperture, 1/1.56" sensor size (1um)
12MP, 26mm, f/1.8 aperture, 1/1.76" sensor size (1.8um)
Ultra-wide
12MP, f/2.2 aperture, 1/2.55" sensor size (1.4um)
12MP, f/2.2 aperture, 1/2.55" sensor size (1.4um)
Telephoto
10MP, 3X native zoom
f/2.4 aperture, 1/3.94" sensor size (1um)
64MP, 1.1X zoom (3X hybrid)
f/2.0 aperture, 1/1.7" sensor size (0.8um)
Front Camera
10MP, f/2.2 aperture, 1/3.24" sensor size (1.22um)
10MP, f/2.2 aperture (1.22um)
Here's a comparison between the three separate cameras:
And here's another one:
The main camera sensor is now also physically bigger and with quad-binning, it should capture photos with cleaner detail during the day and at night. Of course, phone cameras these days are a lot about the software, so we do expect tweaks to software algorithms to help get better image and video quality. We should also mention a new Samsung Expert RAW 16-bit capture feature that enthusiasts and professionals will appreciate.
Image quality
Galaxy S22 Plus' image quality from the main camera is on par with the Galaxy S21 Plus, but surprisingly to me, much worse in certain situations and scenes. I hope that these discrepancies would be fixed with a future software update addressing the shortcomings of the potentially very capable camera system, but as of now, the S22 Plus isn't the point-and-shoot wunderkind I'd hoped it would be. Here are some general camera samples that should give you a good understanding of what you can expect of the Galaxy S22 Plus as of right now.
Day-time image quality
The main issue with the camera of the Galaxy S22 Plus (and in extension, the Galaxy S22 Ultra) is the super-aggressive over-sharpening that is applied to most photos you take with the phone. In some instances this over-sharpness isn't that obvious and takes a tamer approach, but in other situations, especially when using the telephoto camera in low-light conditions, the overs-sharpening is extremely noticeable and not at all desirable. In contrast, the Galaxy S21 Plus takes softer photos that still offer decent amount of details without going overboard with the excessive sharpening.
In most scenes, the overall dynamic range isn't that good, with some detail lost in the shadowy and bright areas of the scene, even though the Auto HDR feature was never turned off.
Portraits are another serious offender. Hardly have I ever seen such over-sharpened portraits that look like something you'd get from a compact camera in the late 2000s, completely ravaging the photo. But yes, the subject separation is quite improved, one of the best so far on a mobile phone, despite some unfortunate shortcomings here or there when other object happen to be in the same physical plane as your portrait's main subject.
Here's how that stacks up with the Galaxy S21 Plus, which does a much better job at coming up with a usable portrait photo, never mind the subject separation artifacts.

< Galaxy S22 Plus
Galaxy S21 Plus >
Here's a blown-up 100% crop of the two samples which clearly show the excessive sharpening that's taking place.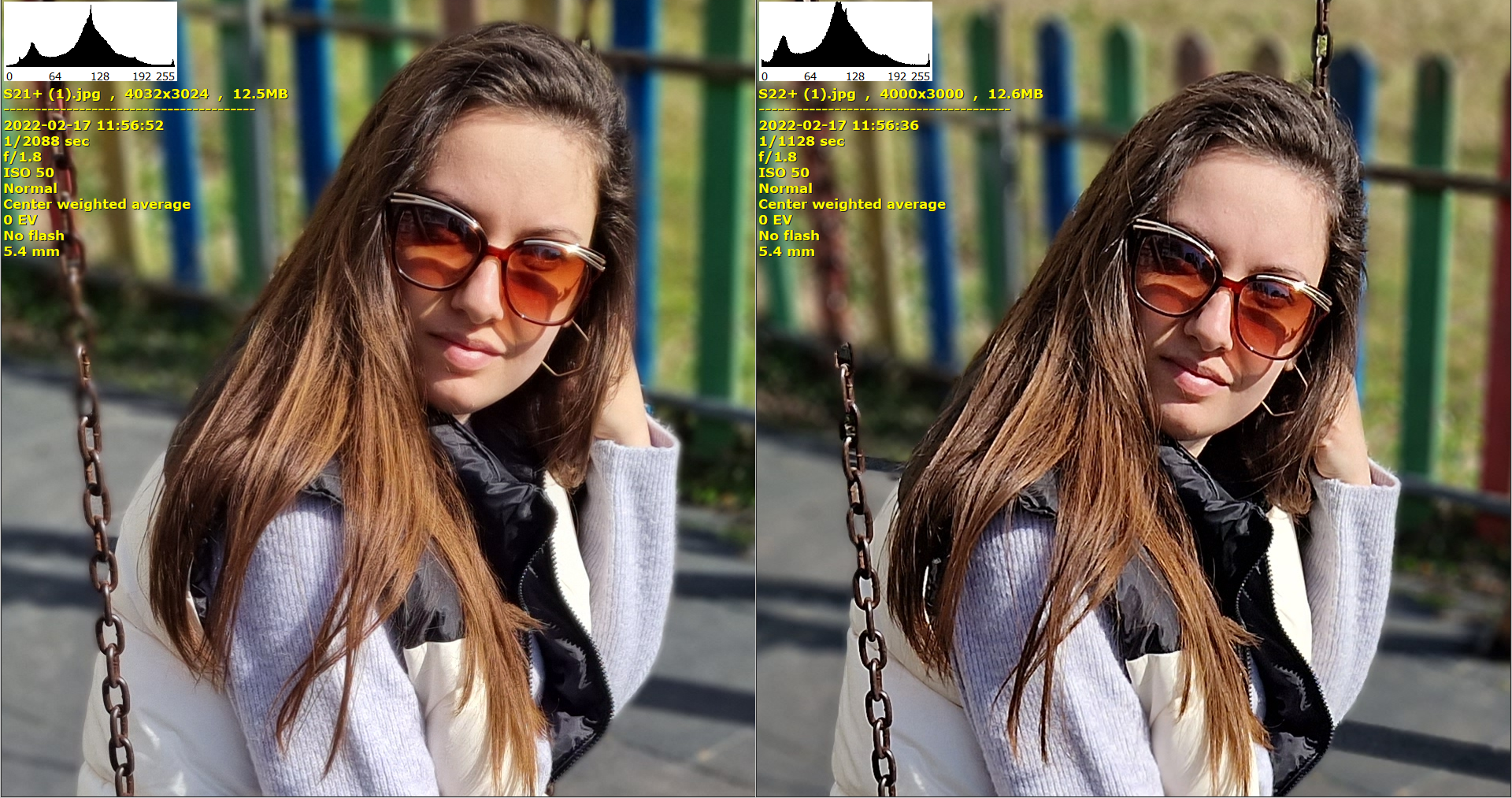 Low-light image quality
At night, the camera performance is mixed bag as well. There's noticeably more noise in some of the low-light photos I took, while others are seemingly much better than the Galaxy S21 Plus. This is certainly hinting that there's something wacky going on with the camera software and its algorithms, so I'm hopeful Samsung will further improve the low-light performance.
Here's a direct comparison with the Galaxy S22 Plus, which demonstrates the illogical discrepancies in the Galaxy S22 Plus' low-light imaging performance.

Here's a blown-up 100% crop of the same scene; notice the abnormal noise in the S22 Plus sample that's absent in the S21 Plus photo.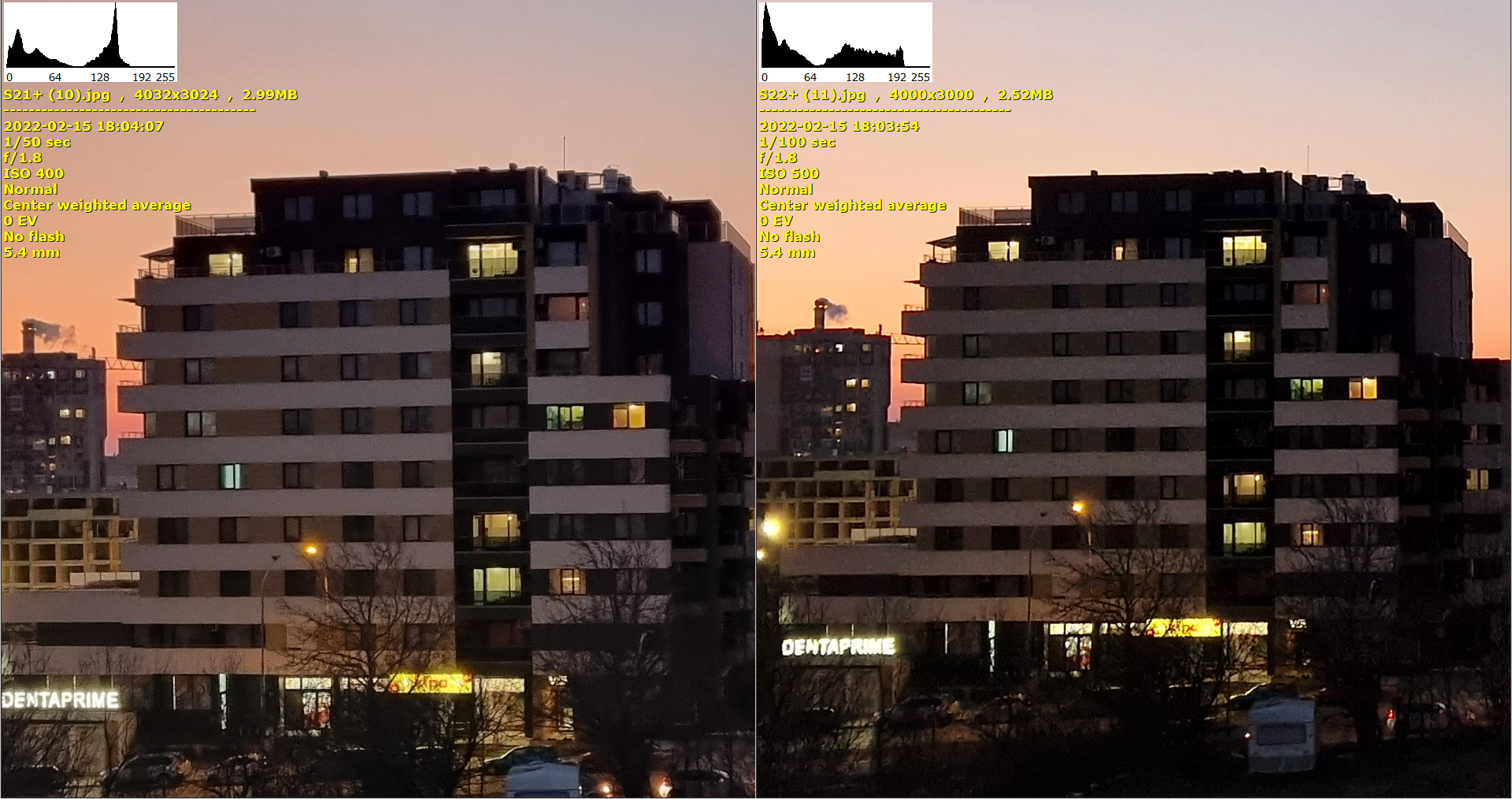 Selfie camera
The selfie camera on most Samsung flagships is usually superb, and the Galaxy S22 Plus doesn't disappoint here. Superb detail without much over-sharpening, great colors, and excellent subject separation in portrait mode will make you want to take more and more selfies. The 4K 60fps selfie video is also to die for.
Audio Quality and Haptics
Audio quality has been a slight disappointment on the previous S21 model, which lacked in depth and sounded a bit tinny. Samsung is keeping the same dual speaker setup with a main, bottom-firing speaker and a secondary, helper speaker in the earpiece, and to me, the sound quality is similar to the one you'd get out of the S21 Plus. Listening to Nicholas Brittel's
Succession
theme
on the Galaxy S22 Plus is a joy, with the piano and violins sounding extra dramatic and rich.
What you won't get in the box with the S22 Plus is a pair of headphones, and it's also no surprise that the phone lacks a headphone jack. If you want to use wired headphones, you'd need a dongle or a pair of USB-C headphones.
The haptics are great as well and to me, they feel much improved in contrast with the Galaxy S21 Plus. Distinct and immediate, the vibration of the Galaxy S22 Plus is superb, and the interactions with the interface feel extra rewarding thanks to it.

Battery Life and Charging
The S22 Plus ships with a 4,500mAh battery which is noticeably smaller compared to the 4,800mAh battery in the S21 Plus. That's a nearly 6% reduction in size and we do expect this to also result in lower battery life. We should point out that last year's model lasted comfortably through longer days, so a full day use with even more intense use should still be easily achievable on the S22 Plus.
We already have our independent battery test results for the S22 Plus and here is what the numbers tell us:
In my experience, with my mid-to-heavy usage, the phone usually lasts a full business day (until 17:30), but after that you'd be wise to look for a charger.
On the charging side, the S22 Plus gets faster 45W charging, which is great news! There is no charger included in the box, as expected, so you'd buy one separately, and keep in mind that Samsung's 45W charger comes with a thicker cable that you need to use in order to get the fastest speeds. With this charging brick, you can expect to fully top up the Galaxy S22 Plus in roughly an hour, while using the slightly slower 25W charging adapter would logically result in slower charging.
Wireless charging is also supported with 15W speeds, and you also get reverse wireless charging at slower speeds that allows you to place another device, usually wireless buds or a smartwatch, but also possibly a smartphone, on the back of your Galaxy and use the phone as a wireless power bank.
Summary

Good news is that the Galaxy S22 Plus price is the same as last year at $1,000 for the base 8GB/128GB model, while $50 on top of that gets you an 8GB/256GB model and that seems like the optimal configuration.
This is cheaper than arch-rival iPhone 13 Pro Max, but admittedly the iPhone has an advantage in battery life, has faster performance, and an edge for video recording too. Some people may also prefer the iOS ecosystem with Apple Watches, AirPods, AirTags, and all the rest.
The $900 Pixel 6 Pro is a great Android option despite a few issues with the sluggish fingerprint scanner. The phone is seriously fast, gets Android updates on day 1 rather than a few months late, and has an impressive camera.
But if you are a Samsung fan and considering the Galaxy, the real competitors to the Galaxy S22 Plus this year are other Galaxies. If you're coming from the S21 Plus, then keep your old phone and abstain from upgrading right away. The improvements are mostly marginal and hardly justify upgrading to the newer model. Even the way cheaper Galaxy S21 FE covers most of the bases with a flagship grade processor, a reasonably big screen and with solid battery life.
At the end of the day, the question remains, should you buy the Galaxy S22 Plus?
Viewed in a vacuum, it's a great phone. A good camera with many hits but some misses as well, acceptable performance, and great battery life. Still, there seem to be some issues with the camera performance that should get fixed so that the phone can unleash its full potential, and that's my biggest gripe with this phone.

The S22 Plus saves you some money compared to the Ultra and it also saves you from the hassle of carrying a gargantuan phone around. At the same time, if you are fine with the bigger size of the Ultra, you get so much more with that phone, starting with the S Pen to the zoom camera, bigger screen, and way more impressive battery size. And all of that at not too much of a price premium.
So yes, the S22 Plus shapes up as an okay phone, but it is overshadowed by the Ultra and those who want the very best, should probably look in that direction first.
Recommended Stories