Gen-1 Michael Kors Android Wear smartwatches are available at massive discount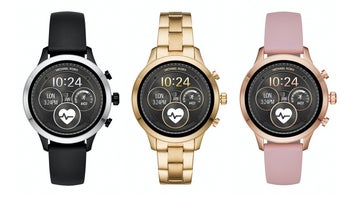 Fossil makes and sells some of the world's prettiest smartwatches under the Michael Kors fashion brand, but due to their extremely stylish designs, the Wear OS-powered Access devices are not typically very affordable.
Instead, a luxury department store called Lord & Taylor has no less than 10 different first-gen Michael Kors smartwatch flavors on sale at massive discounts at the time of this writing, starting with a silver-tone Runway Access fetching $154.69 when sold alongside a black silicone strap. This thing is normally priced at $295, and the same goes for a snazzy rose gold-tone model including a pink silicone band, which also goes for less than 155 bucks today with no promo code needed.
Meanwhile, several variants carrying $350 list prices are currently available at $183.39 apiece after colossal markdowns of almost 170 bucks. You can choose between Runway and Grayson styles in a bunch of different hues, each accompanied by a premium stainless steel bracelet. Three super-swanky additional models can be purchased for $196.69, $229, and $235.89 after huge discounts of their own ranging from $165 to a whopping $215.
Before making your style, build material, and color choice, you should know these smartwatches are pretty much identical under the hood, featuring everything from a built-in heart rate monitor to standalone GPS connectivity and NFC for Google Pay support. In case you're wondering, all the newer models come with a speaker that's missing here, as well as a newer and faster processor.