Would you spend $4,500 on an Apple iPhone X with solar panels on back?
50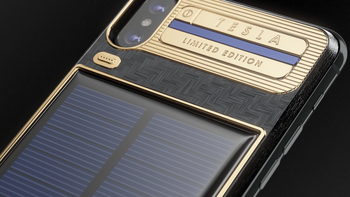 Caviar is a Russian accessories manufacturer that
Apple iPhone X
fans might be happy to collude with. The company produces a case for the tenth anniversary model that features solar panels. The company is selling the 64GB version of the phone with the hefty case at a hefty price of $4,555 (The 256GB version is priced at $4,805). Called the iPhone X "Tesla," the first model off the assembly line is being given (appropriately) to Elon Musk.
Adding solar panels to the iPhone X certainly changes the look of the phone. The 7.7mm thickness of the device more than doubles to 16.2mm, eliminating the camera bump. With the case, the iPhone X Tesla sports an IP certification rating of IP67.
Caviar says that it was inspired by "three men of science," Nikola Tesla, Elon Musk and Steve Jobs. The company is allowing buyers to inspect the phone and solar panels case before having to pay for it, and each purchase includes a "personal consultant" who accompanies the transaction. We're not sure who this consultant is, or what role he plays in the purchase.
The solar panels on the back of the case help to power up a battery embedded inside of it. Pushing a button on the rear of the accessory will charge up the battery inside the iPhone X.
If you have an interest in the iPhone X 'Tesla," click on the sourcelink below.
source:
Caviar
via AppleInsider