Crazy rumor has Samsung offering 4 new foldables after 2024 including Fold Ultra and Flip Ultra
4
We may earn a commission if you make a purchase from the links on this page.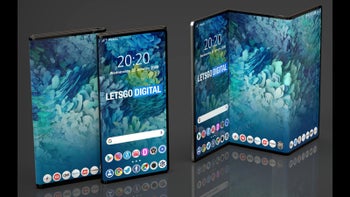 A
tweet from a Twitter tipster
who uses the name "RGcloudS" (via
NotebookCheck
) says that Samsung plans on revamping its high-end lineup starting as soon as 2025. According to this rumor, Samsung will offer its regular Galaxy Z Fold and Galaxy Z Flip models but will also add a premium "Ultra" variant to each one. That means that there would be a Galaxy Z Fold and a Galaxy Z Fold Ultra, a Galaxy Z Flip, and a Galaxy Z Flip Ultra.
The regular (for lack of a better word) Galaxy Z Fold will feature a QHD+ (1440p) resolution display sourced from China's BOE. The screen on the Galaxy Z Ultra will have a 4K resolution and will be produced in-house by Samsung. The regular Galaxy Z Flip will sport an FHD+ (1080p) display from BOE while the Galaxy Z Flip Ultra will be equipped with a 2K screen from Samsung Display. We can only imagine what kind of price premium Samsung might want for "Ultra" versions of its established
foldable models
.
The tipster says that Samsung will introduce two new foldable models sometime after 2024. One will feature a tri-fold display and be named the Galaxy Z Flex while the other will be known as the Galaxy Z Tab. There is no information about the latter, but
the Galaxy Z Flex tri-fold display might have been teased by Samsung last year
along with a slidable phone. If we can put our thinking caps on for a second, perhaps we can see that it's possible that the Galaxy Z Tab will use the slidable display that we saw alongside the tri-fold this past August.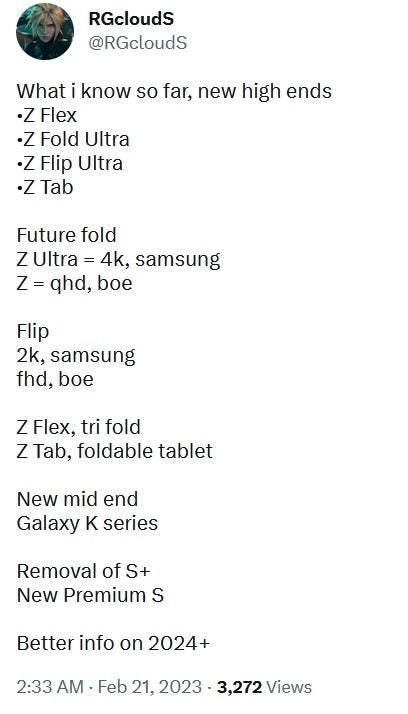 Twitter tipster RGCloudS says Samsung will soon shake up its smartphone lineup
Both the Galaxy Z Flex and Galaxy Z Tab aren't expected to see the light of day soon, but both are expected to feature a display with a peak brightness of 2,000 nits. Both will reportedly be designed by Samsung's Hubert Lee who recently joined Sammy's MX (mobile experience) business after leaving Mercedes-Benz where he was Chief Design Officer.
interesting pic.twitter.com/k9ejHUGzr0

— Ice universe (@UniverseIce) August 14, 2022
The tipster goes on to say that
Samsung
will replace many of its mid-range Galaxy A phones with a Galaxy K line, and the Galaxy S Plus model will be discontinued and replaced with a Galaxy S Premium unit. So sometime after 2024, we could see Samsung release a high-end series made up of the Galaxy S, Galaxy S Ultra, and the Galaxy S Premium every year.
Order your Galaxy S23 Ultra now!
Since Samsung does not yet have any contracts or supply agreements signed with BOE, we should probably take this report with a grain of salt.