Facebook launches new video shopping feature on iOS devices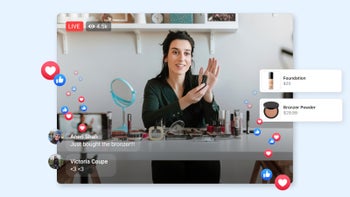 Facebook
made all sorts of tools available to those who'd like to shop via its social network. The most recent one is called Live Shopping and it's now available on iOS devices. The new feature combines the fun (or stress) of online shopping with the convenience of live video.
iPhone users should be able to start using Live Shopping every Friday starting this week through July 16. Facebook users will be allowed to tune in to the Live Shopping streams on each brand's Facebook Page or by visiting the Shop tab or bookmark on mobile.
If anything shown during these live presentations catches your eye, you'll be able to purchase it by tapping the products featured in the stream and checking. Everything can be done directly on Facebook without having to leave the app.
Furthermore, Facebook
announced
the three brands will go live around a common theme each Friday: Glow Up, New Fashion Finds, and Self Care Spotlight. Here is when you can tune in to watch these presentations:
Glow Up – May 21, June 11 and July 2 12:00 PM – 1:30 PM PT/3:00 PM – 4:30 PM PT
New Fashion Finds – May 28, June 18 and July 9 12:00 PM – 1:30 PM PT/3:00 PM – 4:30 PM PT
Self Care Spotlight – June 4, June 25 and July 16 12:00 PM – 1:30PM PT/3:00 PM – 4:30PM PT
Finally, Facebook revealed the full list of brands that will participate in Live Shopping Fridays until July 16: Abercrombie & Fitch, Alleyoop, Bobbi Brown Cosmetics, Clinique, Dermalogica, Dolce Vita, Sephora, and ZOX.