Order the rugged flagship Blackview BV9700 Pro early and save $200!
6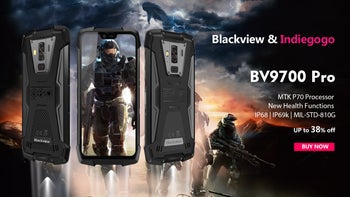 Advertorial by Blackview: the opinions expressed in this story may not reflect the positions of PhoneArena!
Two weeks ago,
Blackview revealed
that it's planning to release a new flagship very soon — the BV9700 Pro. A rugged phone with an IP69k protection rating, meaning it's not only defended against dust and water ingress, but also high temperatures. Its thick shell is resistant to shocks and drops, but that doesn't mean it can't look good — a Transformers-inspired design makes the BV9700 Pro appear both durable and futuristic.
Back then, the pricing for the new phone was still a mystery. Well, now, it has been revealed through an Indiegogo early adopter campaign!
On launch, the Blackview BV9700 Pro will cost $489. However, early birds will have the chance to claim the phone for as low as $299, plus a free tempered glass screen protector, bringing the savings up to approximately $200. The promo is on a first-come-first-serve basis and there are only 300 spots for the special price! No worries, if you are late, you can still get the BV9700 Pro Launch celebration special for $329, which is still a hefty discount from the retail price!
Flagship hardware, special features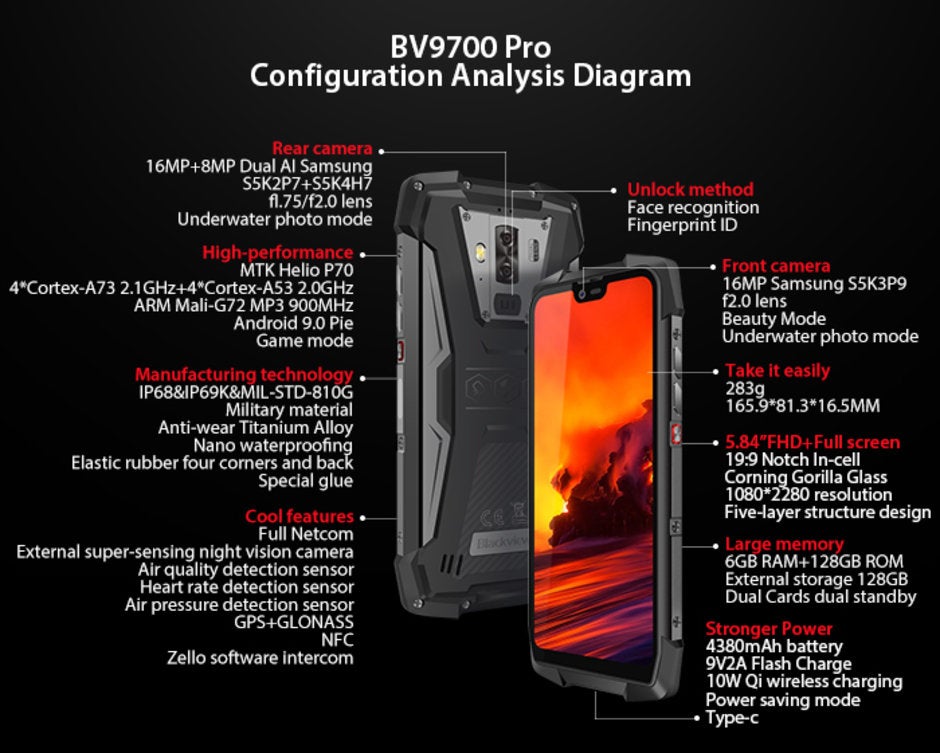 So, what does $299 get you? The BV9700 Pro has a tall, 5.84-inch, 1080 x 2280 screen up front. The phone is powered by a MediaTek Helio P70 octa-core processor for enhanced performance and improved power-saving and 6 GB of RAM. It gets its juice from a 4,380 mAh battery in the back, which should be more than enough to last through the tough work day or long hiking track. It has a dual camera on the back, with a 16 MP Samsung-made main sensor and an 8 MP assistant for your bokeh shots, and there's another 16 MP Samsung sensor camera on the front.
Sensors for the professionals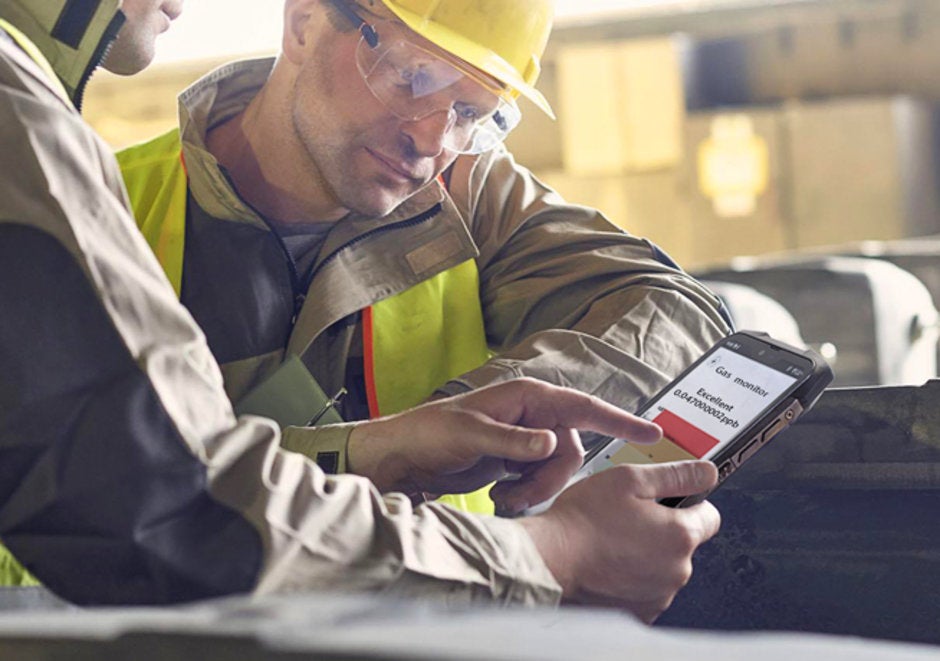 The phone features a few unique sensors to aid hard-working professionals at their jobs:
Air Quality monitor: can be used to measure air quality, ambient temperature, and humidity
Heart Rate monitor: used with an arm strap, this sensor can monitor your heart rate continuously to help you find the right intensity zones and improve your workout routines. Thanks to the phone's rugged construction, you can take it running, hiking, or even swimming.
Night Vision camera: a cable-connected camera, which is small, light, and easy to clip on to your clothing. It provides imagery with amplified exposure to feed brightened imagery straight to your phone's viewfinder. Sold separately (found in $339 Early Bird package / $369 Launch Special).
Launch and shipping date
The Indiegogo campaign will officially launch on the 16th of May, 7 AM PST. The first 300 to claim each of the Early Bird packages can enjoy the lowest prices available, while the Launch Special perk packages have no limit. Shipping will begin in mid-June. Click the link below to go to the Indiegogo campaign page and bookmark it!