Best Amazon Prime Day Samsung phone deals
2
We may earn a commission if you make a purchase from the links on this page.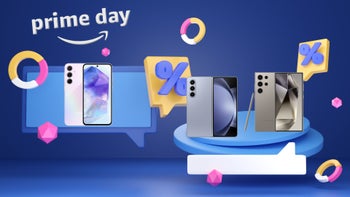 Amazon Prime Day 2022 is now behind our backs! During the second and final day of the event we saw some great deals on Galaxy phones, slashing huge chunks off Samsung's latest and most popular devices, including big guns such as the
Galaxy S22 Ultra
too! The event may be over but there still are some deals active, so this is your last (and we mean it) chance to get your dream Samsung phone on a deal.
Find the recap of the best deals on Galaxy phones down below, and also check out our
Black Friday in July
page, because you might still find some great deals on tech there.
Subscribe to Amazon Prime here
Best Galaxy S22 Amazon Prime Day deals
Who doesn't want a flagship Samsung phone? And this year Amazon Prime Day brought us some of the best deals on Galaxy S22 phones. We saw a solid 30% discount on most of the models with no strings attached, and that's what a real deal was supposed to be, right?
Best Galaxy S21 and older Galaxy flagship Amazon Prime Day deals
The Galaxy S21 series was represented by the Fan Edition model this Prime Day, and the same was the case for the Galaxy S20. There's was a solid 30% discount on the price of both models, making them even more affordable, and a great deal altogether. If you wanted to get a
Note 20
phone, your best bet was down the Renewed route, even though there was a slight discount on brand-new models, as well.
Best Galaxy Z Fold 3 and Galaxy Z Flip 3 Amazon Prime Day deals
The
Z Fold 3
and
Z Flip 3
are the best foldable phones you can get in 2022, and they also received the best deals out there in terms of discounts during the past Prime Day. You were able to slash hundreds of dollars off their price if you wanted to go unlocked, or even thousands if willing to take one of Samsung's great trade-in deals.
Best Galaxy A series Amazon Prime Day deals
The Galaxy A series is one of the most popular out there and also the best-selling Samsung series, and for a good reason. These phones will get you some flagship specs for a lot less money. This Amazon Prime Day people were able to take the price even further down, as we'd seen great deals with discounts in the vicinity of 30%. This was your chance to get the
Galaxy A53
for pocket money but fret not, some of these deals will pop-up again soon!
Best Amazon Prime Day deals on Renewed Samsung phones
There were some great Samsung deals in the Renewed category this Amazon Prime Day - including some Galaxy Note 20 deals, as well as one huge discount on a
Galaxy S21 Ultra
. Some of the deals were part of the Renewed Premium program - basically, these devices are in "like-new" condition, with their battery replaced and re-packed in original new packaging. You can still find some of these on Amazon.
Conclusion
Amazon Prime Day is now officially over but there's still time to pull the trigger on that Samsung phone you've been drooling over. Some of these deals are still live (we don't know for how long), so check them out while you can! Meanwhile, if you want to check out the bigger picture, jump to our
Amazon Prime Day phone deals
.