Best Amazon Prime Day Samsung deals
0
We may earn a commission if you make a purchase from the links on this page.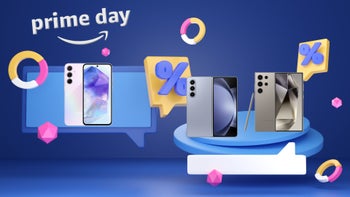 Amazon Prime Day
is here, guys and this year the deals are better than ever! The huge sale event is underway and many big online retailers are trying to undercut Amazon and offer their own deals and discounts. That's perfect for everyone looking to score a deal but sometimes navigating through all the offers can be intimidating. Fret not, we're here to help.
For all
Samsung
aficionados we've compiled the best Amazon Prime Day Samsung deals and catalogued them in a neat and tidy way in this article. You can also check out our
Samsung Galaxy S21 Prime Day Deals piece
, especially if you want to pull the trigger on an S21 series device. But before we dive in...
###
There's a
30-day free trial
that you can use for Prime Day purposes with no real repercussions and if you're a
student
you get
6 months for free
. It's a win-win situation and you can always cancel at a later date.
Best Amazon Prime day Samsung phone deals
You want a flagship Samsung phone, right? Of course you do! Below you will find the best Amazon Prime Day deals on Samsung flagship models, such as the Galaxy S21 series,
Galaxy Note 20
series, as well as the previous generation (still great, though) Galaxy S20 series.
You fancy a foldable phone from the future but don't like the price tag? Now's your chance! Here you'll find all Amazon Prime Day deals on foldable phones such as the
Galaxy Z Flip
,
Galaxy Z Fold 2
, and the original Galaxy Fold.
Samsung's midrange phones are getting better and better each year, and the last models from the A-series feature some flagship-grade bells and whistles - the Galaxy A52 5G comes with a 120Hz display! And let's not forget the fan's favorite
Galaxy S20 FE
. Check them out below.
Amazon Prime Day Samsung deals: tablets
Amazon Prime Day Samsung deals: smartwatches
Amazon Prime Day Samsung deals: earbuds
The Galaxy Buds family has grown through the years, and if you want to stay in the Galaxy ecosystem with all your accessories, you have plenty of choice on earbuds. There are more than enough Amazon Prime Day deals on Galaxy Buds at the moment but don't forget to come back later, because deals come and go.