Asus teases 120Hz display in Zenfone 8 with an enigmatic tweet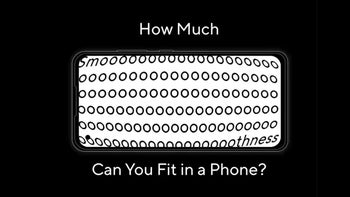 Last week,
Asus sent us a cute invitation
to its online
Zenfone 8 launch event
, cleverly revealing the phone's physical dimensions. Now the company has fed us another tiny piece of information via its
Twitter account
.
The latest teaser that Asus posted asks the question
"How much smoothness can you find in a phone?"
The word
"smoothness"
is visualized with an enormous number of "O"s, so we decided to count them.
Is it just us or are there a lot of 'o's in 'smooth'? How many, exactly? ;)
Know more:https://t.co/ig6Hay5mlo#Zenfone8#BigonPerformanceCompactinSize

— ASUS (@ASUS) April 27, 2021
And yes, you've guessed it by the title already - there are 120 "O"s in this tweet, suggesting that the Zenfone 8 will sport a smooth 120Hz display refresh rate that is quickly becoming a standard in flagship phones.
The official slogan of the Zenfone 8 series is
"Big on performance, small in size"
, which points toward a possible Snapdragon 888 chipset in a compact, sub-150x70mm phone chassis.
The official Zenfone 8 launch will be happening on May 12, 01:00 PM Eastern Time and you can get additional info at the
official website of the event
.
Recommended Stories