ZTE Grand X Max+ hands-on
1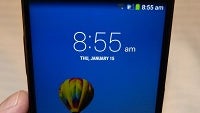 ZTE is kicking 2015 off with a new vigor to strengthen its position in the American market. With an established line of devices on sale around the world, ZTE is going to capitalize on its position in the world market. It had a very good year in 2014, with a growth rate of 40% in mobile, over 100 million devices shipped.
For 2015, ZTE has freshened its logo, and it has a new slogan, "Tomorrow never waits." The company has also embarked on a strategy to not only expand its carrier channels, but also engage directly with the consumer with "affordable premium" smartphones.
To that end, ZTE is bringing to market a device that meets the needs of people that need a smartphone on a budget. The demographic is more than that though, for a lot of people, the smartphone is sometimes the sole portal for connectivity to everything in their digital lives.
Design
That is where the ZTE Grand X Max+ comes in. This is a 4G/LTE device with a proven, if not banner bearing, spec sheet, and taken as a whole, one would be hard pressed to find a more comprehensive smartphone package at this price point.
The Grand X Max+ has a modern and handsome look, and upon a close examination, one would conclude this is a budget friendly device. The chassis makes do without metal or premium materials, but it does not feel cheap either.
For a device with such a large display, its overall design does not make it feel unwieldy. Weighing just a bit over 6 ounces (172 grams), the Grand X Max+ sizes up at 6.38 x 3.27 x 0.31 inches (162 x 83 x 7.9 mm). Its 3200mAh battery supports Qualcomm's Quick Charge technology as well.
The design of the ZTE Grand X Max+ has the bases covered for connectivity too, with support for LTE, HSPA+, and GSM that are compatible with Cricket's (and thus AT&T's) network, along with Bluetooth 4.0, and Wi-Fi b/g/n.
Display
The Grand X Max+ conveys various media via a 6-inch, 720p LCD panel, not a flagship specification, but its size lends itself to view a lot of information while on the go.
For its target audience, the display will deliver, and the hardware will not have difficulty keeping up with user demand.
Interface
The user interface of the ZTE Grand X Max+ is a fairly light-weight skin over Android 4.4.4. The unit we got to look at did not show any difficulty in presenting ZTE's desired user experience. The Grand Max+ will come preloaded with Sharecare and AskMD apps supported by Dr. Oz for use to track your health activity.
As the Grand X Max+ is going to be an exclusive to Cricket, customer applications will be preloaded to help manage billing. Cricket customers will also get access to connect to 13 million curated Wi-Fi hotspots all over the United States.
Processor and Memory
The ZTE Grand X Max+ is powered by a quad-core Qualcomm Snapdragon 400, tuned at 1.2GHz, which is more than up to the task to handling affairs. 2GB of RAM is along for the ride to handle all the applications.
On the storage front, there is 16GB on board. It is expandable with microSD cards up to 32GB.
Camera
Smartphone cameras have proven themselves to be a very important component, and so ZTE has placed a 13 megapixel sensor on board with an LED flash to capture some good quality pictures and take HD videos.
With such a large screen though, you might want to take a bunch of selfies of you and all your friends, and that is why the front facing camera is a wide-angle 5 megapixel unit.
Expectation
The ZTE Grand X Max+ brings a well-rounded feature set, covering the essentials. Dolby audio is on board for your music listening pleasure. The hardware is competent, and the performance is fluid. The best part of devices like this is when you consider the price and availability.
The Grand X Max+ will be available beginning January 9th at Cricket Wireless locations for $199 with no contract. Coupled with Cricket's competitive prepaid service plans, the Grand X Max+ makes a compelling value proposition.