ZTE Grand X Max+ Review
7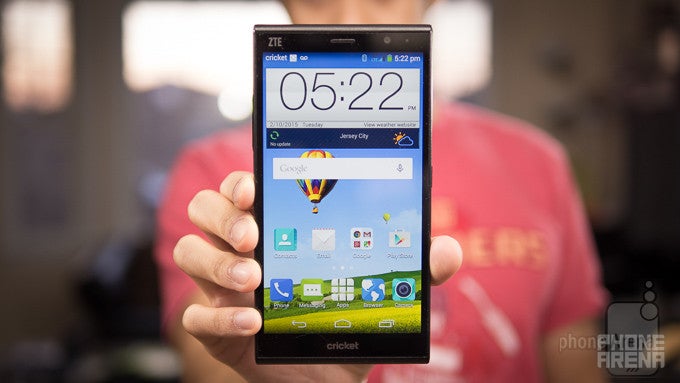 Introduction
Fighting in the high-end category of the US smartphone market isn't necessarily in the pipelines for ZTE, but they're setting their sights on the entry-level segment. In several years past, ZTE's line of devices have been relegated to nothing more than these poorly-made, cheap-feeling devices that normally have been rebranded using carrier names – like the
AT&T Avail
. More recently, however, ZTE has taken appropriate measures in showing consumers that they're able to deliver quality, entry-level devices that compete nicely against companies with more brand recognition. We've seen that ourselves with the
ZTE ZMAX
over the busy holiday season, but it's continuing to pick up even more steam with its latest device in the
ZTE Grand X Max+
.
The package contains:
microUSB cable
Wall charger
Quick start guide
Terms of service
Design
For an inexpensively priced phone, the ZTE Grand X Max+ feels solid.
Gone is that reputation of making cheap-cheap phones, as the ZTE Grand X Max+ impressively delivers a design that's not only attractive for an inexpensively priced phone, but it's also solid in construction to give it the qualities of a high-end device. Indeed, it's certainly a beefy sized phone, one that requires a wider grip to handle, but for something so grand in size, it somehow manages to sport a relatively svelte profile (0.31-inches) and lightweight feel (172 gr). Mostly constructed from plastic, the uniform nature of its construction is accentuated by the glass covering both the front and back sides of the phone – plus, the carbon fiber-like pattern of the rear adds some style points to the phone.
Its overall size is enough to classify it as a phablet, but it's certainly not that type of smartphone because of the basic package it offers. Looking around the sides of the phone, it features a 3.5mm headset jack, microphone, microUSB port, SIM slot, microSD slot, volume controls, and a power button. Rounding things out, the rest of its package includes a 13-megapixel auto-focus rear camera with LED flash and a front-facing 5-megapixel one.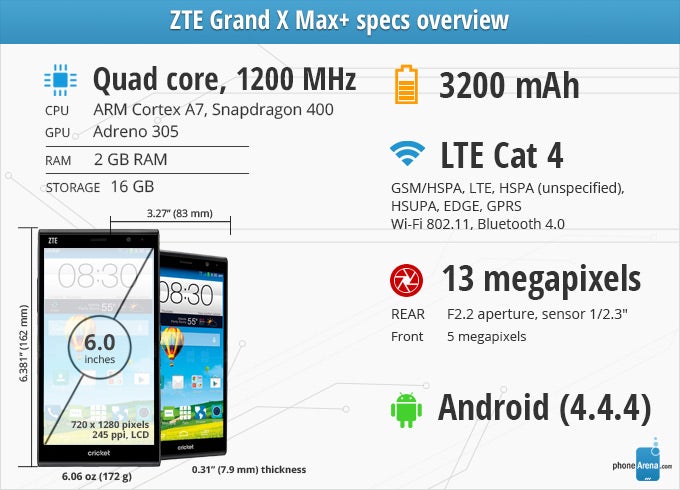 Display
Not really a specs beast, the qualities of its display are still commendable.
Although it's far from reaching the pixel crushing resolutions of today's flagships, the ZTE Grand X Max+'s 6-inch 720 x 1280 (720p) LCD screen still packs enough reasonable elements that make it usable. Its pixel density count of 245 ppi is insignificant in comparison to other things, but from a normal viewing distance, we can't complain about how we're still able to visualize web sites on its screen.
Based on our benchmark tests, the screen has some great qualities, like its color temperature of 6747K and maximum brightness output of 526 nits. Its color reproduction, however, strays a bit off the path with colors such as green and magenta. Regardless of that, the entire package still comes off spiffy looking – especially for a budget-oriented smartphone.
Display measurements and quality
Recommended Stories