Yahoo's new alarm clock app wakes you with audio snippets of the latest news
3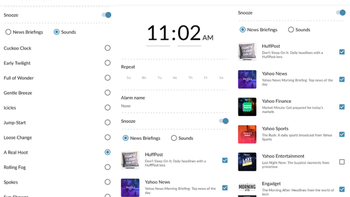 https://www.phonearena.com/
For those news junkies who don't consider themselves up in the morning until they have heard the latest top stories, Yahoo has a new alarm clock app. Called WakingNews Alarm Clock, the app will wake you with audio snippets of the latest news from a number of sources. Currently being tested on Android flavored devices, you can get early access to the alarm clock by moseying over to the Google Play Store. Yahoo would appreciate any feedback that you might offer.
News sources provided include:
Huffington Post
Yahoo News
Yahoo Finance
Yahoo Sports
Yahoo Entertainment
Engadget
The latest audio headlines become available at 6:30am ET each morning. And if you'd prefer to be woken by other sounds instead of the news, there is a setting that will have you stirring to the sound of a cuckoo clock, a gentle breeze, the rolling fog and more.
Setting the alarm is a snap, although we recommend that you test the WakingNews Alarm Clock first to make sure that the sound of the morning's headlines is enough to get you up and out of a deep sleep. And yes, the app is absolutely free to install on your Android device. And yes, you can tap on a button if you want to hear the latest news without waiting for an alarm to be triggered.

?
For
FCC OKs Cingular\'s purchase of AT&T Wireless