Xiaomi Mi Note Pro phablet announced with Snapdragon 810 and 4 GB of RAM
76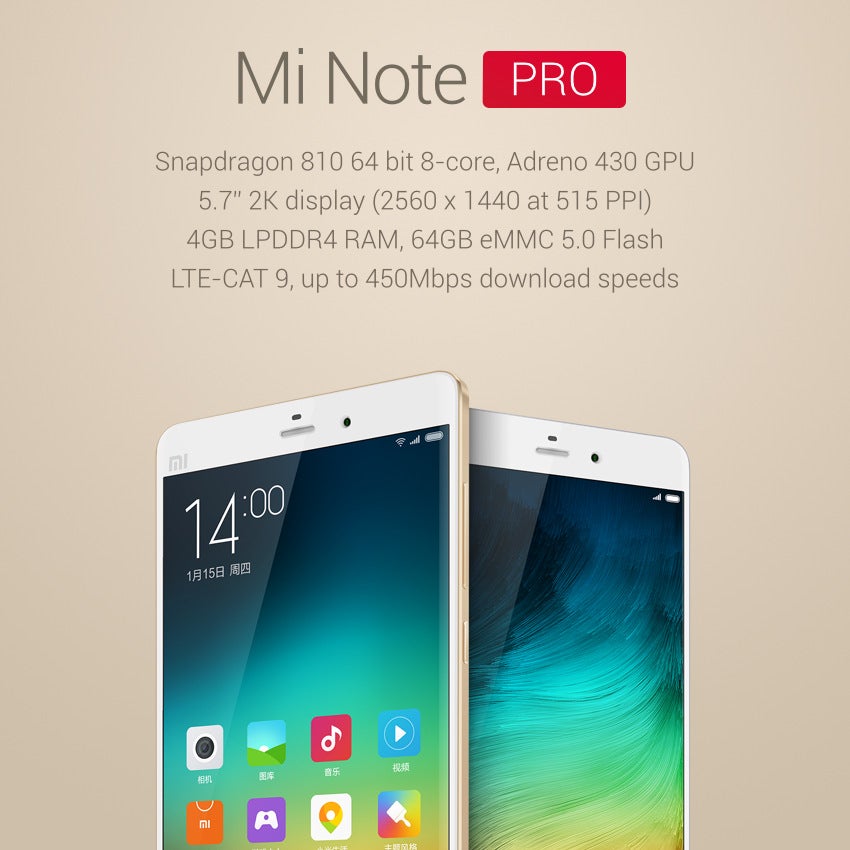 Just as promised, Xiaomi took the stage today and unveiled what looks to be its next flagship phablet, the
Note Pro
, a 5.7" phablet with Quad HD display to boot.
Getting the specs out of the way first, Xiaomi Note Pro features a 1440x2560 pixels JDI panel, which would make it one with the enviable 515ppi pixel density. Not only that, but it is also blessed with the whopping 4 GB of RAM, and the highly-anticipated Snapdragon 810 chipset, making it an Android 5.0 64-bit powerhouse. The phablet also has a Hi-fi audio with a dedicated ESS ES9018K2M sound processor, and two OPA1612 amp chips from Texas Instruments.
Rounding up the great offering are a 13 MP rear Sony camera with optical image stabilization, and a 4 MP front-facer with large two micron pixels (likely the same OmniVision unit that HTC branded UltraPixel, and used as a rear snapper). Keeping the lights on will be a 3000 mAh of a battery pack, which is the only seemingly weak point of the phablet, unless the JDI/Sharp display panels are really power-sipping. In fact, the phone will use a panel with Sharp's negative display tech, which means it will indeed consume very low energy, almost equivalent to a 1080p panel of that size, just like it is the case with the
Meizu MX4 Pro
, which uses a Sharp display with the same production method.
It's the Note Pro's design that is the most striking, though, as the phone sports an extremely thin 6.95mm body (which would explain the relatively small juicing capacity), aluminum frame, and trimmed bezels for an all-around compact handset, relative to the hearty screen diagonal. The exact dimensions are 155.1x 77.6 x 6.95mm, or the same as the Mi Note. Thankfully, Xiaomi eschewed the oh-so-trendy 6" phablet panels, and stayed within the Note 4's 5.7" range, down to the similar wallpapers (nudge, wink).
What's more, it comes with the very generous 64 GB storage out of the box, and dual SIM support, too. The Xiaomi Note Pro will cost you the equivalent of 3300 yuan (about $532) when it lands January 27th - not a bad pricing for a futureproof phablet with all the bleeding edge bells and whistles. Any takers?