Xiaomi Mi 5 vs Samsung Galaxy S7 vs LG G5: specs comparison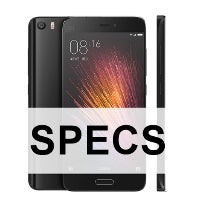 Xiaomi's Mi 5 is here and while the announcement presentation is not yet over, all the fundamental info about this new flagship from the Far East is already here. We can safely say that the Mi 5 is the most affordable Snapdragon 820 device right now, and it won't be far-fetched to say that it's also among the more impressive ones.
Interestingly, two of the other pretty interesting Snapdragon 820 chipset devices got announced merely a couple of days ago. The ones we are talking about are the Samsung
Galaxy S7
(though it comes with the Exynos 8890 in many markets) and the
LG G5
. For sure, neither of these brings a knife to a gunfight, as merely skimming through their specs sheets induces heavy breathing in us!
Here's a three-way comparison that will show you what we mean:
Display
Technology
LCD
Super AMOLED
IPS LCD
Peak brightness
600 cd/m2 (nit)
Features
Scratch-resistant glass, Ambient light sensor, Proximity sensor
Scratch-resistant glass, Ambient light sensor, Proximity sensor
Ambient light sensor, Proximity sensor
Hardware
Qualcomm Snapdragon 820 MSM8996
Qualcomm Snapdragon 820 MSM8996
Qualcomm Snapdragon 820 8996
Quad-core, 2200 MHz, Kryo, 64-bit, 14 nm
Quad-core, 2200 MHz, Kryo, 64-bit, 14 nm
Adreno 530
Adreno 530
Adreno 530
Internal storage
128GB
32GB
32GB
OS
Android (8.0 Oreo, 6.0 Marshmallow), Xiaomi MI UI
Android (8.0 Oreo, 7.0 Nougat, 6.0 Marshmallow), Samsung TouchWiz UI
Android (8.0 Oreo, 7.0 Nougat, 6.0 Marshmallow), LG UX UI
Battery
Charging
Qualcomm Quick Charge 3.0
Qualcomm Quick Charge 2.0
Qualcomm Quick Charge 3.0
25.00 hours
the

average

is 17 h (996 min)
28.00 hours
the

average

is 19 h (1110 min)
15.0 days (360 hours)
the

average

is 0 days (0 h)
3G: 11 hours; LTE: 13 hours; Wi-Fi: 14 hours
Camera
Rear
Single camera
Single camera
Dual camera
Main camera
16 MP (Sapphire crystal lens cover, OIS, PDAF)
16 MP (OIS, Laser autofocus)
Specifications
Aperture size: F2.0
Aperture size: F1.7; Focal length: 26 mm; Sensor size: 1/2.5"; Pixel size: 1.4 μm
Aperture size: F1.8; Focal length: 26 mm; Sensor size: 1/2.6"; Pixel size: 1.12 μm
Second camera
8 MP
Specifications
Aperture size: F2.4; Focal Length: 9 mm
Video recording
3840x2160 (4K UHD), 1920x1080 (Full HD) (30 fps), 1280x720 (HD) (120 fps)
3840x2160 (4K UHD) (30 fps), 1920x1080 (Full HD) (60 fps), 1280x720 (HD) (240 fps)
3840x2160 (4K UHD) (30 fps), 1920x1080 (Full HD) (60 fps), 1280x720 (HD)
Features
Video calling, Video sharing
HDR, Picture-taking during video recording, Video calling, Video sharing
HDR, Time-lapse video, Picture-taking during video recording, Video calling, Video sharing
Front
4 MP
5 MP
8 MP
Video capture
1920x1080 (Full HD)
Design
Dimensions
5.69 x 2.72 x 0.29 inches (144.55 x 69.2 x 7.25 mm)
5.61 x 2.74 x 0.31 inches (142.4 x 69.6 x 7.9 mm)
5.88 x 2.91 x 0.29 inches (149.4 x 73.9 x 7.3 mm)
Weight
4.90 oz (139.0 g)
the

average

is 6.5 oz (184 g)
5.36 oz (152.0 g)
the

average

is 6.5 oz (184 g)
5.61 oz (159.0 g)
the

average

is 6.5 oz (184 g)
Materials
Back: Glass (Corning Gorilla Glass 4); Frame: Aluminum
Back: Metal
Resistance
Water, Dust; IP68
Fingerprint (touch)
Fingerprint (touch)
Fingerprint (touch)
Features
Touch sensitive control keys