"World's first Ubuntu tablet" looks like a bad idea
16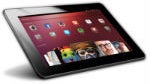 It's always fun to see the race to become the "world's first" anything. Most of the time, it really doesn't amount to anything, and it looks like that may be the case with the race to be the "world's first Ubuntu tablet". If we're talking about the first Ubuntu tablet to go up for pre-order, that has now happened, and it looks like a bad idea.
The tablet is from Intermatrix, an Australian manufacturer. It's called the U7, and it is listed to have a 1.5GHz quad-core Cortex A9 CPU, quad-core Vivante GC1000+ GPU, 1GB of RAM, 16GB of storage, a 7" IPS capacitive touchscreen, and front and rear webcams. That all sounds fine, but there are some red flags.
First, the minimum requirements for an Ubuntu tablet is 2GB of RAM.
We tested the Touch Preview
on a Nexus 7, which only has 1GB of RAM, and it was noticeably sluggish. Also, the website claims that the tablet will ship in October, when Canonical has made it clear that Ubuntu tablets won't be
shipping until April
, when Ubuntu 14.04 is released. Pre-orders are set at AU$299 (US$307), but end up at AU$269 (US$274).10 after a 10% discount. And, if the final price is lower, you will be refunded the difference.
Intermatrix does say that the shipping date, price, and specs are not final and are not guaranteed, but it still doesn't really make sense to offer this pre-order (let alone purchase one). Ubuntu tablets aren't going to be coming for over a year, and a year is a long time in mobile hardware.