With LEAP trading above AT&T's $15 offer, Wall Street expects another bidder
1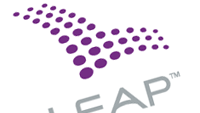 We have to credit Macquarie Capital analyst Kevin Smithen for
correctly picking LEAP Wireless as the next target in the wireless industry
. The only thing is Smithen had the wrong suitor, saying last Monday that LEAP would be a good fit for Dish Networks or T-Mobile. Instead, late Friday
AT&T announced that it would buy LEAP for $15
, or about twice what the company's stock had been trading for. Which brings up a question about Dish. Considering that outspoken CEO Charles Ergen went 0-2 trying to purchase Sprint and Clearwire, could he have enough fight left in him to go after LEAP.
More than anything in the whole world, Charles Ergen wants to start a
new wireless carrier
. When former FCC Chairman Julius Genachowski was running the show, he even tried to grease the rails to make things easier
by allowing Ergen to use spectrum approved for satellite transmissions to be used to carry voice and data
, as long as the power was low enough to prevent interference.
LEAP shares, which closed Friday's regular trading session at $7.98, are trading well above AT&T's $15 bid at a price of
over $17
in after-hours trading Friday night. That means that Wall Street traders are expecting a third party to come into the deal. Will it be Dish? The company was willing to pay $25.5 billion to buy all of Sprint, although that deal was never financed.
Another company mentioned as a potential suitor for LEAP Wireless is T-Mobile. A recent run up in its shares gives the carrier a currency to use for any transaction. But T-Mobile is in the
early stages of getting MetroPCS customers to migrate to its network
following the closing of T-Mobile's purchase of the pre-paid carrier.
Don't be surprised if no one else gets involved in LEAP. Remember the static created when the carrier tried to purchase T-Mobile? Don't expect any of that hand wringing either. The pre-paid carrier is far enough down the list of U.S. mobile carriers that this deal will probably generate a yawn from D.C. And Sprint CEO Dan Hesse, fresh from the buyout of 78% of Sprint to Japanese telecom SoftBank, is certainly not in a position to complain about this deal like he did with the failed T-Mobile purchase.