Windows Live Calendar can now be accessed through your smartphone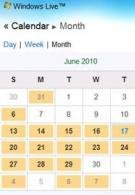 Long time supporters of Windows Live will be happy to that they'll have access to their calendar through just about any smartphone out there. While on the go it's relatively difficult to track down a computer to access your calendar, but now that it's making its presence online through your smartphone, you'll always be up-to-date with all of your schedules. Some of the supported web browsers you can use to check out your Windows Live Calendar include iOS with Safari 3.0+, Opera on Windows Mobile 6.
1.4
+, S60 5th Edition, BlackBerry OS 5.0+, Opera, Palm, and Android. So it doesn't really matter which smartphone you'll be using because it pretty much supports most of the modern devices out there. All you have to do is simply type in calendar.live.com into the web browser and it will get you to in after inputting your Windows Live ID and password. Although it may support a lot of platforms, there are still some bugs related to it – so don't be too surprised to see it crash unexpectedly.
via
WMPoweruser