Watch this hypnotizing 360-degree slo-mo extreme skiing video shot on iPhone
21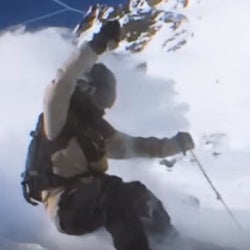 Just recently, we saw Tim Cook demonstrate
how NOT to use an iPhone camera properly
and basically ruin an important moment with a terribly blurry picture. It seems that the problem, however, is not all that much in the end device and its camera, but in the human element that controls all that.
As a proof, take a look at this gorgeous video that Swiss skier Nicolas Vuignier shot using nothing but a clever attachment system and his iPhone. The skier swings the iPhone around as he goes down the slope and captures the descend with all the beauty of the pristine white snow flying in the air after each turn.
All of that is captured in mesmerizing 240fps slow motion and looks stunning, similar to footage that is usually recorded on tens of different cameras arranged together.
A couple of years ago, HTC worked with Qualcomm to pair up 130 HTC One phone to achieve a somewhat similar effect, and as a reminder we've included that video as well right below Vuignier's capture.