Watch Sony Xperia active used as bait in freezing water, stepped on and tied up to a snowboard
4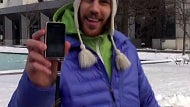 Crimi8787 was at it again,
abusing his trusted Sony Ericsson Xperia active
as if the little rugged Android phone has done something terribly wrong. The water- and shockproof handset gets used as bait in freezing water, and then literally breaks the ice.
He also ties it up to his snowboard while filming a video with it, for some alternative action shots, steps on it in the snow, and tosses it around. We'll save you the suspense - the
Xperia active
survives all that abuse, but its journey through the torture chambers is pretty entertaining to watch.
Sony has a newcomer in the rugged Android phone area represented by the little
Xperia go
now, which, if its older sibling Xperia active is any indication, will also be able to overcome more than the occasional drop on the ground.