Sony Ericsson Xperia active Review
17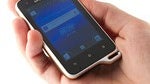 Introduction:
Smart and rugged, two words that don't tend to go together all that often, especially when it comes to phones. A light to moderate encounter with the floor would pretty much wipe out the majority of smartphones out there and as for the rugged-phone market, if you could save more than 1000 numbers on a rugged phone released in the past decade, you'd be in luck. So while rugged phones and smart phones have tended to keep their distance, after the game-changing
Motorola DEFY
paved the rugged-smart way, the market is now onto its next wave of rugged-smartphones with the DEFY's successor, the
Samsung Galaxy Xcover
and the
Sony Ericsson Xperia active
all vying for a place in your action-packed lifestyle. Today we'll be taking a look at the Sony Ericsson offering, with its rugged water resistance, dust proofing and pre-installed fitness apps coupled with its smart 1GHz processor, Android 2.3 and optimized user interface. Add to that the host of accessories the handset ships with and you're getting a pretty good deal out of the box. These include:
• USB charging cable
• Arm pouch for running
• Stereo headphones (earbud variety) with attachable earhooks
• 2GB Memory card
• Rubber Lanyard to secure phone to wrist
• Additional back cover
Design:
Screen sizes above 3.7" were regarded a novelty little over a year ago, but with the rise of the Android has come an influx of 4-4.3 inchers, and with the
Google Nexus Prime
(4.6"),
HTC Titan
/
Sensation XL
(4.7") and
Samsung Galaxy Note
(5.3") just round the corner, there's little doubt that the trend for bigger screens is far from over. At a modest 3 inches however, the Sony Ericsson Xperia active firmly bucks the trend, demonstrating from the offset that it isn't trying to be a media monster, but instead a bulbous, nimble, weatherproofed action phone that can take a splash or dip (up to three feet / 1meter) while comfortably dangling from the supplied lanyard.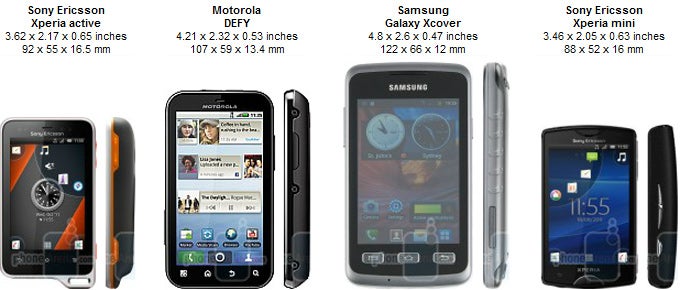 You can compare the Sony Ericsson Xperia active with many other phones using our
Size Visualization Tool
.
The Xperia active's
LCD display
measures in at 3", has a resolution of 320x480 and is endowed with a couple of Sony Ericsson's own technologies, the first being their
Mobile Bravia Engine
boosting visual performance and the second a
wet-finger tracking system
enabling touch input even when the screen or your finger is wet. Viewing angles are surprisingly good, though at its brightest we would have liked the Sony Ericsson Xperia active to shine a little brighter. in turn, outdoor viewing isn't the greatest, so bear that in mind if you plan to take this active handset on a desert trek or a summertime hike.
Physically we've already alluded to the bulbous appearance of the Sony Ericsson Xperia active, so despite being small, at 16.5mm the device is bordering on chunky. Below the display are three
capacitive buttons
and the microphone while above is a LED notification, light sensor and in call speaker. Surrounding the display panel is a silver metal rim and neon orange detail (depends on color version). A volume rocker, power and camera button sit on the sides while the bottom of the phone houses two
weather-sealed
flaps, which reveal the 3.5mm headphone jack and micro USB port. Flip it over and the Sony Ericsson Xperia active's 5MP AF camera, LED flash and loudspeaker are all present. An added bonus for the customization fans out there comes in the form of the back covers, one black and one pearly white, both present in the box.
The handset feels plasticky which means you won't be too precious about it having the odd swing or knock. This makes sense given the dust and water-proofing. Water proof up to 1 meter is what you find in the rival models as well, allowing you to use it in heavy rain and not worry if you spill water on it. However, you shouldn't swim with these phones.
Recommended Stories