Walmart Prime Day deals on Apple, Samsung and Bose now extended
0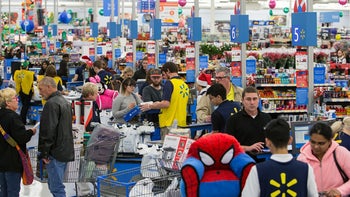 Walmart has extended its
Prime Day deals
on a few Apple, Samsung and Bose gadgets and while these are not flashy doorbuster type of deals, they are definitely worth considering for bargain hunters. The deals for the
Walmart "Big Save" Prime Day event
were supposed to end on July 17th, but are now being extended for an undisclosed amount of time.
As a reminder, retailers like Walmart and Best Buy definitely did not sit still as Amazon unveiled its largest shopping event of the year, Amazon Prime Day. All of the retailers came up with their own fair share of deals, and the ones listed below are the extended ones from what Walmart offered.
The items on sale here are the
Apple Watch
Series 3, the yesteryear model for an unbeatable $200 price, then the old, but good Samsung
Galaxy Tab A
7-inch tablet for under a Benjamin, and finally, some great workout headphones with a good old wire that won't break the bank and won't have you dealing with one more gadget to charge.
Apple Watch Series 3
Priced at just $200
Last year's Apple Watch Series 3 was fast and reliable, and while you can get the newer Series 4 these days with a larger screen and smaller bezels, this yesteryear version comes at a quite alluring price of just $200.
This is the price for the 38mm aluminum version with a sports band, not any more advanced models, but it's a great deal if you are looking to get the Apple Watch as a bargain.
Samsung Galaxy Tab A
7" beater Android tablet for under $100
This good old friend from the quite distant past is just not going away and while it might not be the most productive and fast tablet around, it is a beater tablet at an unbeatable price of under $100.
You know why you need it: for your toddler, to get a quick peek at recipes in the kitchen or something else, and it will absolutely get the job done for that. Just don't expect this to be great at gaming or any other more demanding tasks.
Bose SoundSport
Wired headphones for a quarter of the price of wireless ($40)
Wireless headphones
are all the rage and we get it, they are convenient and you don't have wires in the way, but how about batteries that degrade after 2 or 3 years, and you just have to throw those $150 (or more) that you spend and get a new pair.
That's not the case with good old wired headphones, and these here Bose SoundSport will be a perfect companion for your gym workout or runs as you don't need to worry at all about batteries. The funny thing is that they are marketed as a gadget made for Apple devices, yet obviously this being an old model, Bose was not then aware that Apple would kill the headphone jack, so there is that. You definitely need to have a dongle around if you are planning on using these with a modern iPhone.