JBL Flip 6 Review
3
We may earn a commission if you make a purchase from the links on this page.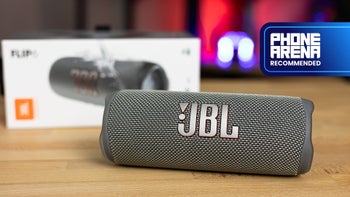 The JBL Flip 6 is a small and very portable Bluetooth speaker that weighs just over a pound and can easily go in a bag.
It comes in a variety of color options, delivers a pleasing sound that works with different music genres, and has a graphic equalizer that allows you to tune the speaker's output easily via the app.
While JBL promises up to 12 hours of battery life, our testing shows that in real-world use you are more likely to get about half of that, which might be a disappointment for many.
But will the sound quality and water-protected design make up for that? Let's find out in our full reiview.
JBL Flip 6 specs
We start with a quick look at the JBL Flip 6 specs highlights and how it compares against the extremely similar Flip 5 predecessor.
JBL Flip 6
JBL Flip 5
Dimensions (width x height x depth)
7 x 2.7 x 2.9"
(17.8 x 6.8 x 7.2cm)
7.1 x 2.7 x 2.9"
(18.1 x 6.9 x 7.4cm)
Weight
1.2 lbs
(550g)
1.19 lbs
(540g)
Battery life
4800mAh
*up to 12 hours battery life
4800mAh
*up to 12 hours battery life
Charging
USB-C
USB-C
Practicality features
IP67 dust and water protection
IPX7 water protection
Connectivity features
Bluetooth 5.1
PartyBoost: can be connected with a second speaker as a stereo pair or with multiple other JBL speakers
Bluetooth 4.2
Release date
Dec 2021
fall 2020
Price
$130 MSRP
$100 MSRP
*official estimations by JBL.
JBL Flip 6 price and deals
The JBL Flip 6 has an MSRP of $130, but you can find it on sale for lower prices and at the time of writing this article, it was available for far less than that. Check out the widget above where you can find the latest Flip 6 deal that we have dug out.
JBL Flip 6 design photos
Weighing just over a pound (1.2lbs), the Flip 6 is lightweight and can easily go in a bag.
This makes it very portable, plus it helps that the speakers comes with a removable carrying strap, so you can carry it easier.
The design hasn't changed much from previous generations, it is still very solidly made and we love seeing the now bigger JBL logo front and center, as well as on the side radiators. The speaker has a tiny rubber leg so it stands firm horizontally, and you can also easily place it vertically.
The Flip 6 also delivers one welcome upgrade over its predecessor: it is now IP67 water AND dust protected, while the previous-gen speaker had an IPX7 rating, which only guaranteed water, but not dust protection. We also love that all of that protection comes without the need to check for any port covers, the speaker is just protected as it is. All of this gives you a peace of mind that the speaker won't be damage after you take it to the beach a few times.
A couple of features are missing on this feature: there is no AUX port, in case you were wondering. The last Flip with an AUX port was the Flip 4 and it was a nice extra in case you wanted to connect older devices that do not have a Bluetooth connection, plus it would have helped with battery life. You also have no microphone, so you cannot take calls on the speaker. This is not a deal-breaker but it's a bit strange considering most people would have this speaker paired to their smartphone.
JBL Flip 6 sound quality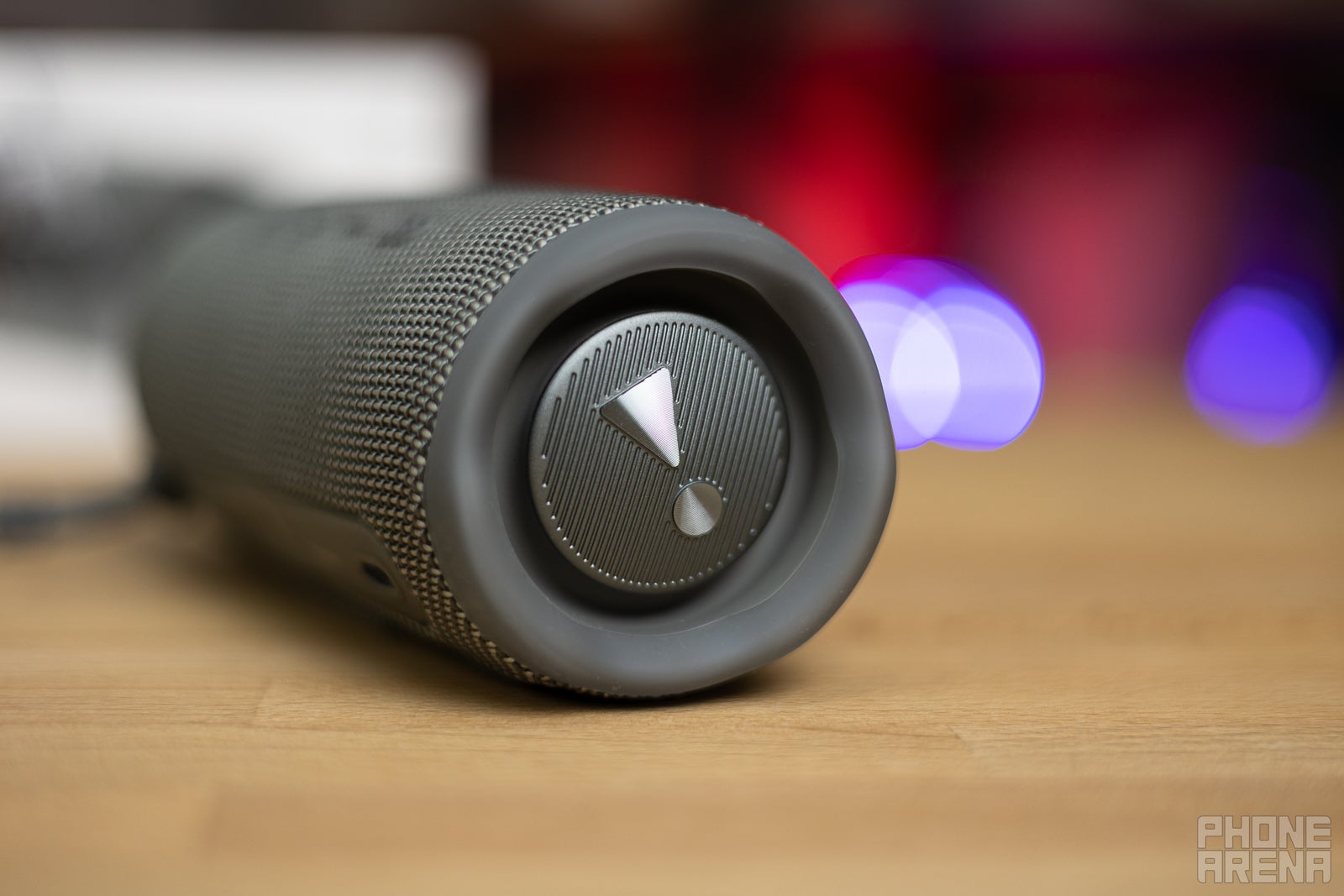 (Image Credit - PhoneArena) JBL Flip 6
The JBL Flip 6 produces good and balanced sound quality for its tiny size. It is a slight improvement over the Flip 5 due to the addition of a 10-watt tweeter that works on top of the 20-watt woofer.
The balance here is the important point as it allows you to use this speaker to listen to all kinds of music genres.
The addition of the tweeter helps better distinguish individual layers in musical pieces, and makes the experience of listening to jazz or classical music better. Still, this is mostly a speaker that excels at party tunes. Pump up the bass to the maximum, crank up the volume, and the Flip 6 will not disappoint. It also doesn't crack or lose much at those higher volumes.
JBL Portable app
You can call it an app, but it's essentially just an equalizer
The JBL Portable app is a simple tool that you use to deliver software updates to the speaker, and most importantly to tune its sound output via the Graphic EQ.
It's a simplified version of an equalizer with five levels ranging from low to high for the bass, the mids and the highs.
Those who listen to hip-hop music might want to boost the bass, while others might prefer a different setting, but whatever it is, the controls are very easy and straightforward. Good job on that, JBL!
How loud is the JBL Flip 6?
The JBL Flip 6 is loud enough to fill an average sized room and it can certainly be heard in larger spaces too.
However, if you are planning to use it outdoors for a party or a friends' gathering, you might find the volume insufficient to really impress.
We took the Flip 6 to a pick-up basketball game, and while it provided nice, boomy music backdrop, it didn't sound particularly loud or exciting. For such characteristics, you'd need to step up to a larger speaker like the JBL Charge 5 or bigger.
JBL Flip 6 battery life
JBL promises up to 12 hours, but in reality you get around half of that
The Flip 6 comes with a 4,800mAh battery, the same size as on the previous generation Flip 5. Theoretically, this speakers is rated for 12 hours of continuous music playback.
In reality, however, the battery lasts around half that, or 6 hours. Of course, if you prefer to listen to music quietly you could get more out of it, but we'd say that a realistic average is around 6 hours.
Be warned that blasting music at full volume might drain the battery even quicker than that.
JBL Flip 6 charging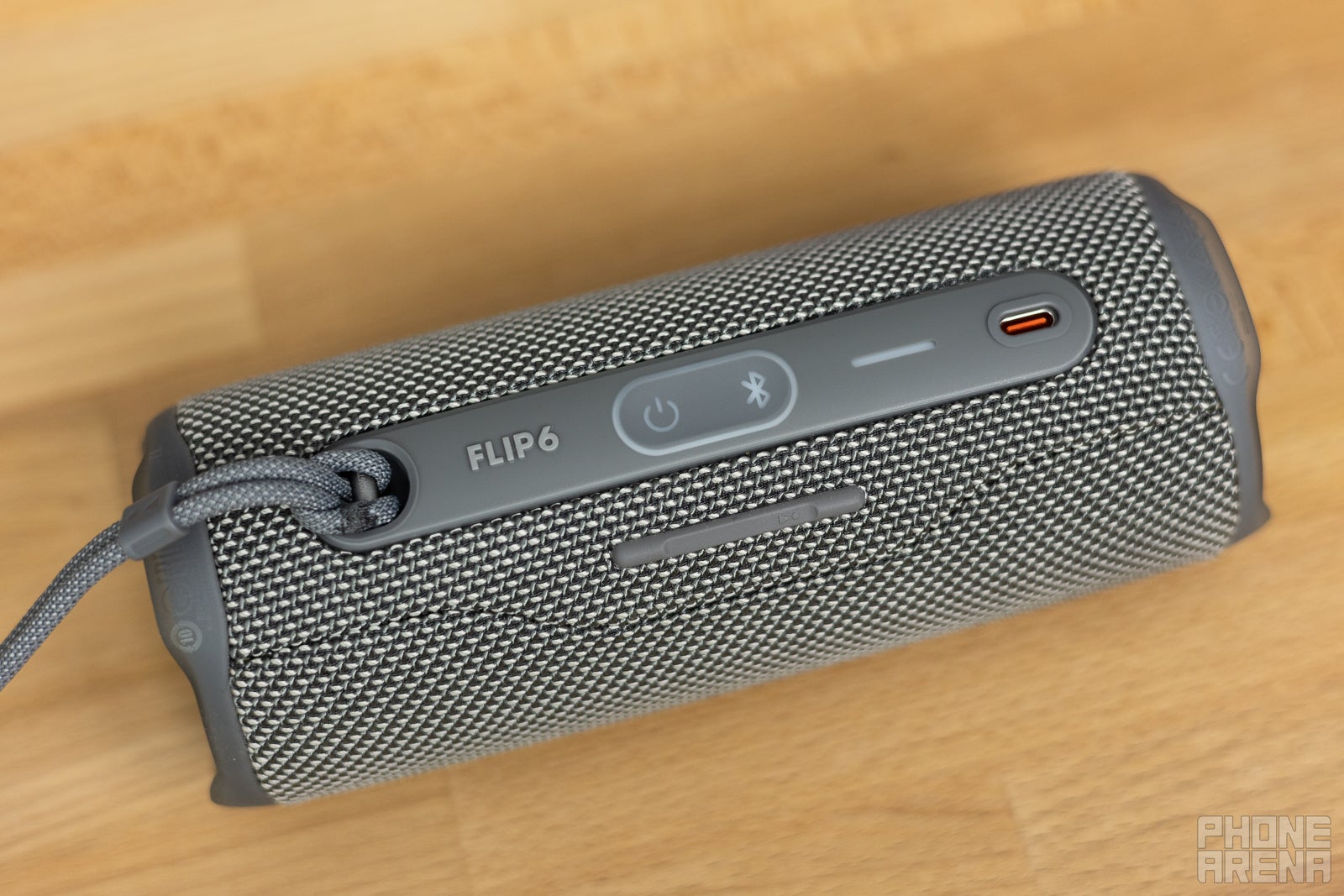 (Image Credit - PhoneArena) USB-C for charging
Great news about the JBL Flip 6 is that it uses the industry standard USB-C port for charging, which means that you don't have to carry a spare cable everywhere you go and you can always just use the same cable that you use for your other electronics.
We also love that the JBL Flip 6 can play while it's charging, a neat feature to have when you run out of battery.
You have a neat little charging indicator on the back of the speaker, next to the power and Bluetooth buttons. When you play music, that indicator is off, but you can peek at the charge level by pressing the volume up or down keys. The JBL Flip 6 full charge takes around 2 hours.
Like other battery-powered speakers, the Flip 6 will turn off automatically when left inactive for around 20 minutes.
JBL Flip 6 alternatives
The Bluetooth speaker space is extremely competitive and there is just a ridiculous amount of speakers out there ranging in price from $20 to infinity. We would still avoid the cheapest options, and below, we have have a round-up of some worthy alternatives to the JBL Flip 6:
Ultimate Ears (UE) Boom 3
Ultimate Ears (UE) WonderBoom 3
Sonos Roam
Marshall Emberton / Emberton II
Sony SRS-XB23 / XB33 / XB43
Anker Soundcore Motion+
The Flip 6 has an above average sound quality for this class and size of speakers, plus it has a solid construction and water protection, but it falls short in terms of battery life. While others like the Marshall Emberton II provide nearly 22 hours of audio playback, the JBL Flip 6's mere 6 hours of playback are way below the average.
JBL Flip 6 conclusion
Overall, we like the sound quality, portability and overall solid construction of the Flip 6. It's also nice being able to tune the speaker with the simple graphic EQ in the app.
With its disappointing battery life and slightly smaller sound than we hoped for, we recommend looking at the Flip 6 when it's slightly discounted as it is a tougher recommendation at its full retail price.
Check out the best deals on the JBL Flip 6 right below:
Recommended Stories