Apple iPad mini 6 release date, price, features and news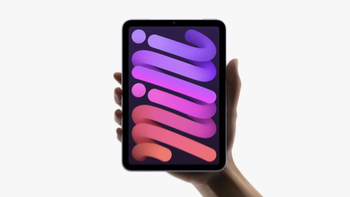 Phones are becoming larger and larger in size, which in turn makes small tablets like the iPad mini unnecessary for many users. But
Apple
did surprisingly refresh the iPad mini in 2019, with the
iPad mini 5
, suggesting that there is still a market for the 7.9-inch tablet.
In November of 2020 we started hearing rumors about the next iteration of the small tablet, which could possibly also be its last – the iPad mini 6. Below is everything we know about the next iPad mini 6 (2021) as of right now.
You may also find interesting:
Apple iPad mini 6 release date
The surprise iPad Mini 5 release occurred on March 18, 2019. Based on that, currently our predictions for the release date of iPad mini 6 are for early 2021, most likely again in March. According to a November 2020 leak, this
may be the last iPad mini
to be released, as a rumored foldable iPhone could take its place the following year, in late 2022.
Apple iPad mini 6 price
Currently, there's no information to suggest a price increase for the iPad mini 6. Unless it gets a major redesign, which is unlikely, the iPad mini 6 will most likely cost as much as the previous generation iPad mini:
$399 for 64GB WiFi iPad Mini
$549 for 256GB WiFi iPad Mini
$529 for 64GB WiFi + Cellular iPad Mini
$679 for 256GB WiFi + Cellular iPad Mini
Apple iPad mini 6 design and display
The iPad mini 6's biggest changes are expected to not be with its design, but display. An early Twitter
leaker
, who got some media attention claimed that an iPad mini 6 prototype existed, sporting a larger 8.5-inch Liquid Retina display, as opposed to the iPad mini 5's 7.9-inch Retina display. A potential increase in display size might suggest a redesign for the mini 6, with smaller top and bottom bezels, making the display larger, while retaining the same overall body size, although a new iPad mini 6 design is unlikely.
Another rumor from around the same time suggested that the
first mini-LED iPads
are on their way. The rumor in question, by TFI Securities analyst Ming-Chi Kuo, said that the first mini-LED screen iPad will be getting mass-produced in the first half of 2021. Among the supposedly-upcoming mini-LED iPads, named was a 7.9-inch iPad mini. This leak seems more plausible than the previous one, as Apple has shown to be reluctant in redesigning iPads, but could easily upgrade the iPad mini's display technology. What mini-LED would mean for the iPad are improved contrast and image quality, closely rivalling OLED.
Considering that even the 2020 iPad Air, which finally got a redesign, actually reuses the iPad Pro's design shell, we cannot hold high hopes that the less-popular iPad mini will get its own redesign. Thus, currently, we expect that the iPad mini 6 will look exactly like the mini 5 on the outside, with the same, or slightly reduced bezels.
Apple iPad mini 6 specifications
According to the above-mentioned leaks, and based on Apple's upgrade history, we can expect the following specs for the iPad mini 6:
7.9-inch LED True Tone display (2048 x 1536 resolution, 326 pixels-per-inch)
A14 bionic chip with 4GB of RAM
64GB or 256GB of storage
Apple Pencil support
8MP main camera, 7MP FaceTime camera
Stereo speakers
Apple iPad mini 6 software and features
The iPad mini 6 will be running iPadOS 14 out the box. As it is expected to support the Apple Pencil, users will be able to take advantage of iPadOS 14 features such as Scribble. Scribble lets users write with the Apple Pencil in any text field, instead of requiring the user to switch between a keyboard and the Apple Pencil.
Additionally, iPadOS 14 brings an improved Safari browser with enhanced privacy features, and redesigned home screen widgets.