WP7 NoDo update delayed until the second half of March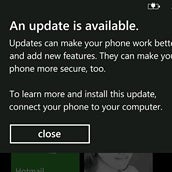 Things are not going well with the Windows Phone updates, eh? It was back in November when it was first speculated that the NoDo update is coming "in
a few weeks
" - obviously, that one didn't materialize, as it's already March and we're still waiting for it!
It has been two weeks since Microsoft started to roll out its first WP update, but it has caused
a few problems
for the Samsung phones running the mobile OS. Moreover, this update's sole aim is to prepare the WP-powered handsets for the NoDo update, so it hasn't added any new features.
Now Microsoft announced via its official Windows Phone blog in France that the much anticipated first major update of its mobile OS is to be delayed
until the second half of March
. The
previous information
(coming straight from Steve Ballmer) was that NoDo will be released in early March, so let's hope this is the final deadline Microsoft announces for its update.
Seems like the Redmond-based giant is having serious troubles with the upgrades of its mobile OS, since it's reported that the second major WP update, codenamed Mango, is also to be postponed.
source:
Official Windows Phone Blog (France)
via
the::unwired