Verizon's chief executive defends AT&T, T-Mobile merger
44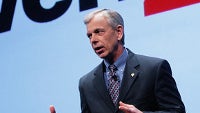 The AT&T-T-Mobile merger has been among the hottest topics of discussions lately - Sprint was the first to bring counter arguments and the US Department of Justice followed by filing a lawsuit to block the deal. The FCC sided with those opposing the deal and it seemed that even smaller players like
Cellular South wanted to have a say
. But up until now, the biggest wireless carrier stateside, Verizon, remained mysteriously quiet.
Now, it turns out that just as in the saying -
silence means consent
. Lowell McAdam, chief executive officer of Verizon, chimed in by comparing the naturality of the AT&T-T-Mobile deal to gravity:
"We need to be very thoughtful on what the impacts would be to the overall industry if this is a way to regulate the industry without actually passing regulation," McAdam said at an investor conference. "I have taken the position that the AT&T merger with T-Mobile
was kind of like gravity
. It had to occur, because you had a company with a T-Mobile that had the spectrum but didn't have the capital to build it out. AT&T needed the spectrum, they didn't have it in order to take care of their customers, and so that match had to occur."
Now that's an interesting statement. Why so? First of all, the statement comes before the first meeting between AT&T and the Government on Wednesday. Second of all, it indirectly suggests that Verizon may benefit from the merger.
McAdam added that he had dined with FCC head Julius Genachowski and discussed one of the main issues facing carriers: spectrum shortage. Interestingly enough, AT&T - which has argued that the T-Mobile acquisition is needed because the US second largest carrier needs spectrum - started offering some of its own precious spectrum to smaller carriers and even Sprint in an attempt to lessen monopoly concerns.
At the same time,
Sprint's Dan Hesse
went into some interesting rhetoric saying that if the deal doesn't go through, DoJ's objections wouldn't stop Sprint from acquiring T-Mobile. Now, that was a purely hypothetical statement to illustrate a point, but nonetheless. Here's his statement:
"But you could make a very, very strong argument, I believe, that if you have two value players that, let's say, got together, that gave them more scale and a better cost structure to compete with the twin Bells, that is an advantage that outweighs having a smaller three and four."
So what does the future hold? Is the deal going through or not? Recently, Forbes gave a 40% possibility of it happening, but it's your opinion that counts the most, so feel free to share in the comments below.