Verizon to start offering new BOGO promotion that includes all Android & webOS phones?
This article contains unofficial information.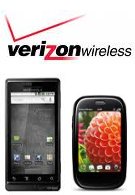 Verizon has been known to offer some of the industry's best BOGO offers in the past, but there might be an even sweeter promotion that's going to be on the horizon. BGR is reporting that the latest Buy One, Get One Free promotion that Big Red is speculated to start running today, February 16, will feature some of their best devices to date. So if you held out long enough and plan on buying a Motorola DROID, HTC DROID Eris, Palm Pre Plus, or a Palm Pixi Plus, you'll be eligible to get a second phone of equal or lesser value for free. If you want to venture from something aside an Android or webOS handset for the free phone, you can simply check out something like a Windows Mobile or feature phone. Finally, like all their previous BOGO offers, they will require you to sign a two year contract and tack on any required data plans. Still, you really can't beat the savings you'll get by this sweet promotion they're offering.
source:
BGR