Verizon deal saves you $750 on your second Galaxy S10 device (that's one free S10e!)
1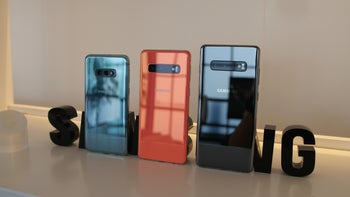 It's launch day for the Galaxy S10 family! This year, the usual Galaxy S10 and S10+ have a smaller sibling, the S10e. The new addition comes at $750 and offers almost everything that the bigger models do and now it's even easier to get!
Verizon isn't holding back any punches when it comes to
Galaxy S10 deals
. The carrier is offering $750 in savings when you purchase two S10 phones, at least one of which should be either an S10 or an S10+.
To take advantage of the deal, you have to purchase two Galaxy S10 phones and activate a new smartphone line for one of them. You'll receive $750 credited to your monthly payments over the next 24 months. So you can either get a second S10 or S10+ with a $750 discount or get an S10e for free! Of course, it will become "free" after two years, but if you were looking for an upgrade for you and your spouse or a relative, it's still a good deal.
Verizon offers another way to save you some money on your new Galaxy S10 device. You can get a $200 discount when you trade in one of the approved smartphones. While that won't be a good deal if you have a relatively new phone, the list of devices you can trade in is extensive and includes phones such as the Galaxy S4, iPhone 5S and others that are definitely worth less than a pair of Benjamins. Again, the saving is in the form of credit over the 24 month period of the contract.
To learn more about the phones in question, you can check our
review of the Galaxy S10+
or our hands-on with the
Galaxy S10
and
the S10e
(spoiler alert: they're all great phones!).