Verizon adding 21 new LTE markets on October 21st
28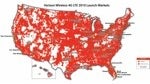 The Verizon LTE train just keeps chugging along, and is doing quite well. While AT&T is trying to make a big stink over having just launched its
first 5 LTE markets
covering about 70 million customers, Verizon has 143 markets covered, which amounts to about 160 million Americans, and next month Big Red is going to light up 21 more markets.
We don't have a complete list of the 21 markets that are scheduled to get the LTE loving from Verizon on October 21st, but we do know that
it will include expanded coverage in San Diego and LA, and newly covered markets including:
Sioux City, IA
South Bend, Mishawaka, Granger, Elkhart, and Goshen, IN
Bloomington, Bedford, Evansville, and Terre Haute, IN
Green Bay, WI
Buffalo/Niagra, NY
Birmingham, AL
Albuquerque, NM
Sante Fe, NM
Fort Myers, FL
Verizon had announced earlier this year that it planned to have 145 markets covered with LTE signals by the end of 2011, but it looks like it will have 164 ready with 2 months left to go. Not too bad.