Update to Spotify helps Apple iPhone users "Discover" the music they want to hear
2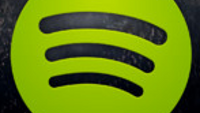 An update to Spotify's iOS app brings a number of new features including the music streamer's answer to iTunes Radio. Included with the bug fixes and enhancements that are a part of every update, is "Discover". This is a news feed that brings users
recommendations
of songs and playlists that are based on the songs that users have been listening to, and from other inputs.
Some Apple iPhone owners were able to beta test the new feature before its launch. One person says that he had "Discover" ever since version 0.6.4.2 of Spotify's app. The update on Tuesday brings the build to 0.7.1. The "Discover" feature is a little different than Spotify's radio although it uses the same algorithms. The difference with "Discover" is that it is not limited to the user's music playing history as it adds recommendations based on new music, what others in the area have been listening to, and the music enjoyed by others that the user is following.
The update also adds a "Now Playing" view and a new icon and is available
only for iPhone users
. So far, there is no version of it for the Apple iPad or for other platforms. In making the announcement of the new feature, Spotify did say that it will be coming to everyone, but no timeframe for that was announced. The introduction of "Discover" comes just after
Apple introduced iTunes Radio
for iOS 7. The latter also uses a user's past listening habits to pull recommendations from iTunes' library of 26 million tunes. Currently, Spotify has 20 million songs listeners can choose from.
source:
Spotify
via
TechCrunch