Unlimited cloud photo storage and a year of gratis Amazon Prime ship with the Fire Phone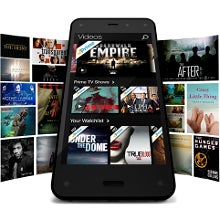 Besides the stellar hardware specifications of the Fire Phone, and the unique 3D-like
Dynamic Perspective
system, Amazon throws in a bunch of enticing freebies. First off, Jeff Bezos ties you in with unlimited cloud storage for your photos, and your Amazon content, on the company's world-class server farms, all for free. How cool is that? It's certainly way more generous than what Apple or Google offer, or even the
Dropbox storage
that HTC, Sony or Samsung throw in with their handsets. Next, those early adopters of the Fire Phone will be getting 12 months of the exclusive Amazon Prime service for free, including existing Prime customer, which will get a year extra.
Amazon also tries to lock you in further with the Mayday 15-second customer service, as well as services like ASAP, X-Ray, Second Screen, and a smorgasbord of famous media apps like Netflix, HBOGo or iHeartRadio. Moreover, there's a new service called
Firefly
, which can recognize over a 100 million objects - from songs and artwork, through dishwasher soaps, to phone numbers on a poster, and find them at the lowest price, or throw more info about them at you. The free Amazon Prime offer actually cuts the contract phone price in half, and when you add the unlimited free cloud storage that the Fire Phone offers, it might very well tip the scales for some users towards this unique handset.