Amazon introduces Firefly, a service that recognizes the world and then lets you buy it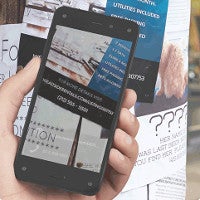 Building upon its still relatively short history of offering mobile devices chock-full of proprietary services that add actual value to users (who can say no to Mayday!), Amazon just announced a whole new, and quite impressive, service called Firefly.
Put simply, Firefly is a super-powered engine that uses your Amazon Fire Phone's rear camera in order to recognize over 100 million items -- from TV shows you're looking at, through music you're listening to, down to household items like a jar of chocolaty Nutella. And, you guessed it, all of it is interconnected with Amazon's own massive database of products available online, making this the ultimate "I saw, I liked, I bought" service.
The list of recognizable items goes on, though. A built-in OCR (Optical Character Recognition) engine allows the Fire Phone to scan text and numbers, allowing you to quickly place calls, for example. This isn't groundbreaking, but what Amazon showed on stage was mostly impressive, and we definitely were surprised by the speed at which Firefly recognized not just characters, but a plethora of items, including paintings, books, and more. And, of course, Firefly dutifully keeps a history of every item you scanned, just in case impulse buying is not quite your thing. There's more.
Indeed, Amazon is opening Firefly to third-party developers, and one of the first such is MyFitnessPal, which will help Firefly recognize the different foods you scan and provide you with nutritional information. Considering the growing appeal of Amazon's own app store, we should hopefully see the list of third-parties developing for Firefly grow and prosper.
Lastly, this being a potential cash cow for Amazon, of course you can use the physical camera shutter button on the left profile of the Fire Phone to quickly fire up Firefly (yeah). Again, the on-stage demo was very convincing in terms of the speeds at which Firefly operates, and the width of product categories it can recognize, so right now, this definitely feels like another potential winner for Amazon when it comes to thoughtful services. Good going!