Uber Rewards program now available for all U.S. customers
2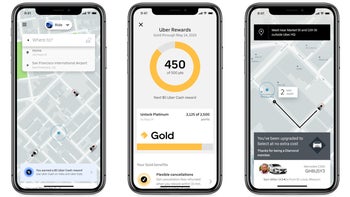 Uber has just
announced
that its Rewards program has been expanded to all U.S. cities. Initially introduced in nine cities late last year, Uber Rewards is now available in more than 100 cities across the U.S., including Detroit, Charlotte, Las Vegas, Milwaukee, Memphis, Minneapolis-St. Paul, Nashville, Portland, Sacramento, and more.
Regardless of what smartphone you're using (Android or iOS), you can enroll in the Rewards program directly from the Uber mobile app, which can be downloaded via the App Store and Google Play Store. Also, there's a
Uber Rewards page
that you can visit from desktop to sign up for the program.
Even if you enroll now, you might be able to benefit from Gold, Platinum or Diamond status if you've been using Uber quite a lot in the last six months. Uber confirmed that for every eligible dollar spent on Uber and Uber Eats in the six months prior to joining Uber Rewards are counted towards a user's membership level when the program becomes available to them.
We've explained in a
previous article
how Uber Rewards is working, but here is a quick rundown if you can't be bothered with more details. Uber Rewards customers can unlock four membership levels: Blue, Gold, Platinum, and Diamond.
Each type of membership has its benefits. For example, Gold membership offers flexible cancellations, as well as priority support that should get them faster response times from support agents across Uber and Uber Eats.
Platinum members get price protection on a route and priority pickups to reduce wait times at most airports, in addition to those two benefits that Gold members have.
Last but not least, Diamond members will get premium support, dedicated phone support with 24/7 response times, complimentary surprise upgrades from UberX to premium products like Uber Black at no extra costs, and a special "UberX Diamond" option that will show up in the mobile app, which allows them to access high-rated drivers.