UPDATED LG enV3 and enV Touch coming to Best Buy
8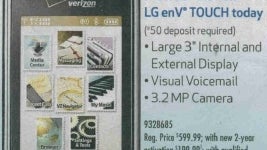 We first heard last week that Best Buy will be selling the enV Touch and will allow customers to
pre-order it with a $50 deposit
before the June 5th launch date. This promotion will now appear in the new Best Buy circular set to be in stores (and Sunday newspapers) May 31st. Best Buy lists the price of the
enV Touch
as $599.99 full retail, $199.99 with new 2-year activation, and $229.99 with a qualified upgrade. This is more than what Verizon is expected to sell the device for: $409.99 full retail and $149.99 with a 2-year agreement (after $70 rebate). Also showing up on the Best Buy paper is the
enV3
, which comes out this Friday May 29th. Their price is showing $369.99 full retail and $69.99 with a new 2-year activation or qualified upgrade. Verizon will be selling the enV3 for $299.99 full retail and $129.99 with a 2-year agreement (after $50 rebate).
So will you purchase the enV Touch and enV3 from Best Buy or Verizon? Let us know in the Comment section below.
LG enV Touch Preliminary Specifications
LG enV 3 Preliminary Specifications
source:
SlickDeals.net
*
UPDATE
*
The Best Buy site now has the phones listed.
enV3 Slate Blue
enV3 Maroon
enV Touch