U.S. sign-up page for the Samsung Galaxy S III up and running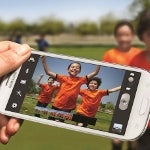 Now that
the Samsung Galaxy S III has been introduced by the Korean manufacturer
, it is just a matter of finding out when the phone will be launched. On May 29th,
the device will have a global rollout for the version with HSPA+ connectivity
. In Japan, Korea and the U.S., the LTE version of the phone will launch later this summer although
the U.S. launch is already planned for sometime next month
. If you want to be the first on your block to own this beast, you should probably head over to the Samsung Galaxy S III sign-up page and deposit your email address with the tech titan.
and included the same list of carriers
. For example,
the same list accompanied last year's sign-up page for the Samsung Galaxy S II
and the device originally launched on only three of the carriers (T-Moble, Sprint and AT&T)
before being added to US Cellular's lineup
.
If the Samsung Galaxy S III has you all hot and bothered and you can't think about anything else, you are the demographic that Sammy is looking for. Just shoot them your email address and they will be more than happy to send out enough emails to
fill your inbox with information
on "The Next Galaxy". To get to the Samsung Galaxy S III sign-up page, click on the sourcelink.
source:
Samsung
via
Engadget