Turn your iPad into a stylish laptop with the CruxSKUNK keyboard case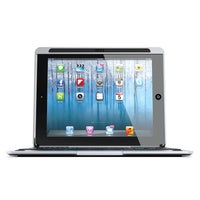 Just as fortunate is the fate of the CruxSKUNK – an iPad accessory that turns the tablet into a laptop with its full-sized hardware QWERTY keyobard. It is compatible with both the new iPad and the iPad 2, connects to the device via Bluetooth, and sports a hinge that can rotate around 360 degrees. Made out of a single piece of aircraft-grade aluminum, CruxSKUNK is only 6 millimeters thin, and when the iPad is in place, their combined thickness is of about 19 millimeters.
In case you want one for your iPad, you can visit the project's Kickstarter page and pledge $155 or more to it. Early buyers will be given a leather carrying sleeve for their CruxSKUNK and a USB cable for battery charging. Production should begin in mid-October, and the first units are estimated to start shiping in December.