Toughen it up: these are the top 6 best rugged cases for the LG V20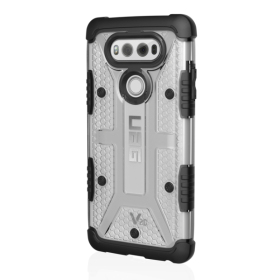 If you're looking for the best LG
V20
rugged cases that are currently available for purchase in the US, you've come to the right place!
In what follows, we're going to go through what we feel are the best rugged cases for the LG V20. We've built this list with diversity in mind, but if your favorite rugged case for the LG V20 is not mentioned here, drop us a comment in the section below and share your thoughts.
Now that the Samsung Galaxy Note 7 has been discontinued, the LG V20 appears to be the best option for those looking to get their hands on a large-screened Android phablet with tricked-out hardware. The V20 comes with some amazing hardware and, as our review points out, is a well-built phone. Unfortunately, however, torture tests point out that you'll need to take proper care of your LG V20 in order to preserve its looks. The alternative to extreme care is to get a rugged case for the LG V20.
Otterbox LG V20 Defender Series Case
The Otterbox Defender Series is the gold standard for rugged cases and, since an LG V20 version of the case is now available, we couldn't have omitted it from our list of the best rugged cases for the LG V20.
The Otterbox LG V20 Defender Series case offers three layers of protection for your shiny new phablet: a hard exterior polycarbonate cover, a soft synthetic rubber inner shell, and a
screen protector
. This case also comes with ports covers that block the entry of dirt, dust, and lint. Defender Series cases also come with an attachable kickstand, which is a nice little addition on top of all this protection.
Note that the Otterbox LG V20 is a bit thicker than most other rugged cases mentioned here. It's also pricier. If you're willing to deal with these two drawbacks, this is the rugged case to get.
Urban Armor Gear Plasma Series
Urban Armor Gear makes some of the best-looking rugged cases out there and the company has recently launched its Plasma Series case in LG V20 format.
The outer layer of this case provides scratch protection, offers a solid rubberized and ruggedized grip, and also comes with scratch pads around the display and at the bottom of the handset. Furthermore, a soft impact-resistant core is there to absorb any potential shocks. This duo ensures that the UAG Plasma Series meets MIL STD 810G drop test standards.
The UAG Plasma Series case for the LG V20 is available in Ice and Ash.
Spigen Rugged Armor Case
If you want a rugged case for the LG V20 but you're also looking to keep the bulk to a minimum, check out the Spigen Rugged Armor Case. While most of the rugged cases on this list make use of two or three protection layers, this case offers just one, a black TPU shell with carbon fiber accents.

While this is the slimmest case we've listed here, it also provides the least amount of protection. The manufacturer says that an LG V20 protected by a Rugged Armor case is safe to drop from a height of 48 inches above ground, which is below waist height. As with all things in life, you need to get your priorities in order before choosing the perfect case for you!


Speck Presidio Grip
Next up is the Speck Presidio Grip case, which is a great all-rounder rugged case for the LG V20. While it doesn't add too much bulk, the Presidio Grip offers sufficient protection for the handset. The manufacturer says that its Presidio Grip case can protect the V20 against drops from up to 10 feet.
The pattern on the back is not only cool-looking but also works to disperse shock away from the phone. Furthermore, the matte black finish on the back is a refreshing change from the glossy looks of most other cases mentioned here.
The Speck Presidio Grip is available in two colors, a rather mundane black and a beautiful combination of twilight blue and marine blue.
Poetic Revolution LG V20 Case
If you're on a budget, make sure to check out the Poetic Revolution LG V20 case. Available for just $11.95 on Amazon, this case offers three layers of protection for your brand new handset: the back cover is made from hard polycarbonate, the inside is made out of TPU, and the case also comes with a built-in screen protector. That's plenty of protection given the asking price.
The Poetic Revolution LG V20 cases are available in Black, Blue with Gray accents, and Pink with Gray accents.
Incipio Esquire Carnaby

While most of the rugged LG V20 cases that we've listed here adopt an urban design, the Incipio Esquire Carnaby case, now also available for the V20, strives to offer rugged protection in a more stylish format.

Just like many other rugged cases, the Incpio Esquire LG V20 case comes with two layers of protection, a sturdy hard shell on the outside and a shock-absorbing polymer material on the inside. However, what sets this case apart is its cotton finish on the back. Available in Black, Gray, and Khaki, the cotton finish is a looker!