Toshiba Thrive gets a cool unboxing video; watching it may get you one for free
3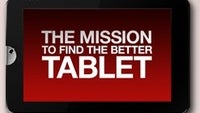 The
Toshiba Thrive
tablet is already
up for pre-order
at various retail stores, but how does winning one sound to you? Well, watching this cool video below may give you the chance to
grab one for free
. In order to spread awareness of its upcoming Tegra 2-powered 10-incher, Toshiba has been running a promotional campaign for several weeks now, and a number of limited edition Thrive tablets have already been awarded to to a few lucky participants.
Loaded with eye candy and special effects, the video shows off several features of the Toshiba Thrive, among which its 10.1-inch display with 1280 by 800 resolution, its 5-megapixel main and 2-megapixel front-facing cameras, and the fact that it comes running Android 3.1 out of the box. Of course, we do not expect the tablet to be able to shoot paint blobs like it does in the video, yet it would have probably been a fun feature to have. Once the video reaches 10,000 views, a special promotional code will be revealed, which you can then use to enter the sweepstakes. More information on grabbing a free Toshiba Thrive has been provided for you at the link below so if you are interested, feel free to check it out.
For more details on how to win a Toshiba Thrive tablet,
click here
.
source:
Toshiba
via
Android Central