TomTom does the Robot: the new Android app has advanced lane guidance, historical traffic and IQ Route
9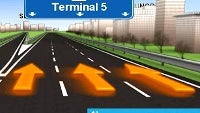 Android users have another great navigational software to choose from now. TomTom promised an
October release for its Android app
, and delivered, as the application just popped up in the Play Store. It will certainly go well with the
hands-free car kit for smartphones
the navigation company recently announced.
There is one big caveat, though - the app seems to be optimized for the more pedestrian WVGA resolution, rather than the HD screens of today's flagships, so TomTom definitely needs to fix that, and fast.
The application offers offline voice-guided turn-by-turn directions, and numerous other features that might make it stand out against the competition:
World-class navigation - The latest, most accurate TomTom maps available – with no need for a mobile signal or data plan.
Lifetime maps – Free updates that ensure access to the latest maps and fastest routes.
IQ Routes - Arrival times that drivers can rely on – at all times of day.
Advanced lane guidance – Gives drivers extra clarity when navigating difficult junctions.
Spoken street names – Makes turnings even clearer.
2D / 3D driving view – The clearest display for the safest driving.
TomTom HD Traffic – Available as an in-app purchase. It's the quickest way through traffic. Proven.
TomTom Speed Cameras – Available as an in-app purchase. Save money and drive safely with real-time mobile and fixed camera alerts.
Pricing is set at $49.99 for the full North American map, £30.99 for the UK maps, and $74.99 for that Eurotrip experience. For the North American maps set you will need at least 2.3GB free on your mobile device.