T-Mobile's Money program comes to Sprint customers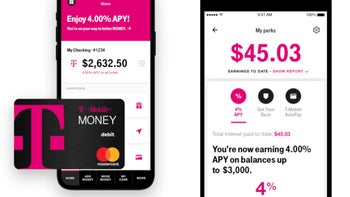 After acquiring Sprint
, T-Mobile continues to bring its programs and services to
Sprint
customers in an attempt to streamline its portfolio of offerings. Today, the Un-carrier
announced
that it's extending the benefits of the Money program to all legacy Sprint customers.
Money is T-Mobile's no-fee, interest-earning, mobile-first checking account. With T-Mobile Money, customers can get up to 50 times higher interest rates than other checking accounts and no costly bank fees.
T-Mobile Money offers customers 4% annual percentage yield on balances up to $3,000 and 1% APY thereafter. On top of that, T-Mobile Money offers customers the option to get paid up to two days early with direct deposit. Also, there are no monthly, overdraft, account or transfer fees for T-Mobile Money users.
Lastly,
T-Mobile
and legacy Spring postpaid customers can register for overdraft protection, which allows them to go in the red, up to $50, without penalty as long as they bring the account back to a positive balance within 30 days.
All legacy Sprint customers who want to take advantage of the program's benefits can sign up for Money directly from within the T-Mobile Money app for Android and iOS. Also, it's possible to sign up via
T-Mobile Money's website
.