T-Mobile is giving subscribers a free zip-pouch and more this coming Tuesday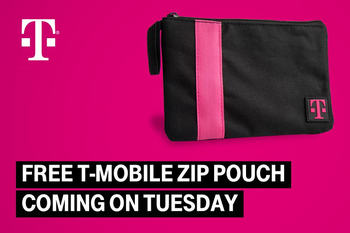 Just the other day, T-Mobile unveiled its latest Un-carrier initiative.
The carrier introduced its "Team of Experts,"
and promised subscribers that they would no longer have to deal with robots and recorded phone menus. And it also worked out a deal with music streamer Pandora that allows T-Mobile subscribers to receive a free-year of Pandora Plus, starting on August 28th.
Now, for this coming week's T-Mobile Tuesday, subscribers will receive a free black zip-pouch with a magenta stripe and the T-Mobile logo. Other freebies include:
$2 Baskin Robbins promo card.
40% off and free shipping at Puma.com.
T-Mobile also wants to remind you that its weekly fantasy Baseball contest in partnership with FanDuel is still running with a new contest starting this coming Tuesday, August 21st, and the last one beginning on August 28th. Contestants put together a new team weekly, and can win as much as $1,000 if they have the top ranked fantasy team for the week.
T-Mobile subscribers can claim their goodies by opening the T-Mobile Tuesdays app on their phone.