The next approved form factor for Windows Phone 7 to be QWERTY candybar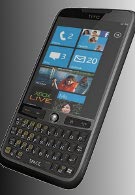 Windows Mobile was no stranger to the beloved by corporate and government employees QWERTY candybar form factor. That crowd was using (and still does) either Windows, or BlackBerry phones due to their superior corporate tools like Exchange or BBM email, intranet login features, and tightened security.
For its commercial launch, Windows Phone 7 will be outed with one of its approved form factors - devices with 3.5"+ touchscreens at 480x800 pixels of resolution and, eventually, slide-out physical keyboards. Now the beans have been spilled on the next preapproved form factor we might see WP7 handsets in. The so-called "Chassis 2" turns out to be none other, but the renowned QWERTY candybar form factor, as confirmed by the Microsoft's ISV developer guru Paul Foster. It will bring 320x480 screens in BlackBerry-style handsets with frontal QWERTY keyboards.
Microsoft is surely planning on popularity in the corporate world with WP7, considering most hardware and software there is legacy Wintel, and now it wants to have the form factor to match the superior compatibility of Windows Phone 7 with this ecosystem. Hey, those
early
HTC Trophy rumors weren't so far fetched after all, were they? Probably just the name HTC Trophy will go to a
Chassis 1 WP7
phone first.
source:
WMPowerUser