The best and worst Samsung smartphones we've ever reviewed
30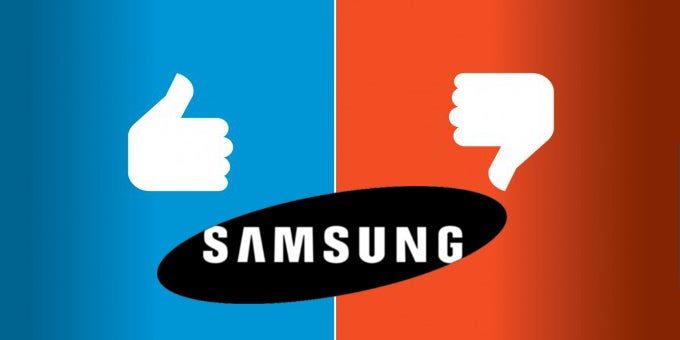 Say what you want about Samsung, but one can't deny that the company has released hundreds, if not thousands of different phones overt the past few years. Naturally, we have reviewed a fair amount of them, and just as you might suspect, Samsung has had its highs and lows.
We've seen devices that have carved their way in smartphone history, one way or the other; the factories of the South Korea based giant have also churned out some cringe-worthy handsets that best remain forgotten.
What you'll find below are five of Samsung's handsets that we've rated the highest and another five ones that have received the lowest review ratings. Note that due to the sheer numbers of Samsung phones we've only included such devices that run an iteration of Google's Android platform. Ladies and gentlemen, here are the best and worst Samsung smartphones we've seen so far!

Samsung Galaxy Nexus
PhoneArena rating: 9.5
With its superb display, commendable performance, and stock Android experience, the
Samsung Galaxy Nexus
was one of the best phones of 2011. What's more, it's one of the best devices Samsung devices of all time. It scored a rating of 9.5 in our review. The only gripes we had with it were the somewhat unimpressive design and the video recording, which left something to be desired.
Samsung Epic 4G
PhoneArena rating: 9.5
One of the greatest QWERTY-enabled Samsung handsets, the Epic 4G came with a Super AMOLED display, amazing battery life, and great overall performance. This was more than enough to make it one of the very best Samsung devices you could get it 2010. The
Samsung Epic 4G
got launched as a Sprint-exclusive, but nonetheless, scored an impressive 9.5 in our review.
Samsung Galaxy S III
PhoneArena rating: 9.3
The
Samsung Galaxy S III
was quite different from its predecessor, the
Galaxy S II
, in many aspects, but that's totally not a bad thing. On the contrary, the Galaxy S III provided an overall Android user experience to behold (as per 2012's standards). That's why it also earned a rating of 9.3.
Samsung Galaxy S4
PhoneArena rating: 9.3
Yes, it was uninspiringly plastic, it did not perform very well in the call quality aspect, but in the end, the
Samsung Galaxy S4
has more pros than cons in its bag. We were particularly wooed by the large display that was fitted in the S4's compact body. The Galaxy S4 secured a rating of 9.3 in our review.
Samsung Galaxy Note 4
PhoneArena rating: 9.3
Don't act surprised, there's hardly anything not to like about the
Galaxy Note 4
. The computational power, the stunning Super AMOLED display, as well as the
mind-boggingly amazing camera
were the reasons why the Note 4 is one of the best-received and more acclaimed Samsung devices of late.

Samsung Galaxy Grand Neo
PhoneArena rating: 5
Let's be honest - we didn't like the
Galaxy Grand Neo
at all. And why should we? It came with a totally-disappointing display, bezels as large as the Grand Canyon, poor video recording capabilities, etc. Shall we continue? We guess we've been in a good mood when we reviewed this Samsung device, as it has scored a rating of 5.
Samsung Galaxy Exhibit
PhoneArena rating: 5
The
Samsung Galaxy Exhibit
had a pretty good battery life and... that was pretty much it. Almost every other aspect of this phone was extremely disappointing, most notably the poor display, the cheap plastic build, and the extremely bad performance. Ugh.
Samsung DoubleTime
PhoneArena rating: 4
Where to begin with? This entry-level device is certainly among the very worst entry-level Samsung phones that we have ever reviewed. With this device, in particular, enjoying the beauty of Android proved worthy of a masochistic Herculean task.
Samsung Gravity Smart
PhoneArena rating: 4
If you think that the
Gravity Smart
was a "good" phone, then you are certainly not understanding the gravity of the situation. To be honest, its physical QWERTY keyboard was not that bad, but the uninspiring design, cheap build, and unacceptable performance dragged it all the way down to a rating of 4.
Samsung Dart
PhoneArena rating: 4
The only good thing about the
Dart
was its price - you could get it free with a two-year contract. We don't know how many users jumped on the bandwagon, but we are somewhat sure that most of them have sorrowfully regretted this decision afterwards.